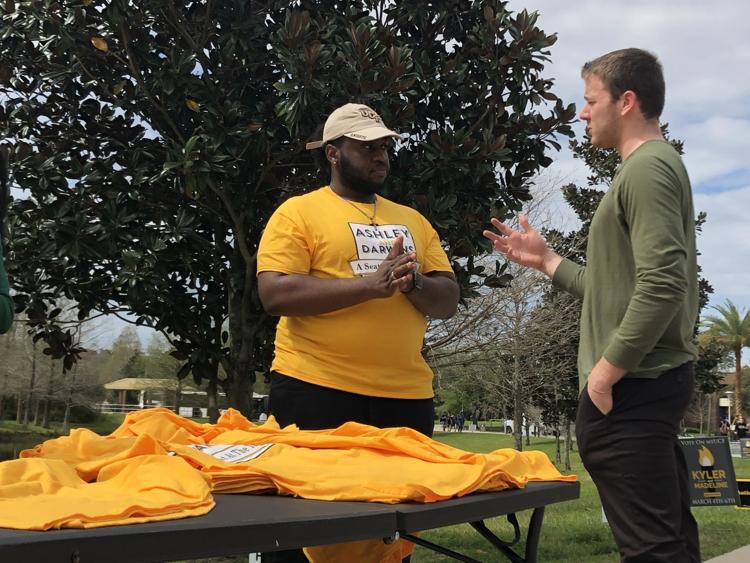 Since Darwins Olcima was a child, his father instilled in him to be the best at everything he does.
Now, in his senior year at UCF, Olcima is succeeding in spite of his fear of failure.
Olcima has an extensive resume that includes winning Homecoming King this year, being a resident assistant, a teaching assistant, a research assistant, an O-Teamer and the director of service of Student Government — in addition to running for SG student body president this year and Mr. UCF last year.
However, his identity is made up of a lot more than his accomplishments at UCF.
"Darwins is just one of those people that you meet in life that you'll never meet again," said Sierra Clare, a graduate student, former SG member and friend of Olcima.
Olcima grew up in Margate, Fla., in a lower-income family with parents who immigrated from Haiti. His father, Wesley, and his mother, Desline, run a restaurant that has been in business for more than 15 years.
Olcima is the second youngest sibling out of six. He's preceded by Wanda, 32; Wendy, 28; Wesley, 26; and Danisha, 25. His younger brother, Digray, is 18 and started at UCF in August.
"I think a lot of Darwins' life he had his sisters and his brothers to look up to and he didn't want to get lost and didn't want to be overlooked," Clare said.
Olcima said he strives to find his identity within such a big family and such a big school. He also has expectations for himself and hates to not meet them.
After losing the student government election this year, Olcima said he was defeated for a long time.
"I was like 'Darwins, you're literally useless,'" he said. "I felt like all this work and this name I attached to myself were all down the drain."
Olcima said the most difficult part was that everyone knew who he was and he didn't want to be judged.
"It was so public and I always felt people looking at me," he said.  
Olcima said he chooses not to let that moment define him, though. 
As he got older, Olcima said he went through phases of deciding what he wanted his career to be. For years he wanted to be a chemist, but during his sophomore year of high school he realized he had an interest in psychology, his current major.
"Wherever he ends up working, he's going to make his workplace better," said Amani McFarlane, sophomore industrial engineering major and Olcima's best friend. "I don't know how, but he's definitely going to make it a better environment for himself and the people around him."
Olcima said he has always been driven and aspired for greatness. He is a first-generation college student and said he felt at home the moment he stepped onto UCF's campus.
"I don't want to waste my potential," Olcima said. "I have no doubt in my mind that I'm going to do great things, but I just don't want to end up selling myself short."
Olcima said he didn't plan to do so much during his time at UCF, but doing so much has helped him find out what he's good at and what he likes to do, despite comments that he's only involved to build his resume.
"I want to get life right the first time and that's not how life works, but I still want to do it," Olcima said. "I want to get the perfect degree and I want to get the perfect job and just be done."
After he graduates, Olcima said he plans to use his psychology degree to go into consulting, then life coaching and eventually be a motivational speaker or teacher.
"He's been a person who's been very intuitive with people and also knows what it is they need or maybe even sometimes what they don't notice they need," his sister Wanda said.
Olcima's said his biggest struggles are overthinking and trying to overcome his insecurity and fear of failure. However, he said these are also things he wants to help other people overcome.
"I don't want to say I'm a secondary character because I don't want to be a secondary character in my own life," Olcima said. "But I do think I am here to help someone else who's going to change the world."