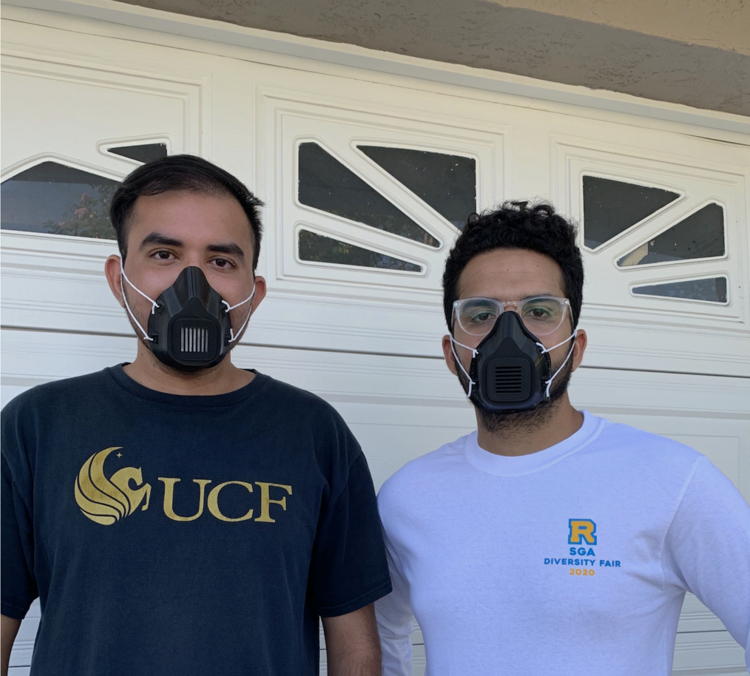 Two friends came together to create a non-profit organization that offers alternative tools to mitigate the spread of the coronavirus. 
Ahmed Rashid and Pruthvi Patel, channeled their passion for health and robotics to create MaskOnOrlando, an organization that gives free 3D printed preventive equipment like masks, ear savers and touch tools to the community. 
Rashid, a computer science graduate from Rollins College, said MaskOnOrlando was created in the middle of a shortage of masks, hand sanitizer and disinfecting wipes.
"The goal was to build 3D printed masks that were reusable and plant-based so they were potentially biodegradable," Rashid said.
The increased demand for disposable masks has augmented the microfiber waste that ends up in the sea and landfills, according to research from the National Center for Biotechnology and Information.
The masks and other tools provided by MaskOnOrlando are made of Polylactic Acid or PLA, a sustainable and environmentally friendly polymer.
"The blue disposable masks are not good to be recycled because they come in contact with the skin and all the microbes," Rashid said. "They don't degrade that easily in the environment."
Patel, a health sciences graduate from UCF, said in addition to pushing for a greener alternative for protective equipment, their nonprofit's ultimate goal is to promote social distancing and preventive measures so they can contribute to ending the spread of COVID-19.
"It was recently announced a new vaccine for the virus so hopefully that helps reduce cases throughout the nation, but without practicing social distancing or wearing masks, it will be very hard to control the virus," Patel said.
Both graduates said they hope to keep providing protective preventive tools even after the COVID-19 pandemic is over because it can help those who come in contact with vulnerable people.
"After post-COVID, we plan to distribute 3D printed tools in case you go to a high-risk area because you have to think about your family members who have an auto-immune disease or those who are older," Rashid said.