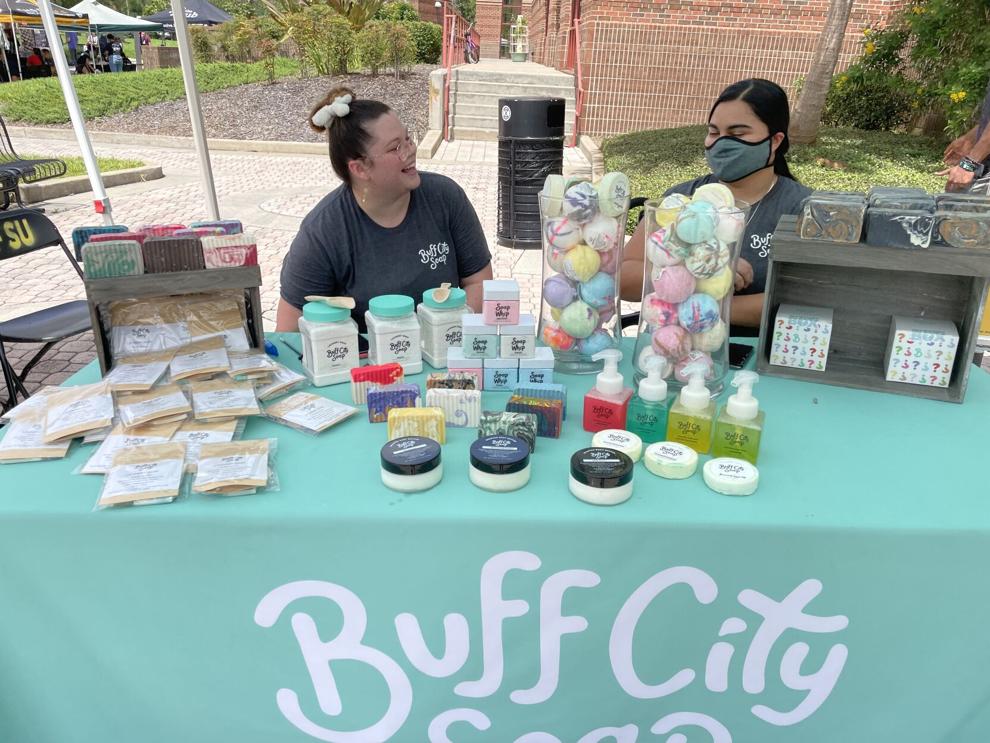 Market Day has returned to the Student Union patio on specific Wednesdays throughout the fall semester, as more students attend face-to-face classes.
Students got to purchase items from small businesses, get free samples and learn more about local vendors at the first event on Aug. 25 in the heart of campus. 
Market Day was canceled in March 2020 due to UCF's COVID-19 restrictions, which led to vendors promoting their products and services online for the rest of the year.
Amanda Grogan, an event coordinator for the Student Union, helps oversee Market Day. Grogan said the number of classes and safety precautions on campus were big factors in deciding not to hold the event in 2020. 
"With all the restrictions and the capacity on campus, it just wasn't conducive for a successful Market Day," Grogan said. "So, we decided to bring it back this semester, once different restrictions had been lifted and it would have been more profitable for students, different vendors (and) for interaction on both sides." 
Grogan said it was fortunate to have Market Day outdoors, so the event could conform to UCF's COVID-19 guidelines. However, she said not much has changed in how Market Day normally operates. 
"We are working toward having a full Market Day every week," Grogan said. "We are very excited to have Market Day back. Bringing back these vendors, the small businesses who weren't able to advertise or market during COVID, and hopefully help them bring back some revenue just in their business as well." 
Grogan said Market Day is also bringing back its frequent visitor pass initiative, which allows students to check in at the Market Day tent and, after attending a certain number of times, receive a branded reusable tote bag. 
For some students, Market Day holds a special place in their hearts. Dylan Bridgemohan, a senior biomedical sciences major, said attending the event has been a tradition for him.
"Honestly, it feels pretty great to be back because before COVID hit, this was a pretty major part of what my college experience was," Bridgemohan said. "In between classes, I'd come to the (Student) Union and I'd see the Market Day stuff, and it'd be nice to interact with people and get a bunch of free things. Who doesn't love that? 
"And then, when COVID hit, and everything was moved online, that was a major component that was taken away. So, to have that back, it's like almost nostalgic."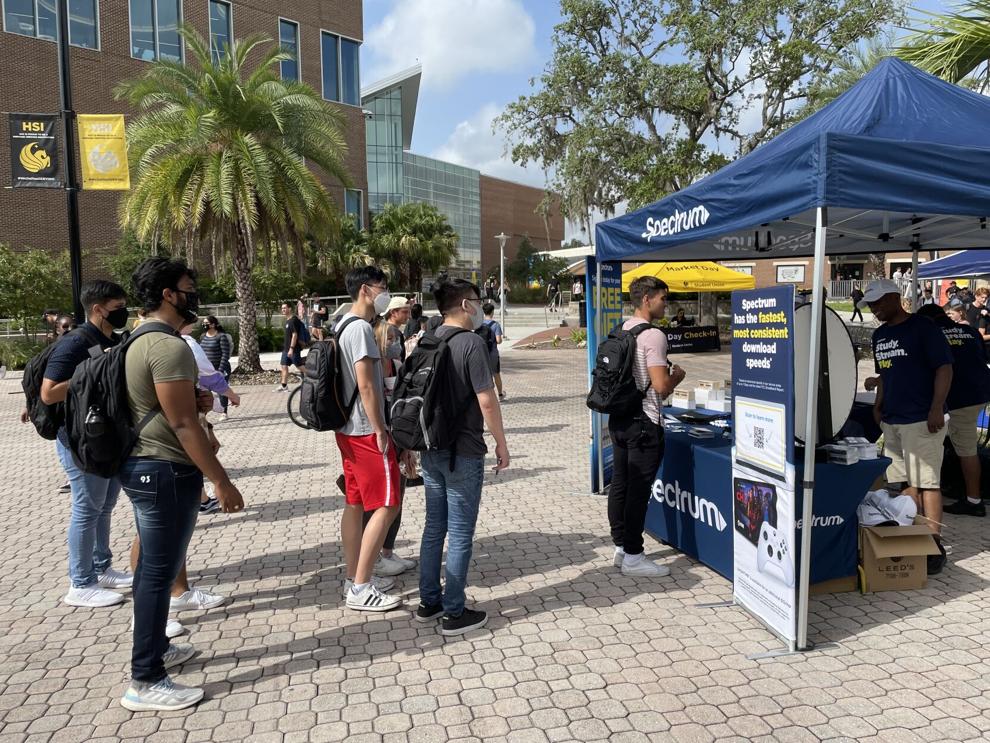 Bridgemohan said nothing really changed from the Market Days he attended in the past, other than him wearing a mask. He said getting to experience things up close is why he loves Market Day and is a big supporter of the event. 
"I have a class on Wednesday mornings, and the plan right now is after that class, I'm coming here every single week," Bridgemohan said.  
For other students, Market Day is a chance to enjoy something new.
Brooke Santiago, a junior criminal justice major, said she had always wanted to go to Market Day but never had in-person classes on Wednesdays, even before campus closed during the pandemic.
"It feels good to be back in person and have that human interaction because I think a lot of us have missed that over the last year-and-a-half with all the closures and with COVID," Santiago said. "I'm just hoping that it stays like this. I know that cases are starting to peak again, (I) just hope everybody gets vaccinated and masks up — that's all I can ask." 
Katie Laufer, a freshman hospitality management major, said she did not know about Market Day, giving her first visit to the event an element of surprise. She said she loved the products at the various tents. 
"They're really catered toward college students," Laufer said.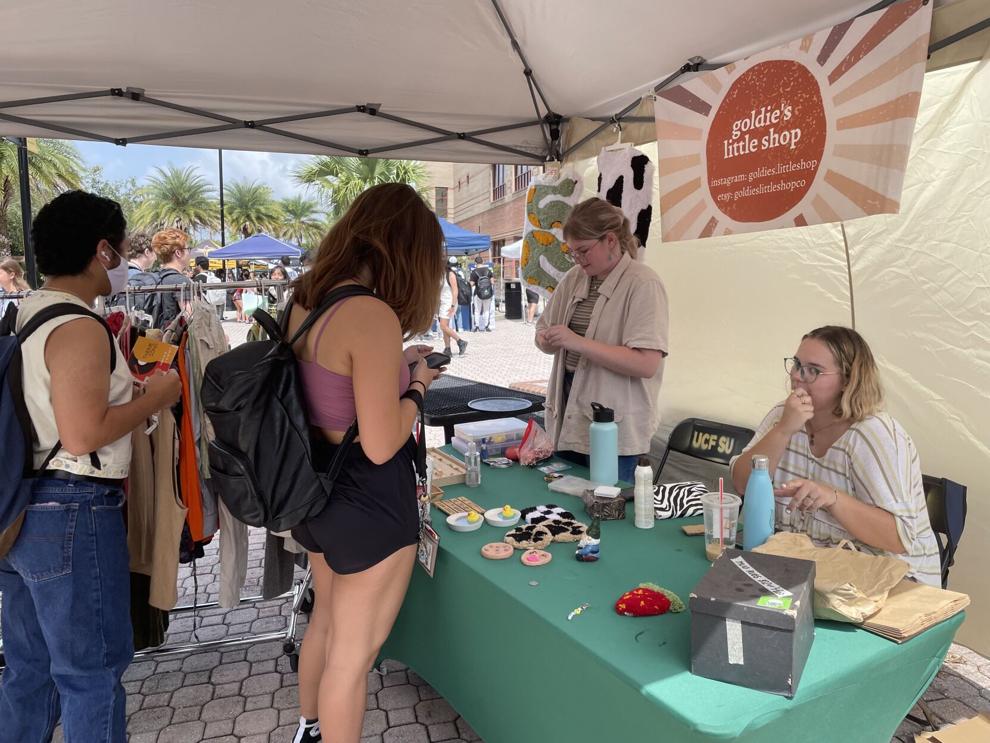 New vendors also have a chance to experience Market Day with the UCF community. Jessica Driskel, a supervisor at Buff City Soap, said she was amazed at the crowd. 
"I think it's a really good turnout," Driskel said. "We do other markets, like by Lake Eola, and we don't really have that much traffic, but here is like we're doing amazing, and we're only selling two items." 
Buff City Soap, located in the Waterford Lakes Town Center, sells handmade soaps made from natural ingredients. Driskel said the BCS team designed a local line and a particular soap for UCF students, due to the business's proximity to the university community. 
"It's called 'Up All Knight' with a K to help with the UCF brand, and it's coffee-based, so for those who like to study late or wake up early, it's one of those for an extra energy boost," Driskel said.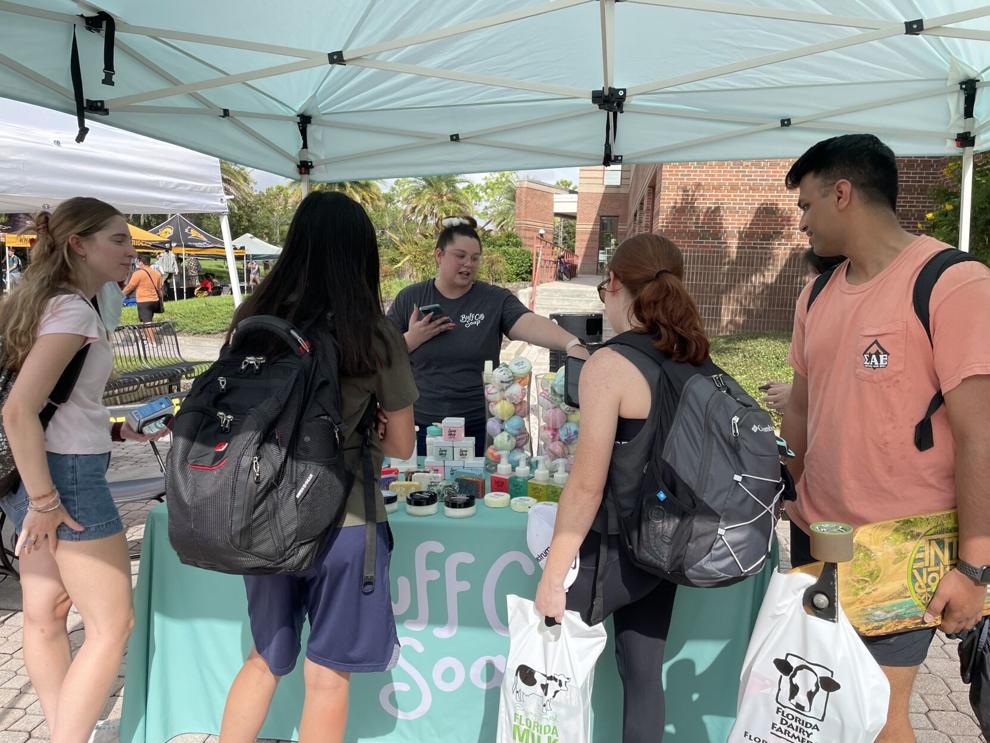 The business hasn't been significantly affected by COVID-19 precautions, Driskel said, although the BCS team has been trying to get the word out because its Alafaya Trail location opened a month ago. She said that while BCS does have an online presence, meeting people in person is better. 
"I love coming out because I believe face-to-face marketing is the best way that people are going to understand you more," Driskel said. "Because you could explain the product a little bit better than just on the internet." 
Driskel said BCS will continue to be a vendor at Market Day this semester.
"We've booked (ourselves) for the rest of the year not knowing how it would be, but we're great," she said. "And we even might book for the rest of next year too."    
Samantha Dearmas, an outreach intern at the college-age ministry The Voice Orlando, said the church has been a vendor at Market Day in previous years, but getting people involved with the faith community was a challenge in 2020.
Although The Voice Orlando does not plan on attending other Market Days this semester, Dearmas said the return of Market Day has brought a bigger response from all students, especially those who were off campus.
"We've had a lack of college students recently because obviously none of them have been on campus," Dearmas said. "So, the fact that we can even get on campus and be able to reach these students, I think Market Day is the best thing that UCF could have ever done."