On any given day of the week, this local sports bar is crawling with beer drinkers, darts fanatics and burger eaters. But now, it's filled with to-go boxes, upside-down chairs and Trix for kids.
The global COVID-19 pandemic has caused schools, restaurants and stores to close, making it difficult for businesses and families to stay afloat.
But Castaway's Sports Bar and Grill, located in Waterford Towers, is taking matters into its own hands.
As hundreds of schools closed across Central Florida, 25-year old Andrew Fontaine, a UCF alumnus and the owner and operator of Castaway's, said that something needed to be done for families in need that might not be able to feed their children — who are typically fed during school hours.
"I went to a Title I school when I was younger, and when we had the hurricane it was a big deal where a lot of kids just couldn't eat because they relied on the school to feed them," Fontaine said. "This hit home with me because I was friends with a lot of those kids. It just wasn't really fair. No child should be left hungry. We want to do do our part."
Fontaine shared a post on the restaurant's Facebook page on March 15, calling the Orlando community to action to help those in need. He asked for donations and also offered assistance to those who might need it. A week later, the donations are still coming in and the food is still going out.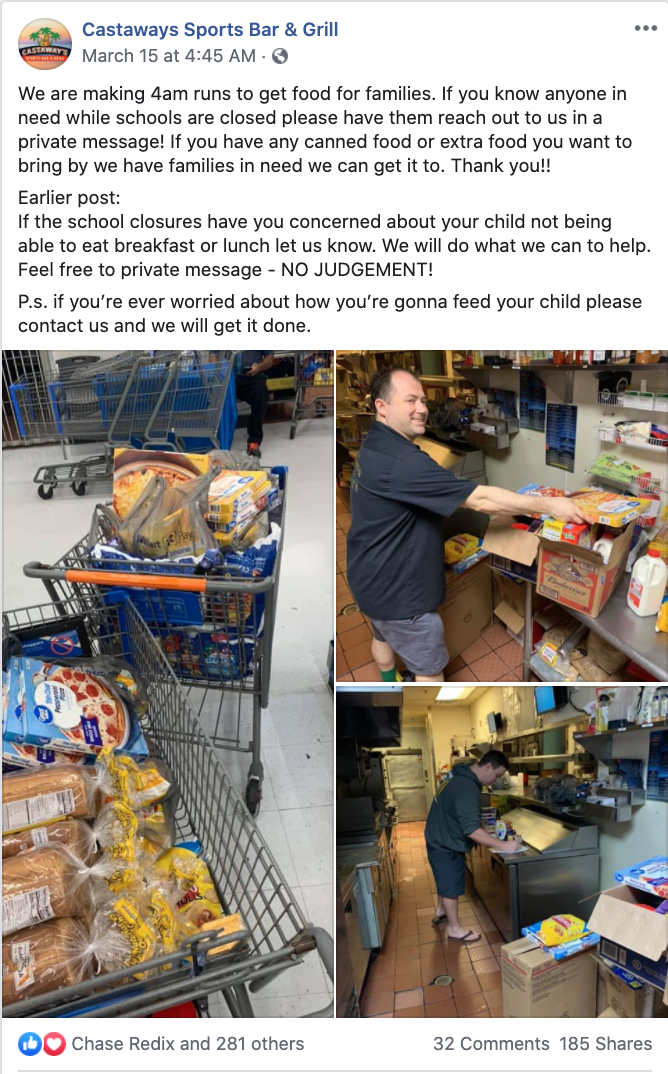 Fontaine said over 200 packages have been donated to families in need. 
Kitchen manager Brandon Taylor said he's happy to be a part of something that gives back to the community. He helps Fontaine put packages together for those in need.
"We just take whatever donations we have and we try to put them together as good as we can and try to make meals out of everything — bread, cereal, milk, peanut butter and jelly, whatever we have at the time."
Gordon Food Service, a food service distributor, is also playing a role in giving back to the community.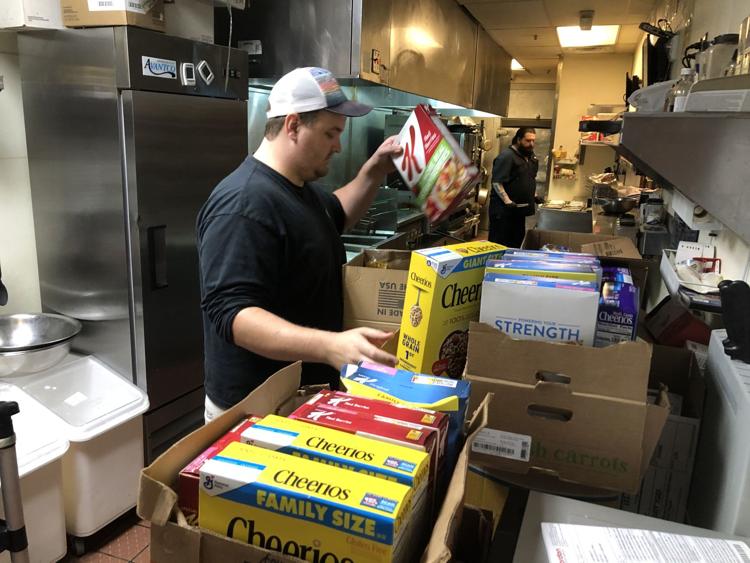 Mike D'Emo, a customer development specialist at GFS, said when he found out what Fontaine was doing, he got four brokers on board to donate a case or two of whatever food they were able to provide.
"This isn't the first time he's done something like this," D'Emo said. "He's an awesome kid. Sometimes I tell him that his heart is bigger than his head, but it all seems to work out."
In late August, when Hurricane Dorian was making its way to Florida, Fontaine and the Castaway's crew provided cases of water bottles to the community.
"I always tell everybody that in addition to being a UCF graduate, he always gives back to the community," D'Emo said. "Andrew always goes above and beyond. He always puts the community above his own."
Gov. Ron DeSantis ordered all restaurants and food establishments in Florida to halt dine-in food and alcohol consumption on Friday. Take-out and delivery is still allowed, however — even for alcohol.
Fontaine said business is slow, but being able to take care of the community and his employees is what really matters.
"I feel really bad, I want to take care of my employees," Fontaine said. "We're doing what we can but if there's no money coming in, then it's hard to put money out."
Castaway's is open for take-out from noon to 10 p.m. every day. Customers are encouraged to reach out to Fontaine if they need any assistance during the coronavirus pandemic.