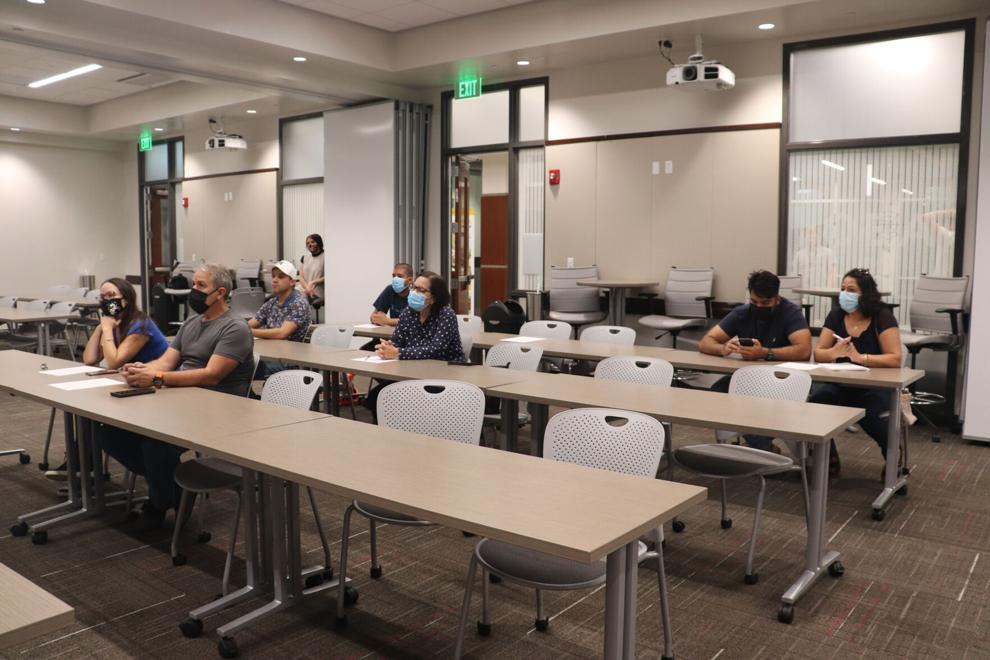 Carmen Ortiz cleans the restroom on the second floor at UCF Global while she practices English on a Thursday night.
"I am an educator in my country, but when I immigrated to the U.S., I couldn't find a job as an educator because I didn't know English," Ortiz said. "I had to find a job in a laundry room that caused me arthritis for manipulating cold and hot water constantly and deformed all my fingers."
Ortiz, who is from the Dominican Republic, is one of thousands of immigrants in Florida who struggle with English and don't have access to opportunities because of a language barrier. She works two jobs to support herself, one of them as a cleaner at UCF, she said. To meet that language need, UCF Global created a program, known as the Community English Program, that helps Central Florida residents learn basic English through affordable classes.
The classes offered by CEP aim to help people like Ortiz, whose first language isn't English, land new jobs, help their kids with homework and have a shot at "the American dream" by improving their fluency, according to the UCF Global website.
Paulo Garcia Sanchez, associate director of UCF Global, said there are 250 students like Ortiz who have not been able to get the opportunities they want because of a language barrier. Garcia Sanchez said the CEP costs $50 per session, but if students are facing financial hardships, they can talk to program coordinators and get the fee waived. The program is instructed through Zoom twice a week, Garcia Sanchez said.
"We want to make sure that there is really that quality of education that our programs are known for," Garcia Sanchez said. "We are focusing on offering this program at no cost, but we want to make sure that we keep the quality."
Garcia Sanchez said UCF Global is currently sponsoring the CEP program and is always looking for organizations to help fund the classes and help the community.
Manuel Tamayo, an immigrant from Colombia and a Central Florida resident, said he is starting the CEP for the first time. When he came to the U.S. two years ago, he had no knowledge of the English language and had to find ways to understand it and be understood, he said.
"I have my daughter who is in middle school, and I have been having a difficult time trying to help her with her schoolwork," Tamayo said. "When she started school, she really had a hard time, and she had to learn all by herself because I couldn't help her."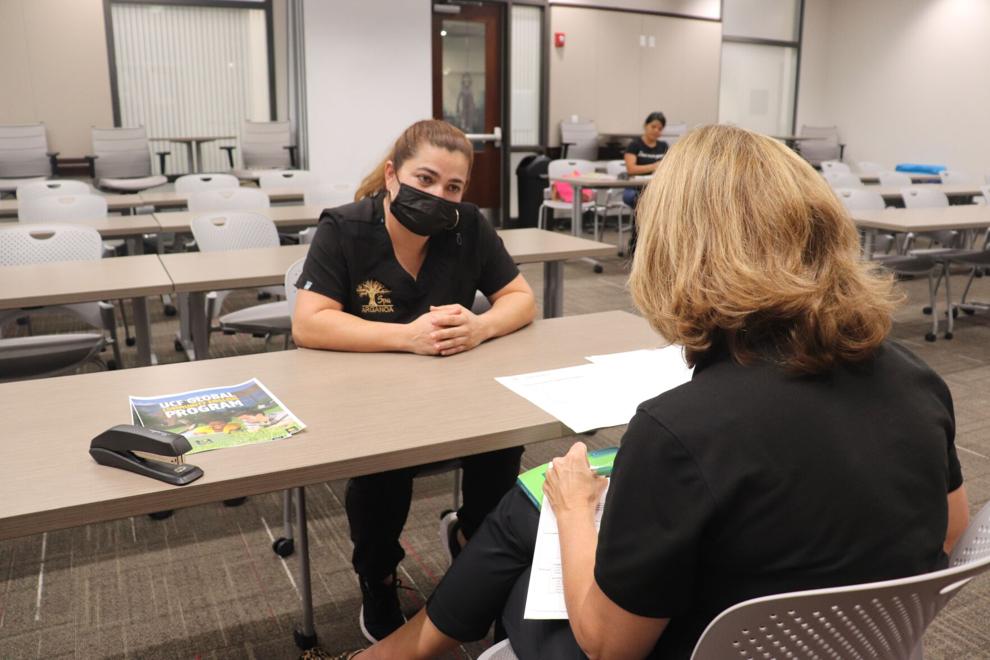 Jenny Calle, an immigrant from Colombia, said she wants to learn English to expand her spa business outside of the Latinx community.
"I have been having trouble trying to explain my work as an aesthetician and for people to fall in love with what I do," said Calle, a Central Florida resident. "If I speak to someone in Spanish, they fall in love with my job because I explained to them how it works, but if I speak to an English speaker, it doesn't have the same impact."
Gloria Palacio, international health and safety coordinator of UCF Global, said some people were intimidated by classes held on Zoom because the program has older learners who might not be technologically savvy. Palacio said she had a woman from Venezuela who was so nervous about classes being online that she had an anxiety attack. Palacio talked to her in Spanish and explained to her calmly that she would guide her through the process on how to join the class, she said.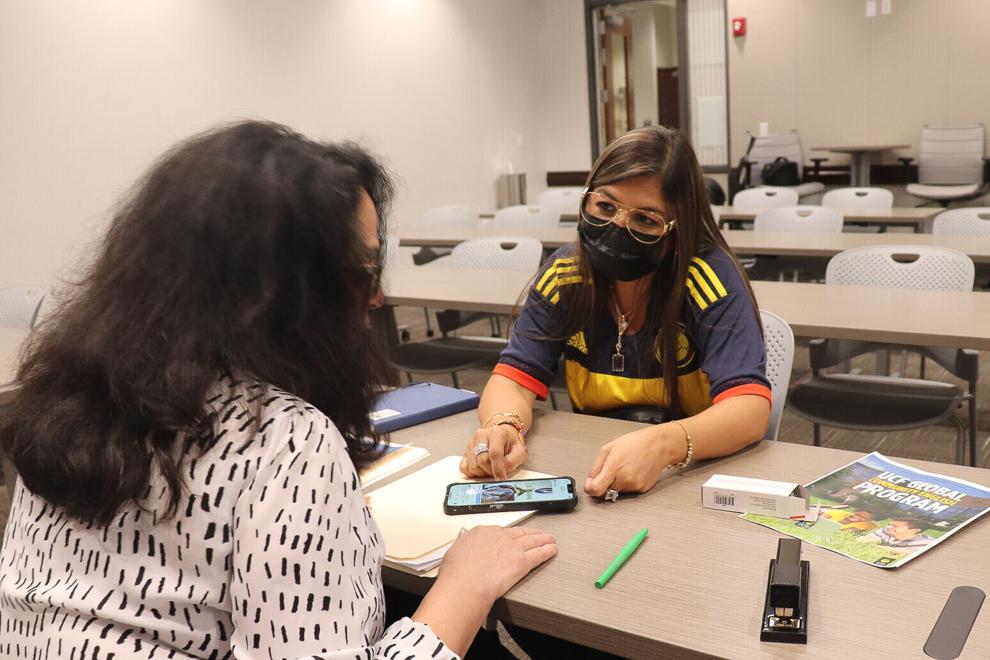 "She ended up joining and she was very quiet," Palacio said. "However, by the end of the class, she was brave enough to unmute her mic. She participated in one of the exercises, and she did fantastic; we were so proud of her."
She said the CEP is more than just community outreach and that faculty want to help students succeed.
"This is a project that is near our hearts, and we go above and beyond to make it work," Palacio said.
Started in 2018, the CEP program also has returning students this semester, such as Venezuelan immigrant Mabel Ruiz, who worked as a lawyer in her home country. Ruiz said she wants to learn English to be able to take a course related to her career.
"The dynamic of the professors is really good, even though I wasn't used to studying another language and even less used to learning through Zoom," Ruiz said. "I think it has been very positive for me."
Luisa Mejia, a UCF faculty member who teaches classes in the CEP program, said students from the program are unmatched in their eagerness to learn. She said when they are doing Zoom sessions, she has everyone turn on their cameras, and with pen and paper in hand, they're always ready to learn.
"It's very interesting because the world could be falling apart in the background," Mejia said. "We have seen children crying, moms having to prepare dinner, people driving, picking up their kids, but they're there."
She also said she has seen many success stories in her classes, and what may be a success story for people in the academic world is very different from what it is for these students. Mejia said one of her students, who came to Central Florida after Hurricane Maria swept the northeastern Caribbean, learned English from scratch, went through the program and built up her confidence in her everyday use of the language.
"I made them do a final project, and her presentation was just amazing," Mejia said. "I felt so proud that she was able to present, let alone just say anything. So, the growth that you saw from an eight-month period was incredible."
UCF Global has thousands of students coming from around the globe to join their Intensive English Program, which offers in-person classes to help students learn academic English and be able to pursue a professional career, according to the UCF Global website. With the Online English Program, UCF Global provides students the opportunity to develop English-speaking skills from their home country through an online curriculum. 
Mejia said students enrolled in the CEP have been able to learn how to communicate but also have had the opportunity to transition into the IEP. One of her students who received a scholarship to enter the program now speaks and writes academic English, she said.
Ana L. Cruz, coordinator of City of Orlando's Hispanic Office for Local Assistance, said the CEP partnered with HOLA to promote the program with flyers, hold orientations at its facilities and have the office assist with registering students who might not know how to do it online. Cruz said UCF Global has been partnering with HOLA since 2018, when it used to offer the program in person at its facility. But because of COVID-19, Cruz said, the CEP program has transitioned to Zoom.
"I was very surprised because at one point, they have (around) 600 people registered taking the courses online," Cruz said. "I thought that was amazing for people to embrace technology so quickly, and I thought that was very good."
Cruz said UCF Global offered 30 free-of-charge spots for students who registered from the HOLA office. Only 10 people have registered so far, she said.
"The people who come to HOLA come because they are going through a lot," Cruz said. "When they come here, they are looking for jobs, food, clothing and services. So, I'm guessing that things have been very tough because of the pandemic."
Ortiz has also been through some tough times. Although she immigrated to the U.S. with her husband, he would end up passing away from cancer three years ago. After his passing, she said she had to find two jobs to sustain herself and her 84-year-old mother in the Dominican Republic, who also has cancer.
"My dream is to become an American citizen because as a citizen, I will obtain the benefits of a citizen, and I really like the United States," Ortiz said.
Ortiz has postponed her citizenship test a couple of times because she doesn't speak English. According to U.S. Citizenship and Immigration Services, during the English portion of the naturalization test, a candidate must demonstrate an ability to read, write and speak in basic English.
Ortiz said she did not want to join the CEP program because she didn't have the resources to pay for it. She tried to enroll in English courses before but couldn't afford the cost, she said. Christina Cavage, curriculum and assessment manager at UCF Global, said she assured Ortiz she was going to receive the classes free of charge and that they would accommodate her busy work schedule.
"My dream is to one day be able to work in my career: I would like to be a teacher assistant," Ortiz said. "I love to teach, and I love children. I feel excited that I am going to learn English.
"I have many expectations for the program, and in the name of Jesus, I am hoping that I can learn."
This article previously incorrectly reported the UCF Foundation currently sponsors the CEP program. The correct sponsor is reflected in the story.