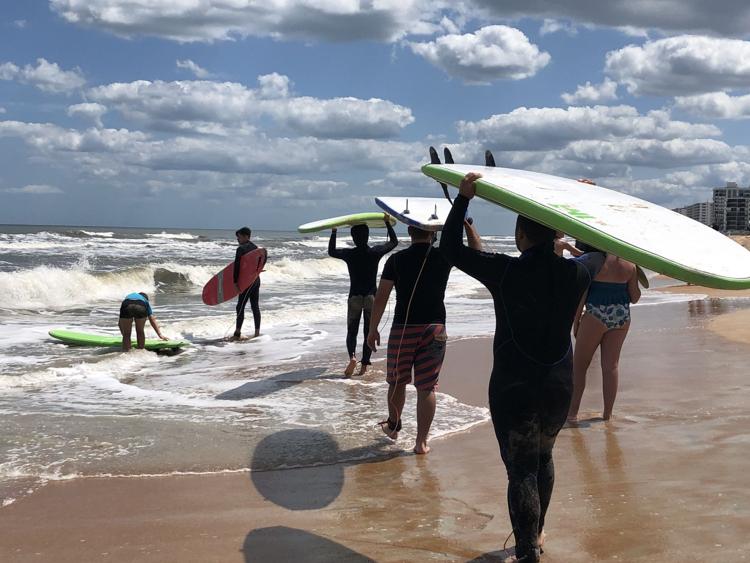 As the perfect wave approached, UCF student Kevin Cardona immediately began to paddle along. Using whatever strength he had left after a long day, he managed to catch it just in time.
Once becoming stable, Cardona took his hands out of the water, placing them in front of his chest and pushing himself up in a single jump that landed him on his feet on top of his surfboard.
From the shore, it was a sight to behold: coasting freely, arms stretched out and riding out the wave like a pro, Cardona was surfing — for the very first time in his life.
"It feels like you're flying," Cardona, freshman marketing major, said. "It's unbelievable."
Cardona's experience, epic as it may seem, was not unique to him on that day. He was one of 12 UCF students who attended the Learn to Surf trip at Tom Renick Park in Ormond Beach, Florida, on March 31.
This surf trip and many other fun, physically-challenging activities are part of UCF's Outdoor Adventure, a program that offers students alternatives for recreation and community-building, with an intense focus on environmental and personal safety. 
"Outdoor Adventure is part of the greater Recreation and Wellness Center and serves students by providing them with opportunities for engagement and connection in ways that are both inclusive and adaptive," coordinator Katherine Rocco said. 
The ways in which students are encouraged to connect extend outside of simply getting to know each other. According to Rocco, one of the points of the program is to get students to connect with their surroundings so they become active in the preservation and appreciation of local natural resources.
"One of our primary goals is to help people understand that there is a lot to do in Florida, and [the surfing trip] is a really good way to teach a skill that people want to learn, but also to connect them to their natural ecosystem so that maybe they will want to protect it a little bit more," Rocco said.
Student lead and supervisor of Outdoor Adventure Carolyn Mitchell said that all of the Outdoor Adventure's activities are based on the Seven Principles of Leave No Trace, an ethics guide to enjoy the natural world in a sustainable way that avoids human-created impact.
"We tie into the days' activities how you can be more environmentally friendly [and] make sure that you don't leave a high impact in the areas that we visit, so that you can continue to use these resources and help them stay consistently beautiful and accessible for everyone else to use as well," Mitchell said.
These surfing trips, which take place at least twice each semester and once every summer, are available to all UCF students.
Rocco said that for only $15, Outdoor Adventure's Learn to Surf trip provides personal, highly trained instructors, transportation to Ormond Beach, surfing gear like boards and wet suits, a setup at the beach with water coolers and a tent and the opportunity to connect and relax with other students.
Another one of the main points of the program is to enable students who have the desire to engage in the outdoors but may lack the resources or capabilities to do so, according to Mitchell.
Mitchell said OAC is ready with the training and equipment necessary to extend the satisfaction of these trips to people with physical limitations through their inclusive adaptive adventure trips. 
"We have adaptive opportunities, so people who may be physically injured or somehow bodily or mentally disabled can participate," Mitchell said. "But inclusivity also extends to those who may lack resources like time or money to enjoy other hobbies and have experiences they otherwise wouldn't have."
Mitchell said the goal is to provide the same opportunities to students who may think have given up on dreams of ever surfing a wave, climbing a tower or riding a kayak. 
While these adventure trips like Learn to Surf work as an alternative for physical activity, individual progression, social interaction and relaxation, Rocco said they also focus on providing education.
"We get this really unique opportunity to help students learn and grow with different platforms for student engagement, which is one of the reasons why I love it so much," Rocco said.
At the center of the program is the Outdoor Adventure Center in the RWC, which acts as the program's hub. At the OAC, students can sign up for trips and hikes, experience orientation and training and use multiple resources like the OAC library to check out books, maps and outdoor guides.
Other activities offered by Outdoor Adventure include its low-element challenge course, SCUBA certifications and the Lake Claire Recreational Area.
To help students plan their own trips and activities, the OAC offers equipment rentals for gear such as backpacks, tents, stoves, sleeping bags, flashlights and more. Groups can walk out with everything they need for an adventure at prices the Outdoor Adventure team said are affordable for students.
In order to maximize student safety, Outdoor Adventure requires its staff to be extensively trained and First Aid certified, Rocco said. Trip leaders are also required to become certified as Wilderness First Responders because they are responsible for the safety of students on off-campus trips, she said.
Rachel Baley, freshman health sciences major, attended the Learn to Surf trip for the first time on March 31 and said the Outdoor Adventure staff played a crucial role in helping attendees stay safe while enjoying themselves.
"I was falling off and tumbling under the waves — I was so exhausted — then I'd have to paddle again," Baley said. "But it was OK. The trip leaders really are there to help out."
Mitchell said it is also important for the participants in the activities to set personal goals to achieve for themselves still making friends and enjoying a group atmosphere.
"It was a bonding experience," Cardona said of the surfing trip he attended. "Everyone failed together, and everyone started figuring it out together. We cheered for each other."
The ultimate goal at Outdoor Adventure, Rocco said, is to give UCF students a safe place to encounter the world with the opportunity to reach new goals and enhance the experience of student life.