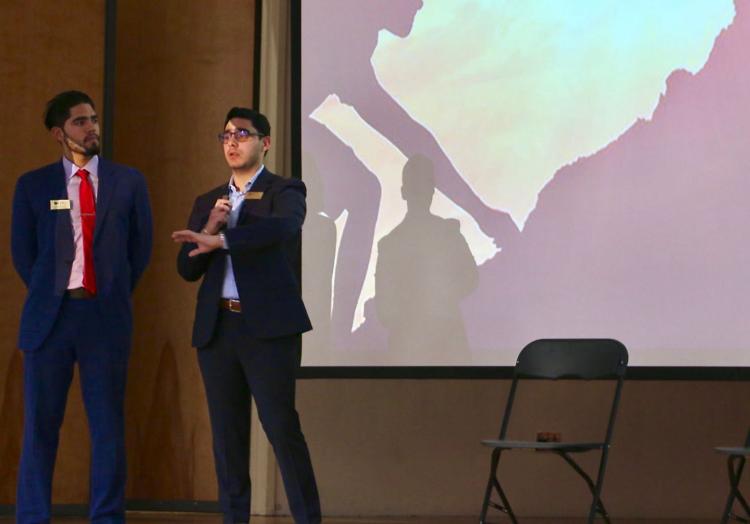 Alejandro Padilla Florez spent his time working in retail before joining the Association of Latino Professionals for America about two years ago.
"I'm lucky that within my search to find a job. I found ALPFA so early, and ALPFA was that guiding factor for me," said Florez, a UCF senior and dual finance and economics major.
First established at UCF in 2007, ALPFA is a national organization that aims to support Latin American business students through professional development and internship opportunities for its members.
ALPFA targets Fortune 500 companies and offers several workshops where students can learn important technical skills, such as courses on how to use Excel, PowerPoint, and LinkedIn. 
"Our members have earned internships from companies like Goldman Sachs, Microsoft, JP Morgan, Chase, Bank of America, and Deloitte," said Steven Sosa, the student chapter advisor of ALPFA.
Florez was elected as president in spring and now directs the organization by leading board meetings and ensuring its members work together as a team.
"ALPFA taught me how to speak to recruiters, how the recruiting cycles work, and what companies are looking for in their candidates," Florez said. "So all of the information that you usually get from your environment at home, I got through ALPFA."
Today, ALPFA UCF has over 170 active members and is divided into several committees, including the corporate relations committee, which is in charge of reaching out to employers to attend weekly chapter meetings. 
According to their website, ALPFA was the first nationally-established Latino professional association in the U.S.
Every year ALPFA hosts a national convention where members, employers, students and full-time professionals attend to network and find job opportunities.
This past August the UCF chapter was awarded 2019 National Chapter of the Year at the annual National ALPFA Convention, after competing against 160 other student chapters across the country.
During the convention in Nashville, Tennessee, Florez had the opportunity to network with recruiters from Microsoft. The day before his interview, he said he reached out to another member who was at the convention to help him prepare.
"I credit my full time offer with Microsoft to ALPFA, because they were the ones who gave me all the tools necessary for me to achieve it," Florez said.
Florez also recalled how other members at ALPFA helped guide him through the application process when searching for a job.
"Even though I'm the president, I still had people who helped me," Florez said. "That is what is important, it doesn't matter what stage you're in. You can always ask for help and guidance."
Daniel Robles, a UCF senior and dual major in finance in economics and political science, joined ALPFA about one year ago. Robles earned a full-time offer from Deloitte, a global accounting firm and professional services network, after attending the convention.
"On campus, it's amazing to have that network of students who have the same goals as you do," Robles said. "Surrounding yourself with people who have the same aspirations and mindset goes a long way with self-confidence."
Early on, Robles dreamed of working on Capitol Hill in Washington, D.C. with a specific interest in management consulting of government agencies. Over the summer he worked as an intern at the office of Rep. Stephanie Murphy.
"Without ALPFA looking at my resume, helping me with mock interviews and just being in that support group, I probably wouldn't have gotten the internship [with Murphy]," Robles said.
The association also has a mentee-mentorship program, where more senior ALPFA members will sign up as mentors to guide and offer advice to newer members. Robles will be serving as a mentor for the first time this semester.
"They definitely help you," Robles said. "Even if it's not connecting you with the recruiter or directly getting you the internship, just being in that environment and getting that help will always be beneficial."