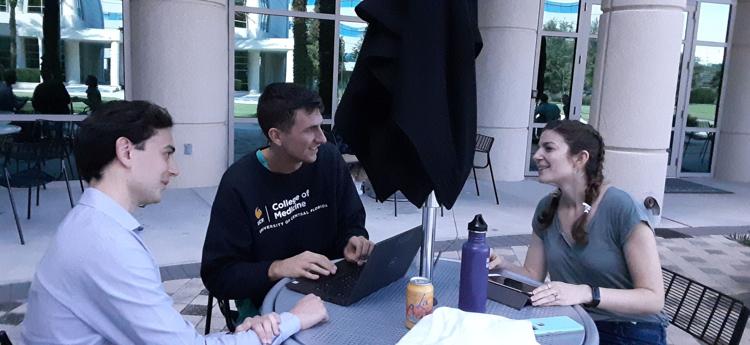 Students studying at the UCF College of Medicine's Lake Nona facility will have a new place to do research next year.
Construction is ongoing for the Lake Nona Medical Center, directly beside the college, and much of the staff will be made up of UCF staff and faculty who will integrate education into treatment.
"Our hospital will be a place that not only provides healing for our patients, but also educates the healthcare providers of the future and supports the work of brilliant researchers that will lead to lifesaving care," said Wendy Brandon, CEO of UCF Lake Nona Medical Center.
The hospital, which broke ground on Oct. 25, 2018 and is planned to be completed by late 2020, will work as a fully functioning hospital with 64 inpatient beds, 20 emergency beds, four operating rooms, six delivery rooms and a full suite of labs and research facilities.
"A hospital to advance teaching and clinical research programs has been a UCF priority since the university opened its medical school in 2009," said Dr. Deborah German, founding dean of the College of Medicine and vice president for health affairs. "UCF Lake Nona Medical Center will help Central Florida become a national, then global healthcare destination that will benefit all of our partners and our community."
The Lake Nona Medical Center will have experts on hand in a variety of fields, including mental health professionals, physical therapists and pharmacists. According to a press release, students will have the opportunity to work with these authorities in specified education sectors. 
"I have never felt like my professors were too busy for me," said Alexandra Ciranna Truong, first year medical student. "With their place of work closer now, we'll have even more time to get feedback and ask questions."
The staff would split their time between teaching classes and tending to patients at the hospital. Students will have access to the facilities for shadowing and studying, as well as the labs for their own experiments. 
"Shadowing opportunities are important," second year medical student Michael Fiorino said. "It allows us to experience different disciplines. Any students on the fence about what to specialize in can experience it here and decide afterward."
Community outreach is another major focus of the hospital.
The Lake Nona area doesn't have a general hospital, with the closest being the Florida Hospital location 20 minutes away. The new center would also provide a new, closer location for the residents of the community.
"I grew up in this area and getting the medical care I needed often led to a long car trip," first year medical student Brandon Tapasak said. "With a hospital in this area, we'll be able to treat more patients and emergencies in a timely manner."
Many individuals who usually cannot afford treatment at other hospitals will get cheaper or free care at the new center thanks to funding from HCA Healthcare.
Currently the hospital plans to provide $13.8 million in projected uncompensated and charity services, according to a recent press release from the College of Medicine. 
"This hospital will serve the community," Truong said. "It's easy for people to fall through the cracks, but this new location will allow us to catch them before they hit the ground."
While the future staff of the hospital is currently being scouted out, some students said they aren't pressured to work there after they graduate. 
"The opportunity is there to work here, but we're not pushed," Tapasak said. "It's a nice option for people who have family around here, but UCF wants what's best for us. They'll help us get jobs anywhere that fits our needs." 
Both students and staff at the UCF medical school are preparing for the hospital to open as some see it as an asset for student knowledge, community outreach and healthcare expansion. The Hospital Corporation of America also saw promise in this new location and provided $3 million in investment to procure a cancer treatment expert for the hospital.
"Through partnership, UCF and HCA are providing a new, academic approach to patient care at UCF Lake Nona Medical Center," German said. "In the United States and around the world, the best health systems have an academic component at their heart and the best medical schools have hospitals."
Once the hospital opens in late 2020, students will be able to work alongside trained medical professionals to assist their community.
"It's necessary for UCF as a medical school to grow," Fiorino said. "I'm excited for this next step in this college to become a major medical school with a further healthcare presence in Central Florida."