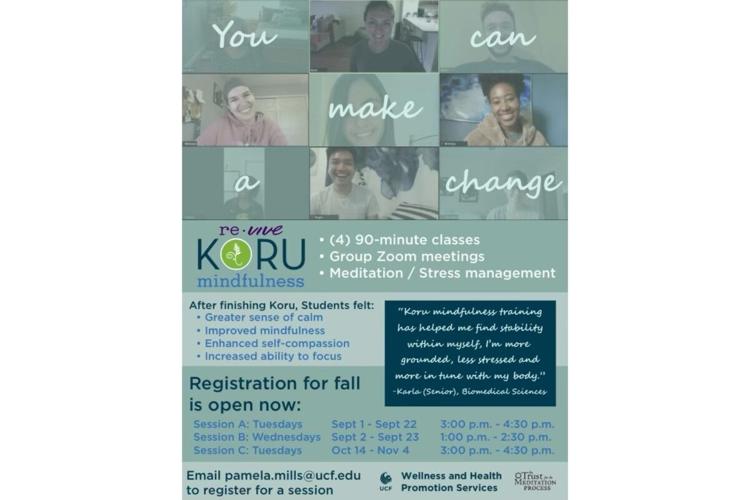 Before taking a new mindfulness class, a stressed UCF student tried to meditate on her own, but found it to be too hard. Since taking the class, Ada Solano has learned how to cope with stress better. 
"Learning how you deal with negative thoughts as you meditate as well as positive thoughts taught me not to be judgmental about my surroundings," senior biomedical major Solano said. "Not to judge whatever is going on around you, whether it's a person or an event."
Koru Mindfulness is a mental health course that offers meditation and mindfulness techniques. The class of 12 students meet for 90 minutes weekly for four weeks over Zoom.
Despite the virtual format, many students said it gave them a sense of community and a platform to talk about current issues, said Pamela Mills, coordinator of biofeedback and stress management at UCF's Wellness and Health Promotion Services. 
"In the class, there's always time for talking about how the week went, and it inevitably comes up with things going on in the world, like the pandemic and social injustice issues going on," Mills said. "We're more like a group talking, supporting, but also listening to each other in a mindful way and allowing an opinion to be had and not to be disputed."
The class comes with free tools such as the Koru Mindfulness app and "The Mindful Twenty-Something" book. UCF offers the app and book for free. Students have to be in the class to get the app for free, but not the book.
The app has a journaling component allowing students to reflect on their meditation practice and journal their experience. The app also has meditations, and students can listen to the audio from the app to practice meditation on their own.
Mills said these two tools reinforce building mindfulness skills. Mindfulness is the process of being in tune with everything going on in the moment, while meditation is a way to practice mindfulness. 
"When you bring mindfulness to everyday things, you start noticing more of what you're thinking, feeling and doing," Mills said. "Then, you can begin engaging more in your life, and make a choice of how you want to live versus just being in that autopilot where life is happening around us and we don't even realize how we're responding to it."
A clinical staff member in Counseling and Psychological Services at UCF, Jade Garneau-Fournier, said she thinks this class is helpful, especially during a pandemic.
"We get disconnected from our reality to some degree, we do get caught up, our mind can easily think about the worst-case scenario and the bad things that could happen," Garneau-Fournier said. "It's a good tool to recalibrate yourself to feel grounded, because there is a lot of unknown."
Mills said she plans to continue offering the class to students in the upcoming semesters, as well as a Koru 2.0 class for students who already took the first four-week course.
For Solano, taking the course has allowed her to get closer to other students and see the common struggles they share.
"I feel we did form a sense of community within the group," she said, "since we shared our experiences, thoughts, feelings and how these meditations have been helping us."