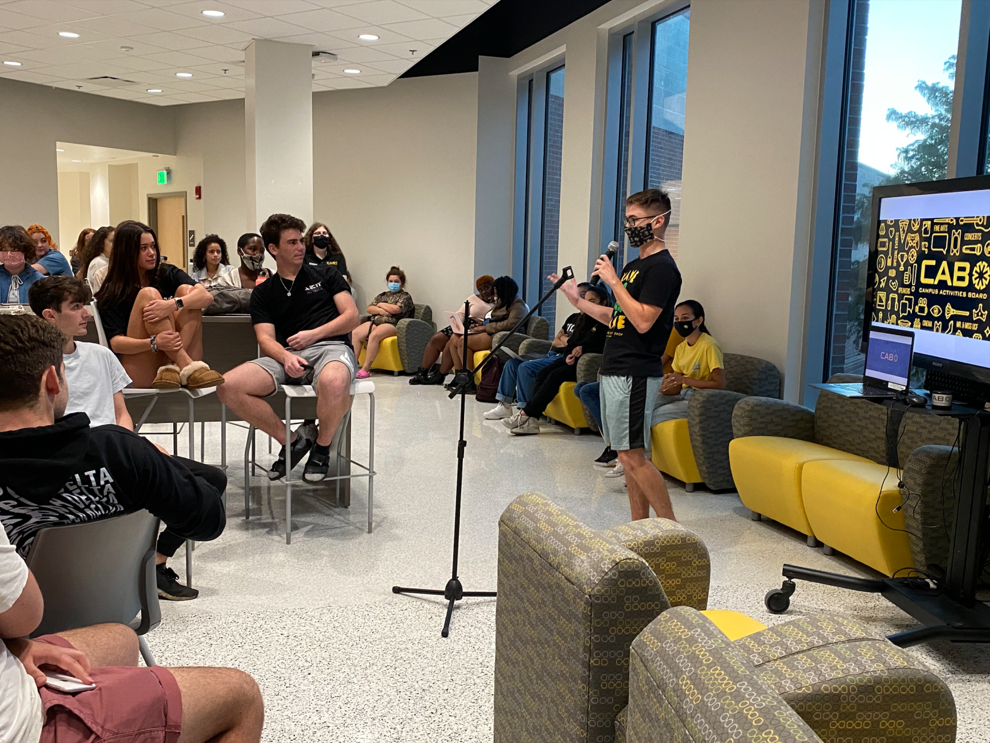 For the first time, UCF's Campus Activities Board allowed students to showcase any desired talent at Open Mic Night at the Student Union Thursday night. 
CAB Speakers Director Bruna da Silva said Open Mic Night was a time for students to perform whatever they wanted in front of an audience of more students. 
"They can showcase their talent and put whatever message they want out there," Da Silva said. 
Open Mic Night has happened at UCF before, but this year CAB expanded talent areas to include musical acts, spoken word poetry and stand-up comedy, whereas previous events only allowed one talent area. Musical acts had never been included at Open Mic Nights, CAB Concerts Director Elena Guillen said.
Da Silva, Guillen and CAB Comedy Director Alexandera Garroway collaborated to facilitate all three talent areas. Guillen said CAB expected Open Mic Night to have more variety in performances due to this collaboration, as well as a higher audience turnout. 
Garroway said there are normally around 30 audience members in attendance at these events, but Thursday night saw close to 50 attendants. 
"We are hoping that this brings more people because it kind of creates a broader circle of interest," Guillen said. 
Guillen said the free event was open to all and held inside the Student Union Starbucks to gain a larger audience, as the Union is considered the "heart of campus." 
"If they see this is happening, maybe they will just want to sit down, grab a cup of coffee and enjoy the talent that is being presented," Guillen said. 
Digital media junior David Swartzlander performed a stand-up comedy act at the event. Swartzlander said he always knew he was funny and that other people always tell him so. His first time doing stand-up comedy was at a previous Open Mic Night at UCF, he said, after receiving some encouragement from friends.  
"I actually really enjoyed it, so when I saw they were having another one, I was really excited and I wanted to sign up," Swartzlander said. 
Swartzlander said he is more comfortable performing in front of an audience this year, as this is the third Open Mic Night he's performed. Garroway said Open Mic Night not only pushes performers outside their comfort zones but also audience members. 
"It gives people in the audience the ability to experience more than they're used to in the different talents," Garroway said. 
Garroway said audience members might be encouraged to perform next time after seeing the performances or leave feeling inspired. Music education junior Jennifer Rozell said she wanted to perform at Open Mic Night to help reignite her passion for music. Rozell said that upon attending college, she lost sight of her love for music. 
"I used to be really into music and ever since I got into college, I fell off of that," Rozell said. "The moment I got into UCF, I knew I had to get back onto it because it really is what makes me happy."
Da Silva said Open Mic Night is different from other CAB events because it relies heavily on student attendance. Without students' willingness to perform, Da Silva said, there can't be an event at all.
"You have to be a part of it for the event to actually happen," Da Silva said. 
Ben Stillman, an engineering senior, was dared by his friends to perform a stand-up comedy act at Open Mic Night. The first-time comic put together an act that visibly amused audience members.
Stillman said his act drew from his own real-life experiences. "My life is a joke," he said. 
Guillen said CAB will continue to hold Open Mic Nights, but it's experimenting with the open talent format. CAB is considering holding an Open Mic Night once a month for students to showcase their talents, Guillen said.
"Most of CAB's mission is to enhance the experience of student life, and I think this pretty much does it because we are giving our students a chance to speak out and show their talent," Guillen said. 
Swartzlander said although he was nervous his first time at Open Mic Night, the feeling afterward makes the nerves worth it and encourages other students to perform. 
"If you're thinking about trying it, you should try it," Swartzlander said. 
CAB is constantly holding a variety of events to help enhance student life. Information on events can be found around campus, as well as on the board's official Instagram.