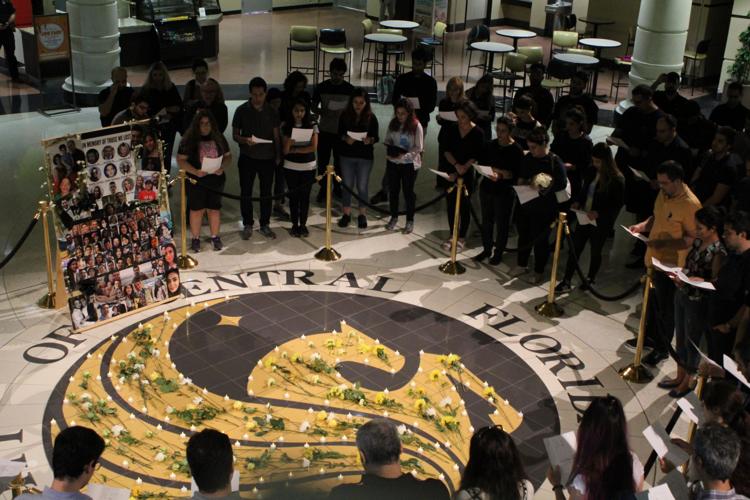 The Iranian Student Association at UCF hosted a vigil Thursday night for the 176 victims killed in the Ukrainian plane crash on Jan. 8 in Tehran, Iran.  
As of Jan. 11, the Islamic Revolutionary Guard Corps of Iran admitted to shooting down the Ukrainian Boeing 737 passenger jet. Amir Ali Hajizadeh, senior commander of the IRGC, said it was a mistake in a press conference.
The Pegasus emblem in the Student Union was covered in white roses, yellow chrysanthemums and white tealights as attendees dressed in black, gathered around the emblem, mouthing the lyrics of a Persian song about the innocence of victims.
Ali Mesbahi, president of the Iranian Student Association at UCF, planned the memorial. He was choked with emotion.
"These people left their countries for a better life," Mesbahi said. 
Sanaz Moinzad attended the vigil. While she isn't a student at UCF, the memorial was still important to her.  
She lost her cousin, Behnaz Khoei Ebrahimi, 45, and her cousin's son, Rahmtin Ahmadi, 9, in the crash.
Losing two family members makes her feel like a huge portion of her life has slipped away with them, she said.
"I just want her to know that she raised a beautiful son, and she has nothing to worry about," Moinzad said, "I love her and her son so much, and I know she'll be watching over me and my family."
Biotechnology major Arash Keshavarzy, 26, said three of his friends died in the crash. He said he remembers his friend, Ghazal Nourian, 26, as a "calm and kind woman."  His two other friends, Pouneh Gorji, 25, and Arash Pourzarabi, 26, got married three days before the flight, he said. 
"It's unbelievable," Keshavarzy said, "Three days before, we're in their wedding, then we're at their funeral."
Keshavarzy said he was angry at the silence that followed the crash.
"They lie so easily," Keshavarzy said referring to the claim that this incident was simply human error. 
Afsaneh Razi, 30, computer science major, said she knows the sister of one of the victims of the crash.
"This kind of error is unacceptable," Razi said. "I feel anger and sadness for all of these beautiful souls."
Razi said she deeply grieves the loss of students who boarded the plane in search of a better life and an education. 
"I hope people have less hate and more passion for loving other people," Razi said.