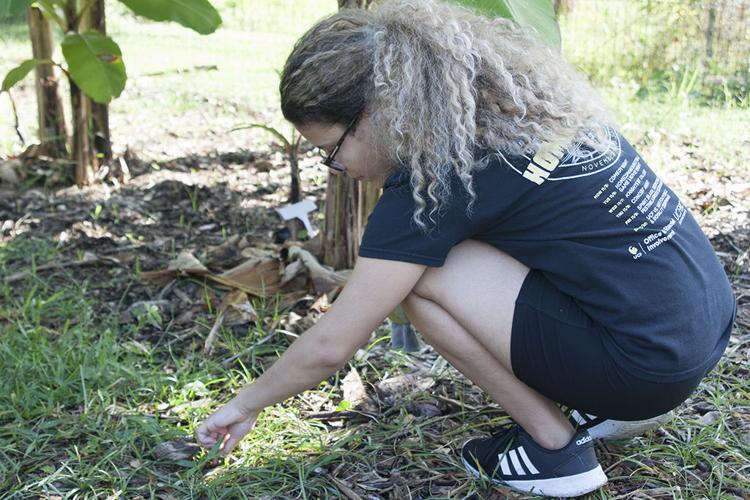 Knights Give Back has been around for 13 years, but only one volunteer has been a part of the organization longer than anybody else to see its growth thus far.
Amanda Dinkin, special events director of Volunteer UCF, organized the Knights Give Back events this year. She said there were about 100 more students in this year's volunteer services sign-up event than in the past — a welcomed increase.
Knights Give Back is an annual event for providing volunteer services to support the UCF and surrounding Central Florida communities. There are eight topics to choose from, ranging from the environment and animal awareness to hunger and homelessness.
A total of 375 UCF students signed up as volunteers to several sites on and off campus during the Knights Give Back day on Saturday. Students met at the Addition Financial Arena to sign up for volunteer services at 7:45 a.m. Those who would go off campus to volunteer left by bus at 8:30 a.m. to their service sites.
After more than a decade of Knights giving back, some organizations working with Volunteer UCF have provided new services available for students to sign up and volunteer.
This year, the UCF Arboretum provided the opportunity to clean up the organic garden on campus.
UCF Arboretum has an organic garden behind the Physics building, which is used for planting and growing food. Since November 2018, the garden has prepared a new site aiming at expanding the blueberry production by growing the berries directly in the blueberry mix in large pots and using drip irrigation to reduce water use for sustainability.
About 20 students went to the garden on Saturday morning and helped clear weeds there to leave more spaces for planting.
"Through this volunteer service, people would care about the organic garden and give students a beautiful campus to look at," said Camille Dumit, sophomore environmental engineering major who signed up as an environmental service group volunteer.
Besides pulling out weeds, students can help plant trees and mulch garden beds among other things available to do at the garden.
"You wouldn't notice that we have a garden [at UCF]," she said. "But there are people who are putting plants and who like gardens that are going to make their days look a little better just because seeing a pretty plant the campus provides. I think it wants to create a better ecosystem further campus."
Additionally, the UCF Arboretum has partnered with Knights Helping Knights Pantry, a pantry service on campus for students who cannot necessarily afford to go and buy their own groceries, textbooks, clothes and shoes. The Arboretum's garden products will go to Knights Pantry to help students that need basic food, clothing and personal hygiene items.
Next year, Dinkin said she hoped more students would join more volunteer services and would try to find more dedicated volunteers to come to these events.
"[Volunteer service] is important because we do spend a majority of our days and getting involved on campus," Dinkin said. "It's important to know where you come from and whom you're involved with... It helps you find yourself, not only spiritually and mentally, but physically getting involved in finding things you'd like to do, it's always important."
Dinkin said that Volunteer UCF educates volunteers so that they can be more aware of issues their communities face and be aware of global issues as well.
"We really want people who are going to take this, seriously," Dinkin said. "We want to emphasize how much we want to give back [to UCF communities], and not just as Knights but as a whole."