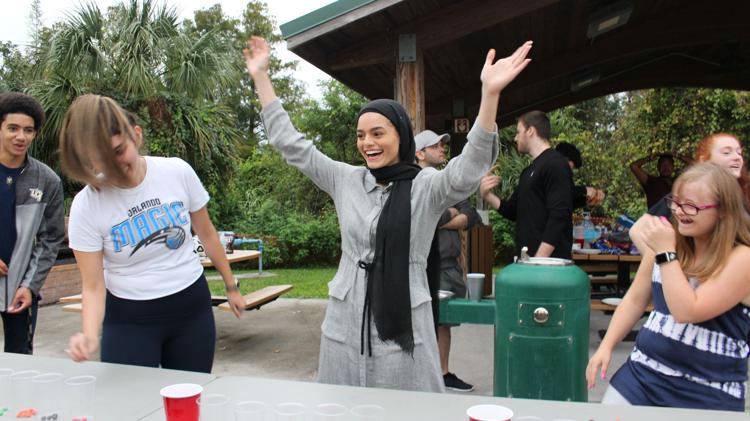 UCF students with intellectual disabilities now have a club to call their own.
Knights Exemplar is a Registered Student Organization (RSO) created in October that supports UCF's Inclusive Education Services. IES offers students with intellectual disabilities an inclusive, comprehensive non-degree seeking academic experience, according to their website.
Senior health sciences major Taylor Duffy co-founded Knights Exemplar. He said he wanted to make student life better and help IES students get more involved on campus.
"Our goal is to help them [IES students] make the most of their college experience," Duffy said. "To gain the skills, the independence, the self-sufficiency to gain meaningful employment and grow for years to come."
Just two months after starting up, Knights Exemplar won RSO of the month in December out of 600 other RSO clubs on campus.
"Winning RSO of the month, which is a huge honor, kinda shows how UCF and Knights exemplar is doing a great job of exposing the entire campus to the diversity of humanity that exist," Duffy said.
Knights Exemplar strives to educate Involvement Ambassadors on the difficulties that come with working with students with intellectual disabilities through guided collaborations and workshops.
Duffy said that Involvement Ambassadors are a group of student leaders who serve as role models and peer mentors for students in IES.
"We can bridge the gap, creating the accessibility that students need and deserve to make the most out of their experience at UCF," Duffy wrote in a presidential welcome letter.
Junior health sciences major Rahema Khan serves as an Involvement Ambassador. She said her experience with the club has been a good one, and she feels welcomed by everyone. 
"I love how this is an opportunity for me, as well as the students, to grow," Khan said. "It's a unique leadership opportunity. I don't think I would have gotten this experience anywhere else." 
Knights Exemplar offers events through their program for IES students such as, academics, campus involvement, health and wellness and career exploration. All events are posted on the Knights Exemplar KnightConnect page.
"We're such a young organization, but we definitely have a lot of growth we're looking forward to," Duffy said.
As the president and co-founder of Knights Exemplar, Duffy said he hopes he built a strong foundation for future club members to build upon even after he graduates in May.
"Additionally, we hope Knights Exemplar will strengthen UCF's pursuit of campus-wide inclusivity," Duffy said. "Greater diversity in student involvement leads to increased diversity in both thought processes and social interactions on campus. This cultivates a well-informed and inclusive student body."