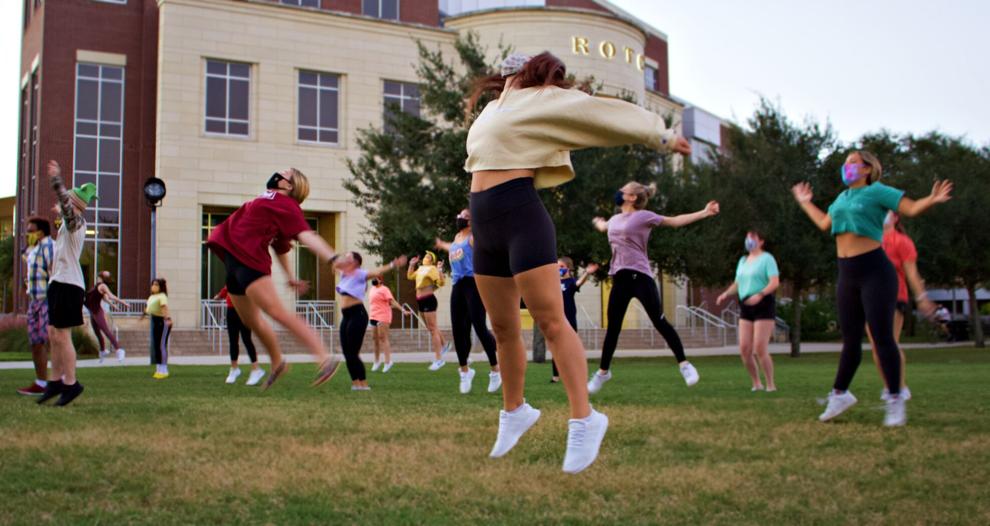 Amid quiet cricket chirps and the expansive, empty green lawn of Memory Mall, one group of students broke the silence with music and dance — UCF's own Knight-Thon Morale Team.
This group of 27 student-dancers was led by Sophie Sajecki, the Morale dance team's student director. She wore a bright pink cowboy hat and used a megaphone to direct her team. The students, dressed just as colorfully and adhering to social-distancing protocols, followed her lead as she taught them an upbeat, choreographed hip-hop dance number for their main event at the end of the academic year in spring.
"Anyone can join," Sajecki said, referencing the many different types of students who are a part of Knight-Thon, ranging from hospitality to medicine majors.
But these students weren't just dancing for fun. They were a part of something bigger.  
Knight-Thon is UCF's own dance marathon team, which is a part of the Miracle Network Dance Marathon movement. Over 400 different teams exist nationwide, with about 120 universities participating in the organization. Every year, they raise funds to benefit the Orlando Health Arnold Palmer Hospital for Children. 
At the end of the academic year, Knight-Thon holds a 20-hour Dance Marathon event where it performs a seven-minute dance every hour on the hour. Last spring, the team raised over $1.2 million by the end of the academic school year. 
"The children who go through those hospitals don't have to pay for a single thing," Sajecki said. "The money we raise goes directly toward the kids."
Sajecki said Knight-Thon's fundraising directly benefits children at the Orlando Health Arnold Palmer Hospital for Children, including its Miracle Families: families of children like Caden, a young boy with autism, or Celeste, a young girl born with spina bifida. Celeste is now learning to walk for the first time because of the money raised by Knight-Thon.
"I would love to see a day where no child had to go to the hospital or do anything alone," Sajecki said. 
The pandemic has done little to slow down Knight-Thon this school year.
Because of the virus, the spring semester's Dance Marathon event was almost canceled in March, but the Knight-Thon communications team was able to host the event virtually. Even though the team could not hold this event in person, it raised over $800,000 for the hospital at its annual dance event this past April.
This fall semester, the team has carefully abided by UCF's COVID-19 safety protocols. About five of its events that would typically be held in person were transitioned to a virtual format using its Instagram, like the 5K run fundraiser the club held from Sept. 24th to Sept. 27th. The event involved sponsors and runners who ran in places like theme parks and on campus.
Madison Bittner, executive director of Knight-Thon, said she hopes the club can hold its annual Dance Marathon event in person this March at the Addition Financial Arena so the team can meet with its Miracle Families and Children. She is confident Knight-Thon will be able to hold more in-person events this spring.
"It is more important now than ever to support our kids and support our hospitals," Bittner said. "It can be difficult to spend time with our Miracle families during the pandemic, but we try our best to stay close."
Ryan Reed, student event manager for Knight-Thon, emphasized the importance of supporting these hospitals during the pandemic, and said he is inspired by the kids in need to help every day. 
"Our kids love coming to our events, but little do they know they actually help us in a much bigger way," he said, "by reminding us why we do what we do."