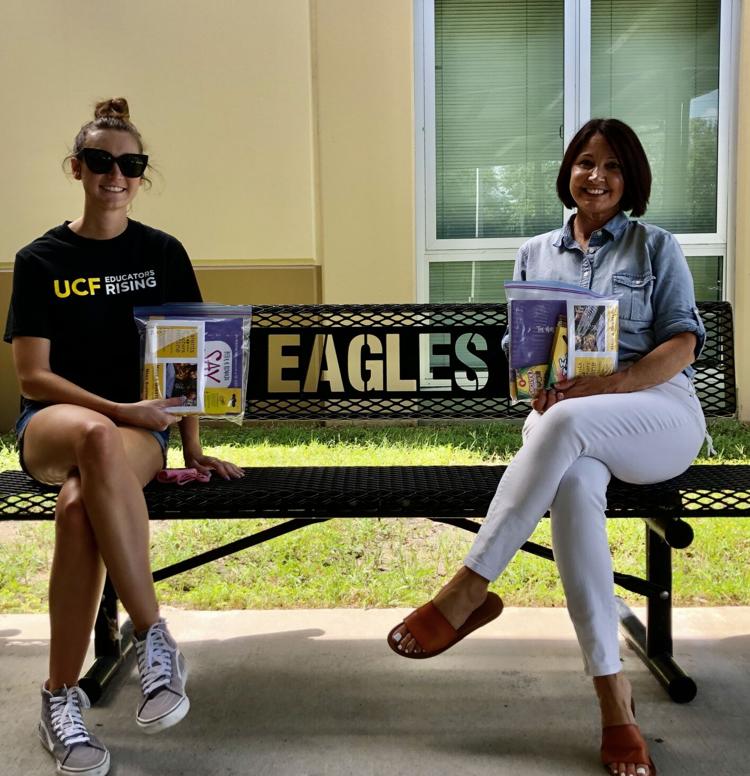 Smiling brightly, two women radiate friendliness as they describe the project they completed for the community. 
With school systems adapting to online schooling, a group of staff and students from UCF banded together to create kits for families to help navigate the transition to online classes. 
"I'm thankful for our virtual world, but it is a different world. One of my colleagues said, 'New door, new possibilities,' but it's still a new door and new doors come with challenges. I have hope for the future, but it is a new future that we are in" Blanch said. 
The administrative staff from the School of Teacher Education reached out as part of the Parents as Teachers Hotline, which was created by the College of Community Innovation and School of Education to aid parents who struggle to help their children with online schooling.
The administrative staff from the School of Teacher Education reached out to Norine Blanch, a lecturer at the CCIE School of Teacher Education, Blanch said.
As a part of the Parents for Teachers Hotline, Sandra McCall, administrative coordinator for the CCIE, reached out to Blanch with hopes of putting something tangible out into the community, Blanch said. 
"They wanted to see if we could extend our outreach a little bit more and actually get something tangible into the hands of kids," Blanch said. 
The Parents as Teachers Hotline was created by the CCIE with the purpose of aiding parents with children struggling with the switch to online classes, according to UCFToday. 
Parents who are straining to help their children who are struggling with online learning can get connected to UCF faculty through the hotline to get help aiding their children in learning, according to UCFToday.  
"Right away, I thought about getting books into the hands of kids and creating, you know, let's do that via a little kit, let's get a book and some integrated art tasks because that's kind of what Sandra was thinking about already," Blanch said. 
Aware of the task ahead of her, Blanch said knew she was going to need help and immediately contacted Michelle Wilson, her senior intern. Wilson said she wanted to help and give back to the community after her internship was shortened due to COVID-19.  
"As soon as this came up, I reached out and I said, 'Okay here's your chance, if you would help me put a student team together, this is what I'm thinking and take it from there," Blanch said.   
The kits included a book encouraging parents to talk with their children about speaking up with peace and purpose, according to the CCIE's Facebook page run by Melissa Spence, the social media specialist for the CCIE. 
Wilson said the kits included coloring sheets, colored pencils, markers, worksheets and other activities in addition to the book.
Upon hearing about this opportunity, Wilson said she was inspired by the kids to help give back to the community in hopes of encouraging these students to keep progressing.
"So when this came up, I thought this was such a good opportunity to let the kids know that we care about them and are concerned about them," Wilson said. "I hoped we could put a book in their hands that could give them joy." 
Following CDC recommended COVID-19 guidelines, they took certain precautions when giving the kits out, such as wearing masks and having parents drive up to a window where they passed out the kits to different schools, Wilson said. 
They chose schools to give kits out to by recommendations from the Teacher Quality Partnerships program. The TQP wanted them to go out to different communities that could use the support, Blanch said. 
"Half of the books were sent out to the Eccleston Elementary school because of the accessibility and the other half to the Academic Center of Excellence," Blanch said.
With children of her own, Blanch said she applauds parents on managing the new struggles they are facing. 
"Parenting is one of the hardest jobs, and to add a layer on top of it now to become their teacher and they're not trained to be a teacher — that's a mountain of a job," Blanch said.
Wilson said she felt extremely rewarded and gained a level of comfort knowing she could bring some joy into the children's lives during such trying times.
Blanch said Kits for Kids could be used for anything, and it could be used with any book or any materials to help engage families in learning and to help build community. 
"Anytime that we can reach out to the community and give back, I think it is our responsibility and I love that responsibility," Blanch said.