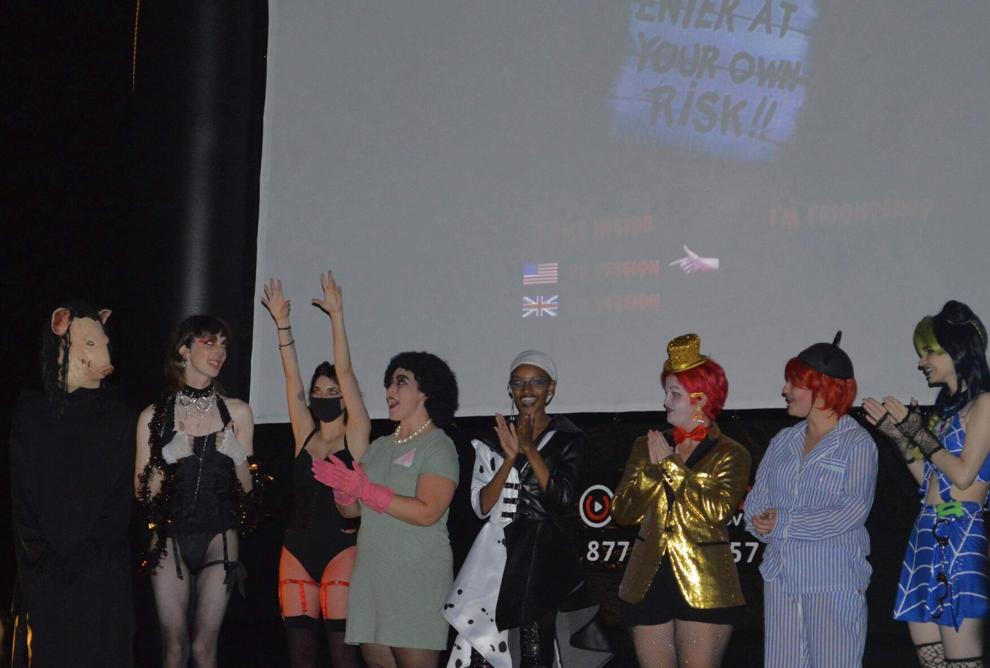 In honor of LGBT History Month, UCF students gathered at Memory Mall Wednesday night to watch "The Rocky Horror Picture Show," a film that has been deemed a cult classic and a queer masterpiece.
Campus Activities Board and LGBTQ+ Services screened the film, which centers on queer expression, gender nonconformity and sexual fluidity. The interactive movie experience included a dance number, water guns, a costume contest and students shouting lines directly from the film. 
English major Siara Tirado, said the movie's 1970s backdrop illustrates the amount of progress the LGBTQ community has made since then.
"As a queer individual, this film means a big showing of just overwhelming sex, life and excitement," Tirado said. "This film is an acknowledgment of how far we've come. In an age where you're getting more representation, day by day, more people are going to be open and visible about their sexuality and gender."
"The Rocky Horror Picture Show" follows the story of Brad and Janet, an engaged couple who discovers the lair of a mad scientist one stormy evening. Originally released in 1975, the film flopped at the box office, only grossing $21,245 during its opening weekend. Midnight screenings, specifically at New York's Waverly Theater, helped transform the film into a classic. 
Chloe Planakis, a member of LGBTQ+ Services and Lavender Council, helped plan Wednesday's event and spoke on the LGBTQ representation within the film.
"I didn't even know this existed until last year since it was my first year on the council," said Planakis, a biology major. "It really is cool to see all the representation I've never seen before in other movies, especially with movies this old."
Planakis also said this specific film was integral to marking LGBT History Month, which runs from Oct. 1 to Oct. 31. 
"Rocky Horror is one of the most popular and interactive movies, so people can get up and dance along while being safe for COVID-19," Planakis said. "It's a major part of LGBTQ+ history, so I think it's important that we present movies like this for students to watch during this month."
Graphic design freshman Amber Rhein, who showed up to the screening in clown makeup, said UCF has allowed her to feel more comfortable dressing how she wants, compared to when she was in high school. Attending UCF and the screening, she said, gave her the freedom to not care about other people's judgment of her appearance.
"I don't know these people and won't ever see them again, so why should it matter what I wear?" Rhein said.
For other students, like freshmen biology major Kara Belesiotis, it was more about building bonds. They said the movie made them feel at home, even if it was their first time watching it.
"It's just one of (those) things about community," Belesiotis said. "I didn't know anybody here, yet I felt like everyone was my friend."