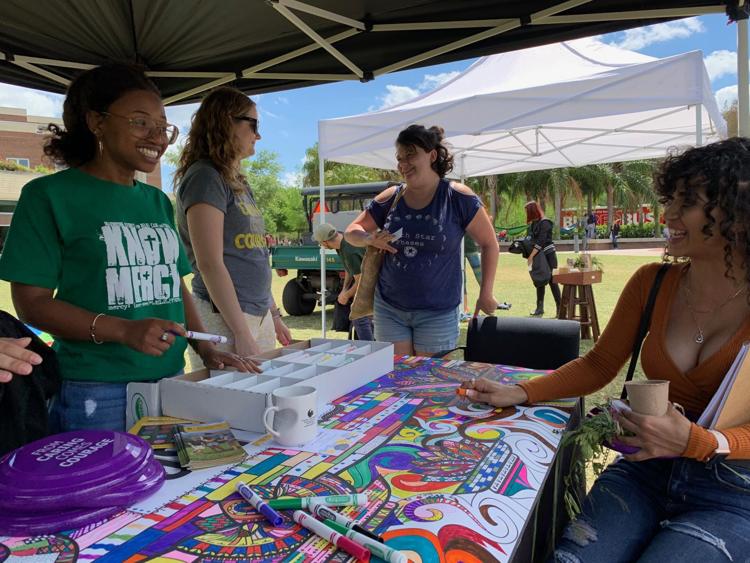 Students gathered around UCF's Memory Mall to take a breather from studying for finals and preparing for graduation on Wednesday afternoon.
Just Be Day, an annual event in its third year hosted by several on-campus facilities, comes around every April with hundreds of students in attendance.
The facilities involved include Student Care Services, Wellness and Health Promotion Services, the UCF Arboretum, the Recreation and Wellness Center and Student Development and Enrollment Services.
Pam Mills, event coordinator and biofeedback and stress management coordinator of WHPS, said the event happens in April for a reason.
"[Just Be Day occurs in April] because it is coming up with a lot of transitions for students ... but also, April is Stress Management Awareness Month so we try to coordinate it with that as well," Mills said. 
Mills said she feels the programming involved in Just Be Day is necessary because a lot of students don't realize how stress has become normalized to them in their daily lives.  She said that their experience at UCF is so much more than academics, though that is the primary reason they are coming here.
"I'm not trying to promote my ideas of what that [wellness] looks like, or sell them on anything, I guess is a good way to put it," Mills said.  "My success — my passion — is to help others, so it's not, to me, just one day."
Cameron Clark, sophomore mechanical engineering major, said he thinks that Just Be Day serves a purpose and isn't any kind of "gimmick."
"I believe this is a great way to meet other students and learn more about the services available at UCF," Clark said. "It's also a great way to just promote the community itself, and I think it's really good to talk about mindfulness and just find ways to relieve stress, and that could be applicable in any part of your life."
For many who are considering attending such a large university like UCF, it is easy to get caught up in the idea that students are just seen as another number. Students such as senior political science and public administration major Raquel Lozano choose to take the less "pessimistic" route on the subject.
Lozano also said she thinks the university should work to invest more into the mental health and self-care programs for the students.
"While UCF offers multiple services to its students, they are not always accessible or fitting for the overall population," Lozano said.  "Due to the high demand and increasing student enrollment, I've experienced a strain on their psychological resources, so I would hope the university expands its care programs to cater to these changes."
Scott Mauro, RWC and WHPS marketing and communications manager, said UCF really does care and puts emphasis on both mental health and community.  
Mauro also said that the things you can learn at events like Just Be Day are going to go beyond one's time at UCF.
"We just did a cooking demo, and I don't think a lot of people think about their senses and being mindful in a kitchen," Mauro said. "I've got a mom who still cooks at age 75. I know that when I'm in her kitchen I'm very mindful of my senses because I like to experience and seeing my mom cook is relaxing to me." 
Melinda Nevarez, senior health sciences major, said she finds the information she learned at Just Be Day useful and was excited to take some of that home with her.
"I think we kind of don't value the things that we learn outside of the classroom because the things we learn in the classroom are obviously important to what we want to do work-wise," Nevarez said.  "But all of this I can apply in my life when I move on and, you know, do what I do."
Mills said that her organization is always open to hear from students as to how they can better get to them, since they mostly advertise through social media. Mills also said improper stress control can wreak havoc on the body, so her organization tries to put fun activities together to help students better understand the power of mindfulness.
"You don't have to be going to a mountain top to experience a zone of a zen experience, or meditation, or mindfulness," Mills said. "Literally in your everyday activities, you could just focus your attention, whether it be your breathing or doing something creative or even just walking."