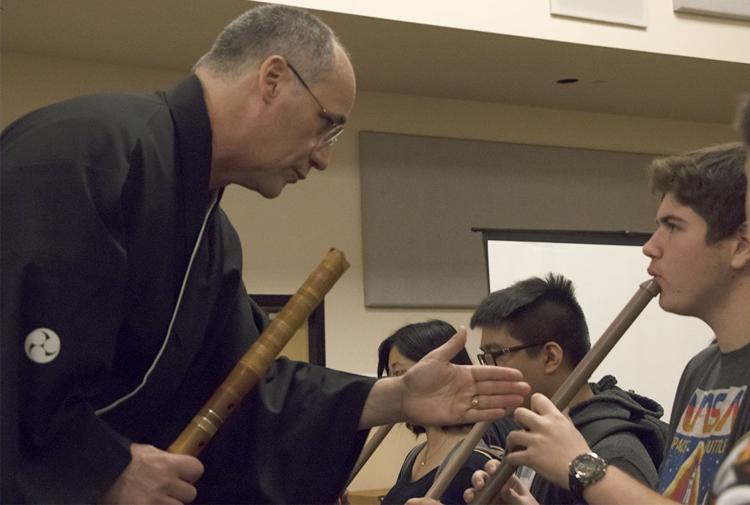 The Japanese community at UCF is not a large one, with only fewer than 20 students per semester on average, according to UCF. 
Even though the Japanese Culture Club meets every Wednesday to bring students together and the Nihongo Kenkyukai holds weekly Japanese study sessions, there is no other main student association bringing specifically Japanese students together to spread their culture at UCF.
UCF Japanese instructor Mihoko Wheeler said that although Japanese students do not make up a large percentage of UCF students, they are probably the largest group of students in Florida.
Wheeler said she hoped that Japanese students would bring more Japanese culture to the campus and the world to enrich and spread their unique East Asian culture.
She brought a performance of shakuhachi, one of the most traditional instruments in Japan, to UCF. Over 100 UCF students were in attendance to watch the performance of the longitudinal and end-blown bamboo flute by Marco Lienhard at the Student Union Monday.
Lienhard is a Swiss musical artist and lived in Japan for 18 years from 1981 to 1998 as a member of the Japanese troupe Ondekoza.
"I like to bring new music to different locations, colleges, schools, to introduce people to new music and make them connect with different cultures," he said.
Wheeler said she brought this performance to UCF because she wanted to have more activities to fill Japanese students' extracurricular time and spread Japanese culture.
It was a great chance for Japanese students to learn their traditional culture, because fewer and fewer people — especially youth — are likely to play shakuhachi in Japan, she said. She also said she felt sad for the loss of traditional cultures and wanted Japanese students to know more things about their own culture.
"I am Japanese, but this is the first time I ever heard shakuhachi at a raw concert," Wheeler said. "It is not common for Japanese people to practice, it's a sad story. Two years ago, we had some performers but those professional found performers are not Japanese."
Some American students and international students who are taking Japanese language classes also came to the performance. Wheeler thought the performance could help her teaching because the cultural background could deepen their understanding of the new language they learn.
"They do not have much exposure to Japanese language and knowledge, a part of the culture," she said. "If you understand a culture better, or if you have a deeper knowledge of culture, you will understand why the language goes to be that way. And also, by listening to music, you understand what kind of thing is concentrated beautiful for Japanese people."
Rochelle Prihoda, junior anthropology major, said she thought this performance gave people a bridge to connect American students to a different culture, and also gave Asian culture a chance to show itself in the world. She learned Chinese at her high school and she said she has paid attention to East Asian traditional culture.
"I think people aren't really aware of the Japanese culture that much," Prihoda said. "There are people who just know cosplay or that type of things. They're not into actual traditional instruments. It's a great chance for them to actually know that this is the actual Japanese culture."
Wheeler said she would work with other Japanese instructors to bring more Japanese culture activities to UCF next semester. She will hold some Japanese movie sections with Japanese students and American students, and will bring more performances several times a year in the future. 
"I think you need to bring your culture to and connect it with the UCF community so that we can appreciate the diversity and we can appreciate that with your culture," she said. "Being different is not bad, it's wonderful, it's more interesting, and I want you to have an intriguing moment."