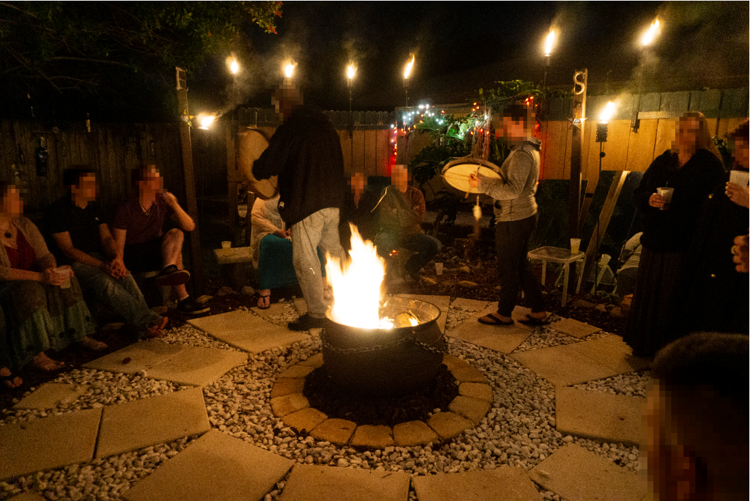 Apple and cinnamon aroma filled senior communications major and Mystical Knights member Dwight Stewart's kitchen as he prepared his favorite treat on Samhain last year.
"It's the cinnamon season," Stewart said. "I usually cook favorite fall foods."
Samhain, also known as Halloween, is traced to the ancient Gaelic tradition of bidding goodbye to the summer and the welcoming of the winter. The Pew Research Center estimated that 0.4% of the United States population identified their religious practices as new age in 2014. The rise of paganism and the occult has inspired people, like practicing Wiccan Stewart — in modernity — to celebrate the holiday from a spiritual perspective.
According to the Merriam-Webster English dictionary, a sabbat is a neo-pagan religious festival marking the changing seasons. For example, Samhain marks the beginning of the Wiccan Wheel of the Year while Yule marks the Winter Solstice.
"Samhain is my favorite sabbat," Stewart said. "Yule as well."
Roots in pagan soil
Orlando Pagan Collective board member Magus Dethen follows the Druidic path and Shintoism. He said while he is fond of Halloween and Samhain, the two are different to him because of the commercialization of the holiday. 
"Samhain is the third and last harvest festival of the year," Dethen said. "Normally, rituals would take place, but not anymore because of COVID."
Dethen said every pagan follows their own path.
Some pagans believe Samhain is also the day when the veil between worlds is at its thinnest.
Danielle Miller, 23, works at Avalon, a crystal and occult bookshop in Orlando. She believes the three-dimensional world — the physical realm — and the spiritual realm are intertwined rather than separate. The concept stems from her belief in reincarnation.
For pagans, the thinning of the veil allows the living to commune with those who passed. Because of this event, pagans believe it is prime time to connect with non-corporeal beings and entities from beyond the veil.
"The veil creates the illusion of a separation," Miller said. "When the thinning of the veil happens, we can remember the spiritual realm."
Carly Kupper, senior psychology major, said they commune with their ancestors during Samhain, including their mom, who passed away. Kupper is also a member of Mystical Knights.
"I set up a separate altar for my ancestors," Kupper said. "I burn some candles and incense, do some meditation. I say 'thank you' to my ancestors."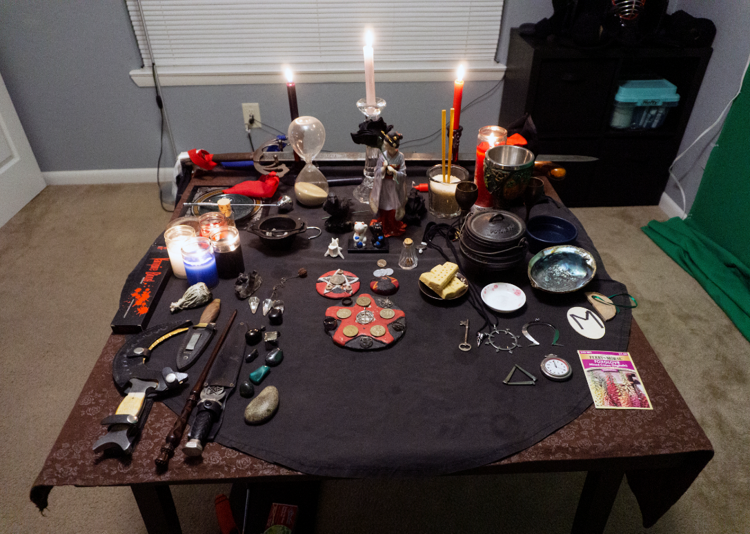 Kupper said they have been practicing for three years and, with the sabbat being their favorite holiday, it's a special day for them.
Kupper's spiritual path includes Hellenismos — ancient Greek polytheism — Norse paganism, Italian witchcraft — because of their Italian heritage — and their Jewish traditions.
"All holidays have pagan roots," Kupper said. "Trick-or-treating comes from people leaving offerings for the fae and ancestors, such as apples."
The fae are spirits who are believed to cross the veil during Samhain.
Dethen said jack-o-lanterns were used to fend off or attract spirits that crossed the veil. Kupper said people would leave candles outside their doors to guide their ancestors to the right place. And Miller said wearing costumes not only gave people a chance to transform into something — or someone — but it served as protection from malevolent spirits that cross over to the physical plane.
"If you wronged someone while they lived, they could come back on Samhain," Miller said. "Wearing a disguise would confuse the angry spirits and keep them from getting back to you."
Samhains of autumns past
Dethen said he has three traditions to choose from for Oct. 31 — performing a personal ritual, performing a group ritual or watching "The Rocky Horror Picture Show." But the pandemic changed the course of some traditions.
The OPC hosted events such as Orlando Pagan Pride Day and public rituals for the sabbats in which the pagan community could congregate and celebrate before the pandemic.
Stewart said he attended a Halloween party last year and celebrated Samhain with his roommates and friends.
"Last year, I did a ritual honoring death and my ancestors," Stewart said. While Stewart was raised Christian by his parents, he said his parents are indifferent to his practice.
Pagans who practice witchcraft also make the most of the sabbat. Miller studied abroad in London two years ago. 
"My best friend and I went to a fairy garden close to our flat with spell kits and tarot cards," Miller said. "We started dancing and yelling. We had a beautifully, wild, good time."
Samhains of futures yet to come
Miller said she will prepare a meal for her and her ancestors on Samhain this year. She will also keep a candle burning from sunrise on Oct. 31 until sundown on Nov. 1.
"Next year, I hope to be in Sedona at a vortex celebrating Samhain with my boyfriend," Miller said.
According to Visit Sedona, vortices are believed to be geomagnetic points of energy that can be used to heal and meditate. Some people believe them to be portals to the spiritual realm. 
Dethen recommends beginners to contact a teacher or mentor if they've never performed a ritual and would like to do so to assist and guide them. He also said people in the "broom closet" — people who keep their religious practices private — do not need to have expensive gear to perform rituals.
"It's all about intent," Dethen said.
He said even meditating could be enough.
Stewart said he will celebrate at his parents' house this year to keep himself safe during the pandemic, and he is looking forward to the blue moon on Saturday.
"There's gonna be a big energy this Samhain," Stewart said. "It's gonna be a great time to work with ancestors this moon."
Stewart said people who would like to perform a ritual should inform themselves properly before contacting spirits.
"The biggest thing is don't be afraid," Stewart said. "Because it will attract more to be afraid of."
Kupper will be performing a solitary ritual this Samhain as well. They said they hope the blue moon's energy amplifies their connection with their ancestors.
They said they're looking forward to celebrating differently next year, such as creating a family tree to utilize on Samhain to make the communion with their ancestors easier. Besides communing with those across the veil, Kupper hopes to commune with their friends and family next year.
"Halloween has always been my favorite holiday," Kupper said. "I hope to celebrate with more people next year and have it feel more familial. I think that's what my ancestors would want."