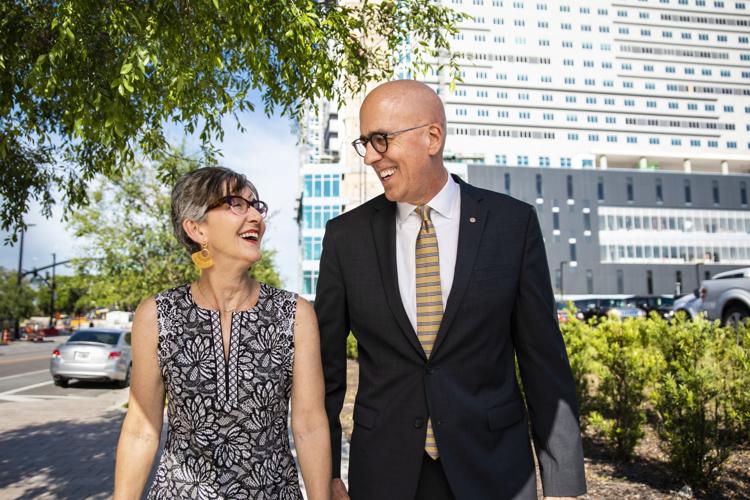 Tossing rubber ducks into the Reflection Pond at Spirit Splash, attending donor events for massive fundraising announcements and giving candy to trick-or-treaters as the Mad Hatter from "Alice in Wonderland" are only a few of the things interim President Thad Seymour Jr. has done in the past month.
There's no typical morning for Seymour Jr., whose agenda calls for different tasks each day. Besides morning workouts with his wife of 38 years, Katie Seymour, the interim president usually attends a mix of internal meetings and public speaking engagements throughout the week.
The latter can call for a trip to downtown Orlando, Lake Nona or even Walt Disney World. Seymour Jr. shared that his tightly-packed schedule is one of the challenges he faces in his role as interim president.
"It is nonstop. The need to shift and turn on a dime from being in a Halloween outfit, to whatever comes next," he said. "Our team does a great job keeping us headed in the right direction. It's a team sport, and I say that often, but it truly takes everybody working together."
Seymour Jr. had originally planned to retire before leading the development of UCF's Strategic Plan and overseeing efforts for the construction of UCF's downtown campus.
It wasn't until February when he was appointed as interim president — a role he didn't expect to fulfill given the circumstances of Dale Whittaker's sudden resignation. His most recent career is fast-paced and a significant change from his three-decade history in business occupations.
"I think one of the things Katie and I have learned is how important it is to stay connected to all the different constituencies for a big university, because they are all really important to us — students, faculty, staff, donors, board members, community members, alumni, the board of governors," Seymour Jr. said.
He shared that although it takes a lot of work and effort, he and Katie Seymour take away a lot from those engagements, including their favorite part of working at UCF: the students.
"What drives us is the students we get to spend time with," Seymour Jr. said. "They just motivate us and inspire us to put in the hard work to make the place as good as it could possibly be."
The interim president said that he continues to be impressed and inspired by the "grit and perseverance" displayed by UCF's student body, whether they're taking advantage of university resources or just "helping each other get better." 
Eleanor Didden, a senior interdisciplinary studies major and member of the President's Leadership Council, echoed President Seymour's sentiment.
Although she has been part of the PLC for about six months, she has already taken away many connections and values from her experience working with the interim president. She has interacted with him on multiple occasions, be it at an official PLC meeting or at football games in the president's suite.
"He is really, really cool. He's very intense as a person, in the most positive way. It's very nice when you're talking to him — you get all of his attention," Didder said. "He fully focuses on you and it's very nice to know that someone is able to be present in a conversation, in that connection, in that relationship. It's very valuable to know that's our president, to know that he's genuinely listening."
Growing up, Seymour Jr. witnessed his late father, Thaddeus Seymour Sr. serve as president at institutions like Wabash College in Indiana and Rollins College in Winter Park.
Seymour Jr. said that he was the only kid that lived close to his father before he passed away, so he stayed very close in touch with him.
"He was a great dad, a great friend to all of us. Loved life. He was a professional mentor," Seymour Jr. said.
Seymour Jr. said that he hasn't been in his line of work for most of his life, but in the last year and when he joined the university a few years ago, he had "great fun" talking about his profession with his father.
"I've learned a lot of things by osmosis, whether it was by kitchen table conversations or by watching him," Seymour Jr. said.
Seymour Jr. also shared that his father had a passion for students and the community. In the early days of his tenure, Thaddeus Seymour Sr. spoke about the "desirability" of student involvement and freedom of expression when a campus production of the play "Equus" posed challenges due to a scene including a nude male actor, according to his Rollins College memoriam.
After retiring, Seymour Sr. continuously supported community efforts such as the Winter Park Health Foundation and the Winter Park-Maitland chapter of Habitat for Humanity.
"No matter what, he just took the time to get to know students — to mentor, to listen. Whether it was students or anybody else, he really believed that everybody has potential and that it was important for any individual to take time to help somebody else," Seymour Jr. said.
Like father, like son — their names aren't the only thing they have in common. Seymour Jr., although he didn't initially realize it, said he made the same connections with the UCF community as his father once did at the institutions he served at.
Seymour Sr. had stepped in as president at Rollins College in 1978, when the university was financially troubled. He had one goal — for Rollins to be the finest small liberal arts college in the south. According to Seymour Jr., his father rallied and took Rollins back to its liberal arts roots during the 12 years he served as president.
"I think I realized that I inherited some of that way of thinking. It's obviously different positioning and opportunity for UCF, but it's the same idea of putting a stake in the ground," Seymour Jr. said. "We talk about being a leading 21st century university, which I truly believe we can be. Part of that is defining what that is because I think we can do that. But I think, in my own brain, some of that goes back to what I learned from my dad."
Seymour Jr. shared that one of his favorite hobbies is photography, which he's been doing since he was working on his high school yearbook. He usually takes his photos while traveling to destinations like Nepal, South Africa and Peru — all countries he and Katie Seymour have been to recently.
Traveling is another hobby of his. He said he hopes to travel more in the future, most likely after UCF concludes its current presidential search.
Despite the connection he's made with UCF's student body over the past nine months, Seymour Jr. will not be a candidate in the university's current presidential search. 
"Searches are compromised when you have an internal candidate. I feel strongly that we need to support that," Seymour Jr. said.
He also expressed that being UCF's president is "the best college job in the country" and that he thinks the "right leader will do phenomenal things" going forward.
Katie Seymour also provided some insight when it came to her husband's decision to move on from being UCF's interim president.
"It's more about what's in the best interest of the university. The university really needs to do a search and they need to have the faculty, students and board involved," she said.
She also said that Seymour Jr. was appointed in an "emergency situation" and that he is respecting the need of the university to conduct a national search.
"Our job is to hand it over with momentum versus pausing or slowing down because that's harder to get going," Seymour Jr. said.