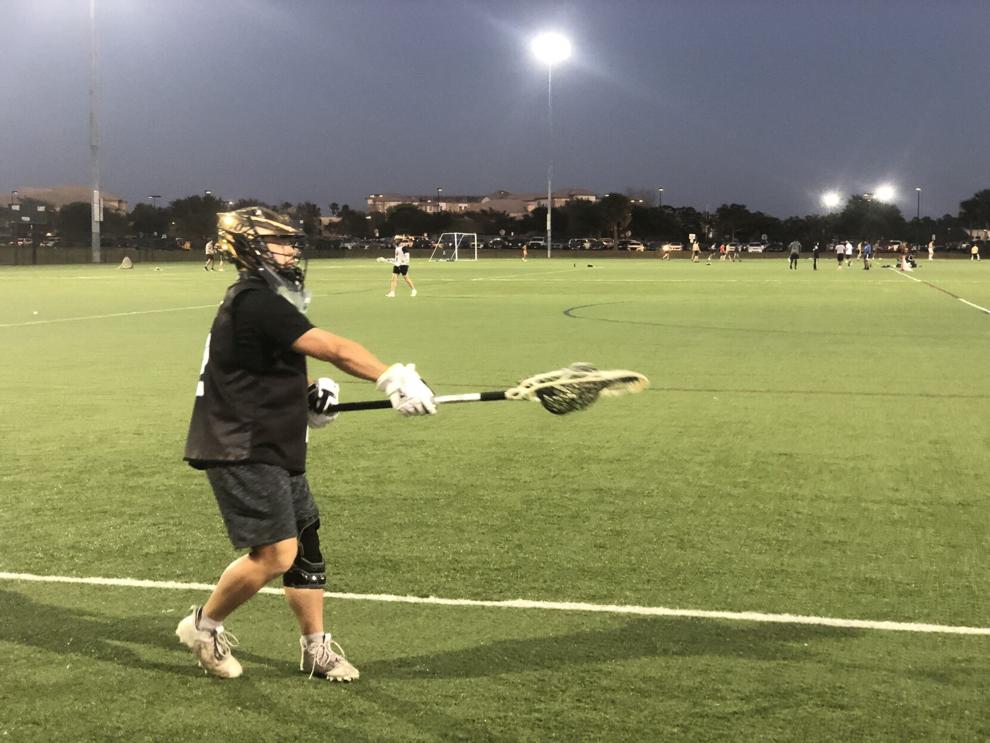 When the UCF men's lacrosse club members were asked to describe their goalie, the most common word used to describe him was "inspiring."
Kurt Brothers, 28-year-old public administration master's student, is much older than most of his lacrosse teammates. After graduating high school, instead of going straight to college, Brothers joined the Air Force, where he worked as a refueler.
"I worked with planes," Brothers said. "So, I touched any plane that needed fuel on the flight line, and eventually, as I ranked up and I spent more time in, I got to be dispatch for a short time. So, I got to tell the trucks where to go, not too dissimilar to what you would see in a 911 dispatch."
Bothers said he joined the Air Force because he came from a military family and had not decided what he wanted to do for the rest of his life. His decision to join the Air Force came as no surprise to the people closest to him, like childhood friend Dylan Davis who said he saw it as something he could always do. 
"I wasn't surprised when Kurt joined the Air Force. He had been training for years on his physical and mental toughness, and the Air Force was a perfect career path for him," Davis said in an email. "I obviously have a lot of respect for him because of his military career, and it really reflects the kind of person he is. Everyone should serve, but only a few do, and it's those that have an immense sense of selflessness because of the respect and gratitude they have for the people in their lives that step up to the plate, and that is certainly Kurt."
Brothers said he served in the Air Force for six years, working at Eielson Air Force Base in Fairbanks, Alaska, Tyndall Air Force Base in Panama City, Florida and MacDill Air Force Base in Tampa, Florida. He said he was also deployed once to the Middle East, where he served for seven months.
Brothers said that once his contract was up, he enrolled at UCF in the spring 2020 semester, as he grew up in Orlando and wanted to be close to family. Brothers said that once he got to UCF, he immediately knew he wanted to join the lacrosse club and play competitively again.
Brothers said he began playing lacrosse in fifth grade and played competitively up until the end of high school. He said he stopped playing after joining the Air Force, and other than playing a pick-up game while serving, it had been years since he had played competitive lacrosse.
Unfortunately for Brothers, he was unable to play right away. He said that he injured his knee in the third practice of the fall 2020 season.
"I should have got my knee seen after the military," Brothers said. "I was stubborn, and frankly, I wasn't listening to my body." 
Brothers said he had suffered a full dislocation, his femur was behind his tibia and fibula, and he had torn three ligaments. He also said it took three surgeries to repair his knee and that he had to undergo six to seven months of rehab, which he said was rough as he couldn't walk for four to five months.
"You take for granted the ability to walk," Brothers said.
While in rehab, Brothers said he wasn't fully sure if he was going to return to playing lacrosse. He said he regained both his desire to play and confidence in his abilities when he began coaching at his old high school Timber Creek High School, in 2021. He said he started playing in some local pick-up games before joining a local men's team, the Orlando Geckos.
After some time with the Geckos, who faced off against UCF's lacrosse team at one point, Brothers said he eventually decided to rejoin the lacrosse club this past fall semester. Many club members like Michael Kennel, freshman finance defense major, said Brothers' story inspires them.
"Coming back from the injury, first, is impressive," Kennel said. "I know he dealt with that for some time. He still has a knee brace. And being the way that he plays now is just incredible. And then for the Air Force, I'm actually an Air Force ROTC, so I've been taking a lot of notes on what he says."
Since rejoining the club, he has made a huge impact, as noted by several teammates, including Conor Smith, junior integrated business major and the club's president.
"He brings a very almost fatherly figure," Smith said. "I mean, he is the oldest guy out here. We call him 'Uncy.' He has a lot of wisdom. He brings a lot of things into perspective."
Brothers said the reason he has been able to come back to playing lacrosse not once but twice is because he loves the game so much.
"I'll probably be playing until I can't anymore," Brothers said.