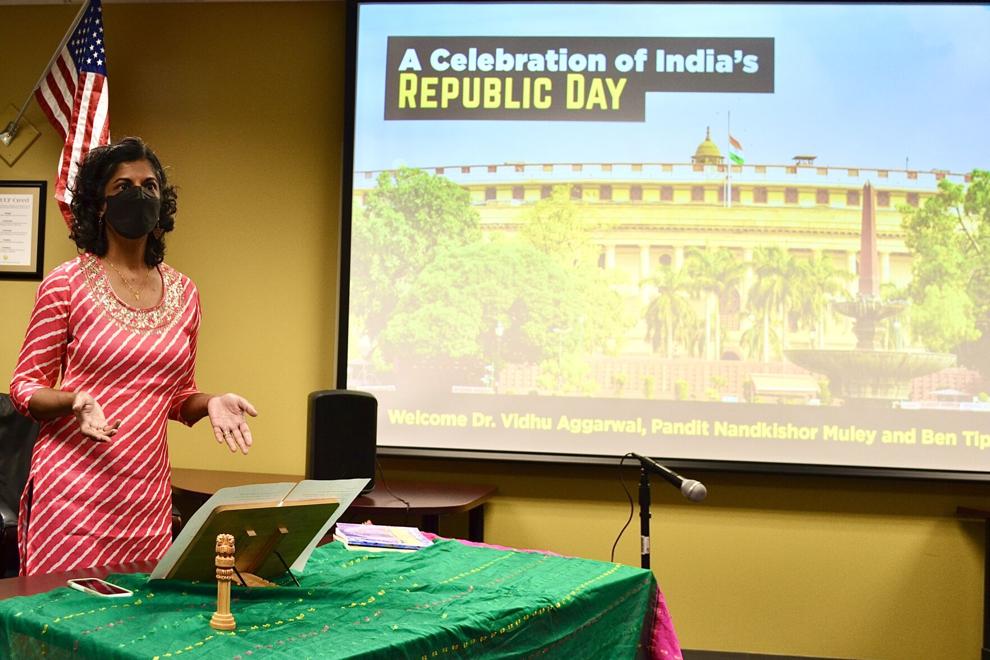 The India Center and the Indian Student Association collaborated on Friday to celebrate India's Republic Day.
India celebrated its 73rd constitution anniversary on Wednesday, and the Indian community at UCF did not let this date go unnoticed. They commemorated this historic and memorable day with traditional food, live Indian music and a special guest who read poetry at the College of Sciences.
Leila Chacko, India Center's director of public affairs and event organizer, is an Indian American whose parents migrated to the United States in 1979. She said she studied politics as an undergraduate and law as a graduate student. She received her master's degree in international law and politics.
"India is a land of colorful festivals, and these festivals are what tie the nations' bonds together, creating a strong and a unique union relation," Chacko said. "With this event, we celebrate when the constitution came into power."
Chacko said that Republic Day reminds Indians of their history, makes Indian students feel at home and is a chance for non-Indian students to have exposure with a different culture.
Dr. Vidhu Aggarwal, the special guest responsible for the poetry readings, is an English professor at Rollins College and is the author of "Daughter Isotope," a 2021 hybrid poetry book. 
Aggarwal said she arrived with her parents in the U.S. when she was a child, but her parents grew up in India. Indian culture was everything they knew, and they passed that down to her.
"Also, many of my uncles and aunts migrated to the U.S., and they lived with us for some time," Aggarwal said. "So, we were kind of constantly getting this infusion."
Aggarwal said that around UCF, there is an Indian community which helps international students to maintain some customs and traditions. However, being immersed in another lifestyle gives them the chance to expand their cultural knowledge too. 
"Celebrations like this allow us to keep a transnational dialogue. We do not want to have these different monocultures, dominance," Aggarwal said. "We want to be able to keep a relationship with different nations, and at these events, we have the chance to do that."
After many crises and over 200 years of British governance, India was deeply divided among religious groups, according to Asia Society. The process of drafting laws and a constitution began on Aug. 15, 1947.
The newly independent democratic government did not have its own constitution yet. The laws were based on standard laws and a modified version of the Government of India Act that was created by the British in 1935.
"The constitution said that people who lived in India were Indian citizens, whatever religious or linguistics groups they belonged to. Also, it said people were equal under the law," Aggarwal said. "So, this is something to be celebrated."
The Indian Constitution was adopted on Nov. 26, 1949 - Constitution Day - and went into effect on Jan. 26, 1950, known as Republic Day. That caused a division in the country, exhibited by the creation of Pakistan and an increased migration.
Professor Pandit Nandkishor Muley said he arrived in the U.S. 20 years ago. Involved with arts, he performed Indian music and dance throughout the U.S.
Muley started teaching Indian music at UCF in 2003.
"When the semester starts, I usually have to teach students what India is because they don't know anything about it," Muley said. "I am happy when they spread our culture with their friends... My class is a mix of nationalities, but most are not Indian students. That's the beauty of diversity."
Muley performed some music with his former student Ben Tiptonford, who is American. They played traditional classical music.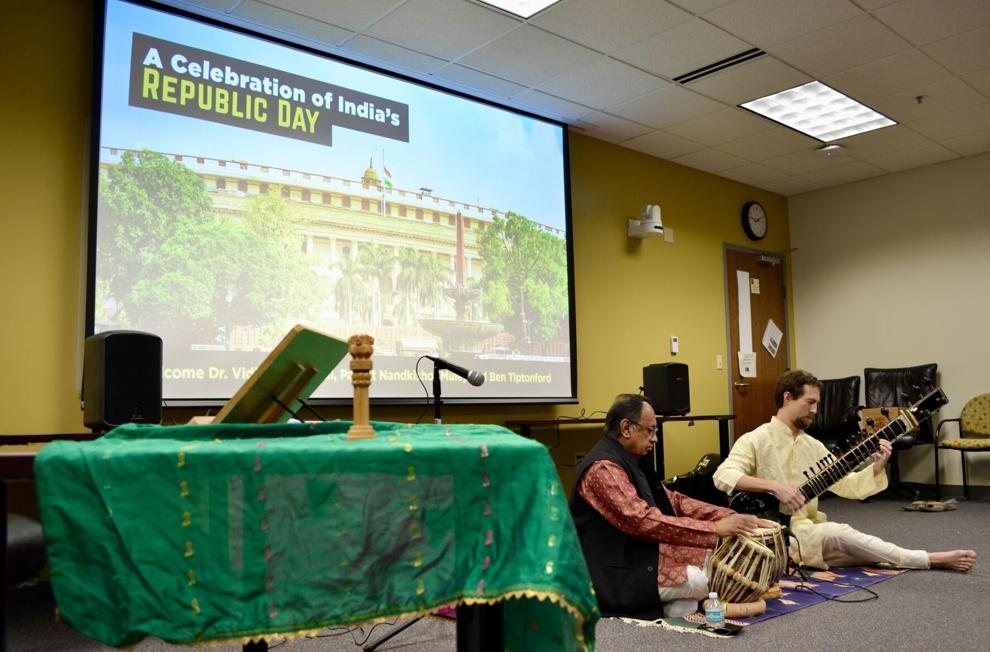 Muley played an instrument called tabla, an Indian traditional instrument similar to a drum. Tiptonford, a '12 music performance alumnus, played the sitar, similar to a guitar.
"In the eighth grade, I did a project about India," Tiptonford said. "So, that planted the seed. In my senior year at UCF, I started listening to the music, and I got really into it. I started tuning my guitar to the Indian recordings and learning by ear."
Tiptonford said he saw Muley playing in a yoga studio, and from there, he started taking Muley's classes. Tiptonford got his own sitar seven years later and became a professional musician. He has a band called "Golden Roses" that specializes in a music style influenced by jazz.
Substantial Indian migration to the U.S. started only in the late 1960s after an established constitution, according to the Migration Policy Institute.
The Immigration Act of 1965 and the Immigration Act of 1990 made it possible for high-skilled immigrants, including Indians, to gain permanent residence and bring their family members to the U.S.
"India is a land of many cultures: different music, cuisine and languages," Muley said. "There is way more things to discover beyond curry, bananas and yoga."