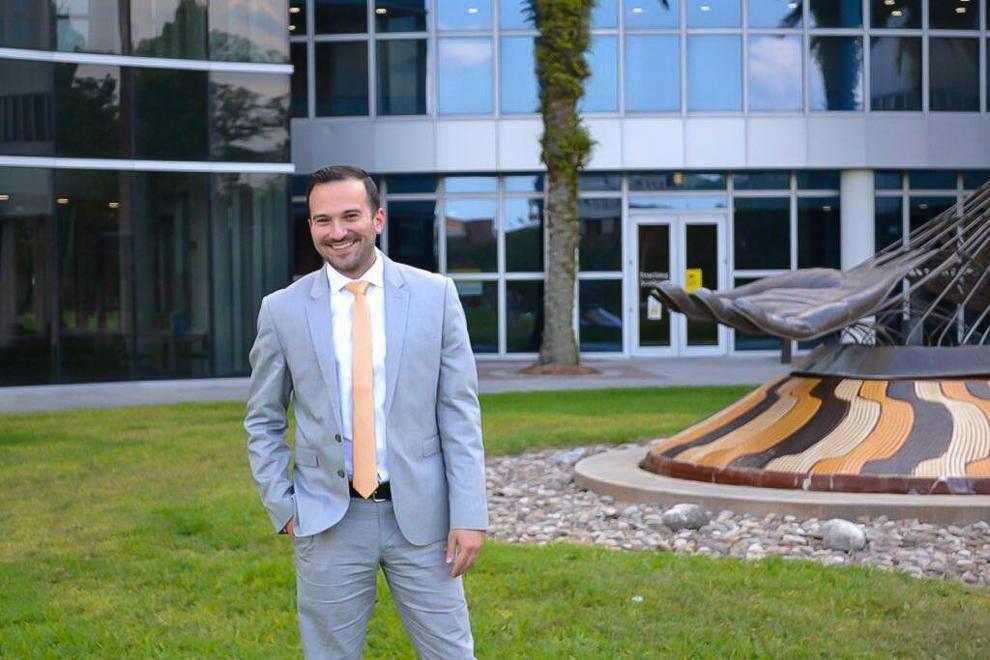 On a Tuesday evening in late August, standing in a classroom on the second floor of the Business Administration I building, Chris Pombonyo said he shared the same first-day-of-school butterflies as the 40 eager faces staring back at him. 
Having worked as a school administration manager at a performing arts elementary school the past two years, Pombonyo said he was glad to have a classroom of his own again, having previously taught at the elementary level. Being in a classroom filled with Knights was a full-circle moment, as a UCF alumnus himself.
"I remember my first class at UCF, and my education classes, specifically, and how I wanted so badly to be in those classes because I wanted so badly to be a teacher and my passion was for education," Pombonyo said. "And I think a lot of the students also are in that same boat where they're so passionate and can't wait to have their own future classrooms."
Hot on the heels of earning his master's degree in Educational Leadership from UCF in May, Pombonyo is teaching his first class as a UCF adjunct instructor this fall. Pombonyo is using his Knight education, performing arts background and award-winning expertise to help shape the teachers of tomorrow and the classrooms they create.                                    
Pombonyo said his love of teaching stems from the satisfaction he gets from empowering those around him and facilitating their personal growth.
"I just love assisting students and teachers and helping them grow on their own individual level," Pombonyo said. "Some grow more than others, but just helping them succeed and grow and celebrating them when they are is such a rewarding feeling."
Although Pombonyo didn't initially see himself returning to UCF as an educator so soon, he said his Educational Leadership degree, as well as his work with the educational conference Get Your Teach On, helped him realize his "passion was larger than just the classroom." That's when he learned: He also wanted to support the development of teachers. Pombonyo said he wanted to bring this passion right back to his alma mater.
"(UCF) has been such a huge part of my professional and personal careers that there's no other university I would rather teach at," Pombonyo said. "I just want to continue building that legacy of future educators (going) out into schools being UCF grads."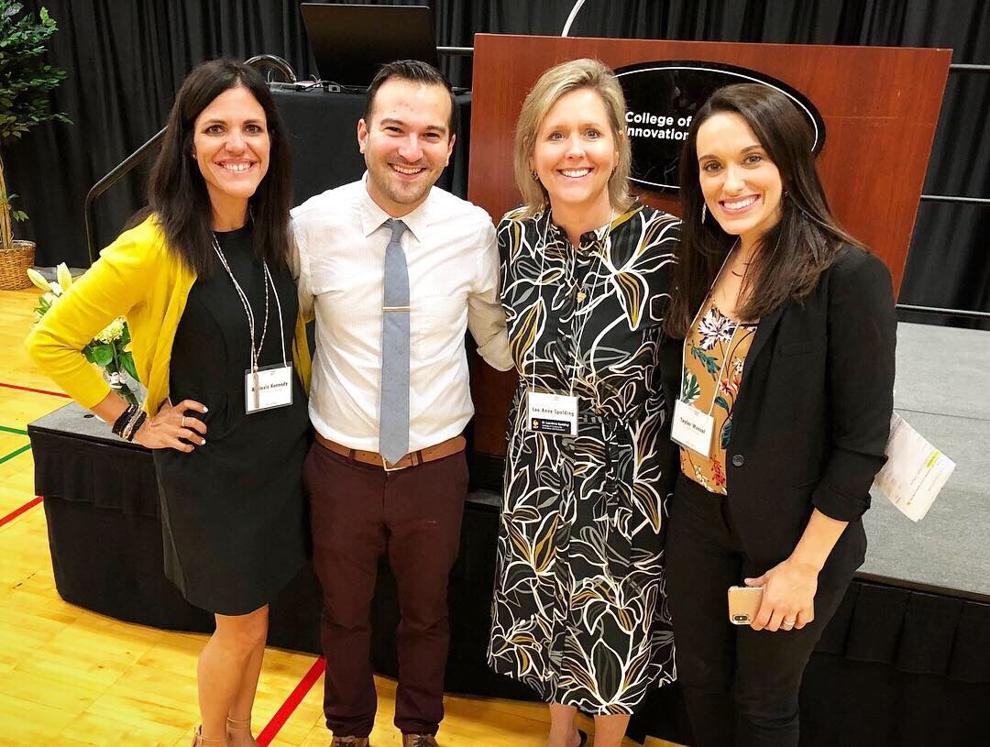 Lee-Anne Trimble Spalding, an associate lecturer in the College of Community Innovation and Education, serves as a mentor to Pombonyo in navigating the intricacies of UCF protocols as a new teacher. As a UCF alumna herself, Spalding said Pombonyo's UCF background provides him with a different access point for relating to his students. 
"When you're teaching your students and you have actually sat in their shoes … you can just genuinely connect with them," Spalding said. "And I think because they know that you are also a teacher Knight and have been through the rigors of the program, I think that even gives you a little bit more credibility and also an easier way to connect."
Spalding also said Pombonyo's performing arts background, which includes a stint as a Radio Disney event host, made him a standout even before he was a UCF faculty member. Spalding and Pombonyo worked together in the KnightEd Talks Student Showcase, an annual spring showcase where students can give presentations on various topics in the field of education. Spalding said Pombonyo was invited as a guest speaker in 2019 and hosted an "extremely powerful" and captivating presentation, in which he taught a live class in front of the audience.
"And that wouldn't be something that we would necessarily do with just any educator," Spalding said. "Chris is special, and I think a lot of teachers might feel intimated by doing that, but he has that Radio Disney background (and) that presentation and performance background that he thrives in the spotlight, so he was just perfect for someone to do something like that."
Teaching others is an indelible part of Pombonyo's pedigree. His mother Margaret worked as a preschool teacher for nearly three decades in his hometown of Long Island, New York. He said watching his mother foster relationships with various students and families solidified his desire to go into teaching.
"Any time I would go to her school or anything like that, just the connections that she made and relationships she built with those students and families that they trusted her and they just loved being at school, definitely (made me want) to be an educator," Pombonyo said.
Olga Wood, assistant principal at Midway Elementary School of the Arts, said connecting with students and building a sense of community are core drivers for Pombonyo as both an educator and administrator. Wood and Pombonyo work together as part of Midway's administrative staff. She said Pombonyo developed a squad system, in which students from different classes are placed into groups and tasked with discussing a character trait for the month, to help students build relationships with a variety of students and faculty.
"Even though he doesn't have a classroom anymore, he still knows almost every student by name: He knows their background, he connects with them, he has high expectations for them, and they know it," Wood said. "So, just the fact that he can still build those relationships even though he's not in a classroom."
Wood also said Pombonyo's enthusiasm sets him apart from other teachers she's worked with. She said Pombonyo is like a "hype man," someone who "can put the energy into just about anything that we do." Pombonyo said this high-energy approach comes from his Radio Disney days, emceeing concerts and events featuring Disney Channel stars.
"I think that classrooms should be loud and collaborative, and students should be having conversations and excited to be there," Pombonyo said. "And if as teachers we can get our students excited to be there like we would for them to go to a Disney park or Disney event, then we're doing a great job. Because we want students to want to be in school, and if we bring that high energy and enthusiasm and passion, then that's why they'll succeed academically because they have that buy-in."
Hayley Marks, who worked as a member of the Radio Disney road crew during Pombonyo's stint with the company, said she first met Pombonyo at a company event she shadowed as a prospective employee. Marks said Pombonyo's infectious energy immediately stood out.
"Seeing Chris's energy and the way he interacted with the team and with all of the kids, and the way he led all of the dances and just got everybody super pumped up ... made me really excited to work there," Marks said.
Marks also said the charisma Pombonyo displayed during this time has a large part to do with his effectiveness as a teacher.
"I think that's part of his charm," Marks said. "He's an educator because of his ability to relate to others as well as he does and because he's able to use his personality and his warmth to really inspire people and make everyone feel at ease."
Sandra Cerrone, who worked alongside Pombonyo as a host at Radio Disney, said his training with the company – learning "how to talk to kids" and how to "be at their level"– has informed his communication style as an educator.
"When you work for Disney, you're set to an extremely high standard of learning how to deal with kids in a particular way," Cerrone said.
Pombonyo said he incorporates this background into his class at UCF by invoking the "high-energy, collaborative" and relationship-oriented style he would use in a real-life classroom setting.
"What I want each class to look like is to model the hands-on learning and collaborative discussion that I would expect to see in a classroom from a teacher with the future teachers that I'm working with," Pombonyo said.
Pombonyo teaches the UCF class, Teaching Strategies and Classroom Management, a course that aims to familiarize students with "the professional roles and responsibilities of the classroom teacher." As a former Seminole County Teacher of the Year, Pombonyo said his experience visiting and observing various educators gives him a wealth of insights to impart to students.
"What I do may not be what works for everyone — not everyone is going to teach like me," Pombonyo said. "But I've seen classrooms with effective teachers who are doing different things, and they may be completely opposite of me, but they still have great results with their students. So, I'm able to bring a variety of different teaching strategies and classrooms from different teachers to my students at UCF."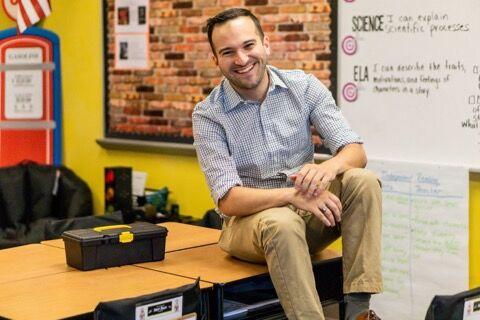 Pombonyo said his time at UCF has already gotten off to a great start. After his first face-to-face class, Pombonyo had a series of colorful sticky notes left for him from a class exercise, each one handwritten with positive messages: "Your energy is very contagious;" "Thanks for the engaging class;" "I love your energy." He also had a socially distanced line of students waiting for him, and Pombonyo spent about half an hour listening to each student's questions and reflections.  
"Everyone was so kind and appreciative," Pombonyo said. "I got to share a lot of my experiences in the classroom and as an educator."
Pombonyo said he hopes his UCF students "continue to grow their passion for the education field," despite the challenges that may arise in a post-pandemic school landscape.
"Education gets a lot of negative press in media and social media about everything that's happening, but I think teachers and students are the most resilient, especially in the last two years, and their passion exceeds any other profession," Pombonyo said.
Pombonyo said he wants to continue bolstering the growth of aspiring educators because he knows this work has a profound, far-reaching impact.
"If I can impact teachers, then I'm impacting even more students because that's not just one classroom I'm impacting – that is hundreds of classrooms that I'm impacting," Pombonyo said. "So, making sure to continue to motivate and inspire and train excellent educators is something I want to continue to do because in turn that'll just affect and grow more students."