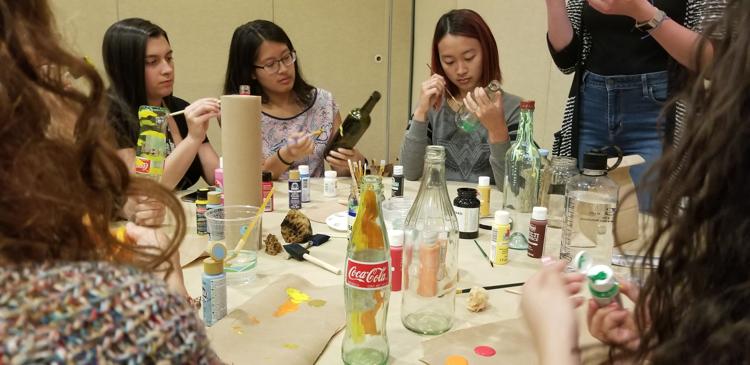 On the round tables of the Key West Ballroom laid the items to begin the workshop: cloths, jars, corks and glue. Students huddled together to form small groups and create crafts out of household items that can have alternative purposes.
Intellectual Decisions on Environmental Awareness Solutions, or IDEAS, at UCF held an up-cycle workshop with approximately 20 people in attendance on March 22.
The room was silent while attendees intently listened to the speakers. IDEAS For Us is a global nonprofit with a mission is to develop, fund and scale solutions to the world's most pressing environmental and social challenges. 
Savannah Vu, senior interdisciplinary studies major, said this initiative was developed to teach creative ways to upcycle.
"Upcycling is taking used objects and creating something of greater value," Vu said. "Upcycling can be using old t-shirts to create new washcloths, milk cartons for bird houses, glass jars for storage and wine corks for coasters."
Vu spoke about the importance of good recycling habits. She said that in order for recycling to be effective, it must be done properly. 
"Recycling helps reduce the carbon dioxide footprint," Vu said.
According to Rethink. Reset. Recycle, a public education campaign hosted by the Florida Department of Environmental Protection and Waste Management, Floridians tend to contaminate home recycling bins with things that can't be recycled at the curbside, such as plastic bags, greasy pizza boxes and thin plastic packaging. Their website states that "nearly one-third of all materials households send to Florida recycling facilities are not actually recyclable and ruin loads of items that otherwise could be recycled."
Kalyn Bradley, senior interdisciplinary studies major, presented ways to reduce the amount of waste being produced by finding alternatives to plastics. She offered the idea of making a one-time purchase of a mesh grocery bag and said by purchasing one bag, hundreds of plastic bags will not be used and pushed into the oceans. She also suggested unsubscribing to mail services and opting for email instead.
Aubrey Adams, senior interdisciplinary studies major, explained that reusing items, such as old t-shirts for wash rags and using wash rags instead of paper towels, makes a small but significant change in the amount of trash that is created. She also suggested taking refillable cup to local coffee shops instead of using disposable cups, which aren't always biodegradable.
According to the Center for Biological Diversity, a nonprofit that advocates for preventing further production of harmful plastics, billions of pounds of plastic can be found in "swirling convergences" in the ocean — so much so that it makes up about 40% of the ocean surface. The nonprofit said that plastic is expected to outweigh the total amount of fish in the sea by 2050.
"We can't wait for [the] government to take action, we are the action that needs to happen," said Kristen Anderson, branch manager of IDEAS at UCF. "…It's like an individual using a hose to put out a huge fire. It isn't going to work, but if a million hoses work together, it's going to put out the fire."
Anderson, junior interdisciplinary studies major, said understanding the pressing need for change in the North American lifestyle would help reduce the carbon footprint that it is currently creating. She stated that spending habits, such as fast fashion and diet, have an immediate and direct impact to climate change. 
"There is also a level of responsibility that you have to take and understand that, 'I'm part of the problem.' That is kind of, like, the first step. Like, 'I did some of this and I have to acknowledge that it's my fault too and I have to do something about it,'" Anderson said. 
To encourage people to talk about lifestyle choices and the impact they have on the environment, IDEAS at UCF is working on building an ocean wave out of recyclable materials that will be displayed at the patio by the Student Union. On top of the wave will be a surf board where anyone can pose for a photo.
The wave will be on display for students to see on April 16 from 9 a.m. to 5 p.m. 
"This is a call to action to increase sustainability in your own life," Anderson said. "It isn't only practical — it is necessary. Even starting small is starting something."