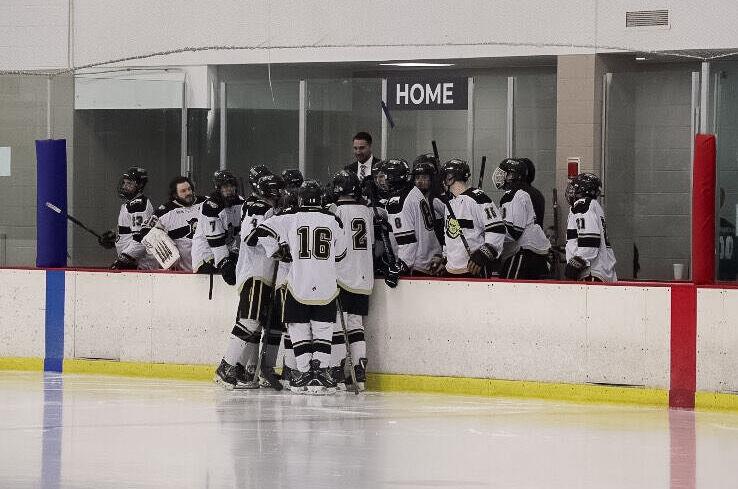 Anthony Mariani spends most of his mornings before work coaching UCF's ice hockey team.
Mariani said his busy schedule starts around 6:30 a.m., when he arrives at the ice rink to practice for an hour-and-a-half before heading to work as a sales and project manager for a mechanical engineering firm. In addition to being head coach of Knights Hockey, Mariani said he also coaches the Orlando Solar Bears, a 10U youth travel hockey program.
Despite the challenge of finding balance among his many responsibilities, Mariani said his passion for hockey inspires him to train the next generation of players with no fuss.
"There are many days that I leave my office job completely exhausted from staring at my computer, bidding million-dollar projects," Mariani said. "But when I step on the ice, that all goes away." 
Mariani said he began playing ice hockey as an 8-year-old boy in Long Island, New York. He later joined his high school's ice hockey team, which he played on until he got injured in a car accident at 17. Now, Mariani said the days he spends with the Knights Hockey team keep his love for the game of ice hockey alive.
"They say if you do what you love, you'll never work a day in your life," Mariani said.
In regard to his role in youth sports, Mariani said he believes that if even one of these kids can play for him at the college level, then he has successfully instilled a love of the sport in his younger teams. Mariani said he loves coaching hockey at all levels, working with a team of colleagues to create a team coaching effort that drives continual success. 
"Coaching Knights Hockey has not only developed me as a coach and an individual, it has given me a sense of pride knowing the impact that it has left on myself and my players," Mariani said.
Isobel Kraft, Mariani's colleague, said she mirrors his passion for hockey by demonstrating professionalism and determination on and off the rink, encouraging her players to strive to become the best version of themselves.
"The best way to lead is by setting a powerful example," Kraft said.
Kraft holds mentoring sessions on and off the rink to support her players in their schoolwork and professional development. By demonstrating unwavering sportsmanship and an undying dedication to growth, Kraft said she motivates her players to succeed in all aspects of their lives.
Off the rink, Kraft is an involved community member. She teaches at a local high school, where she said she prepares her students for college success by using the same lessons she shares with her college-level hockey players to help younger students develop.
Knights Hockey player Hunter Chard said Mariani pushes his team with an approach that's more laid-back than what's usually seen in the sport at the college level.
"Coach Mariani may be one of the least strict coaches I've had," Chard said. "I think the team has really come into itself the last several weeks, and it's allowed us to really bond." 
Chard said the time and effort Mariani puts into making sure he and his teammates are ready to win, such as how he takes the time most mornings to coach, is what sets him apart from the rest.
"Coach Mariani does a lot for us and our team," Chard said. "One of the most important qualities that Coach Mariani demonstrates to us is having the ability to respect the school and each other as people."