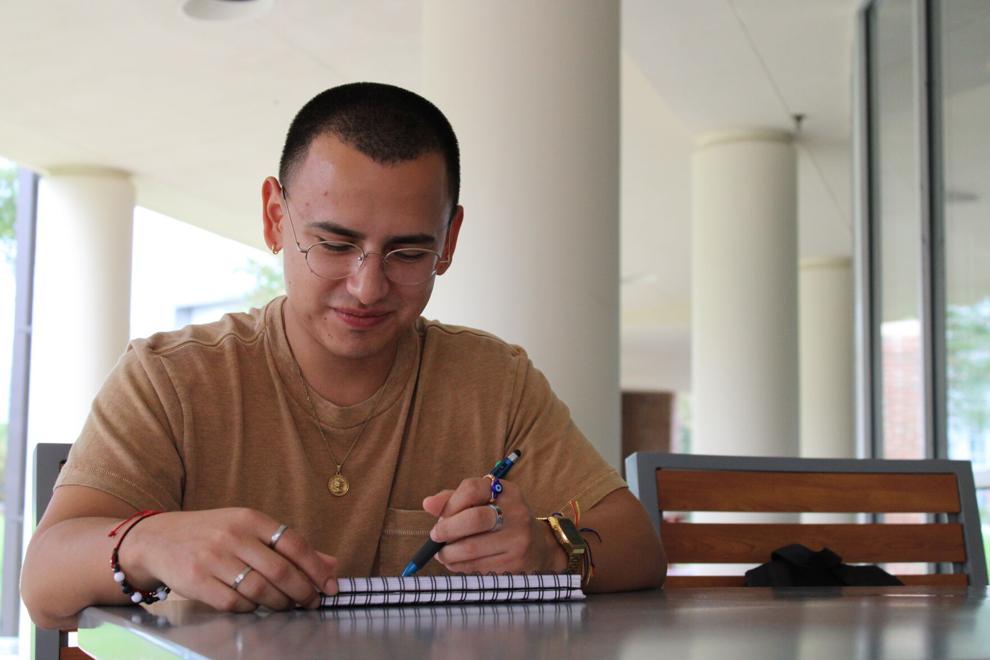 Artist Nicolas Polania sat on a bench in front of his art displayed at his first ever exhibit, the 14th annual Eclectic Knights, and as he took in the experience, his eyes became teary.
"It was unbelievable just 'cause I never thought I could do something like that," Polania said. "But just walking around, looking at everybody, especially when people walked by and then they took a look; it felt good."
In 2009, sophomore graphic design major Polania left his home in Colombia with his family to start a new life in the United States. Polania incorporates his culture and experiences surrounding immigration into his artwork. Polania's displayed artwork at Eclectic Knights was titled "For My Dad the Painter" and "First Sip Feeling."
"I caught a couple people, like, taking pictures; I got a little teary-eyed — just very emotional," Polania said.
Polania said his piece called "For My Dad the Painter" represents his father going to work every day, painting houses to support his family. He wanted the artwork to also represent the immigrant community — the multiple hands representing the millions of immigrant families and people working hard.
Polania said being more aware of the issues regarding immigration in the U.S. has had a significant impact on him. He said he wants to make meaningful art.
Polania's girlfriend Karroll Marroni said she thinks it's really interesting how he uses art to share his fondest childhood memories and his personal story, such as his struggles as an immigrant. She said she is most proud that he's very dedicated and a hard worker.
Polania credits his parents for being his biggest artistic influences because they have done so much for him.
"They took, like, the big risk of just coming here and provide a better future and just, you know, being supportive, taking me, you know, to school, being supportive and yeah, just them too," Polania said.
He said he watched them go through a lot, leaving Colombia to pursue a second life in the U.S. and having to work a lot of manual jobs that people may not want to do to live there. Polania said his art is something for his parents and the immigrant life they've gone through.
When Polania's father, Henry Polania, found out his son dedicated his artwork "For My Dad the Painter" to him, he said that he felt very proud. Henry Polania said his son is going to make a bigger version of the artwork for him.
"I am very proud of him, of what he has done, because what he does is impressive — very impressive; I am very proud of his talent. I think he will go far with his talent," Henry Polania said.
Nicolas Polania's mother, Consuelo Orjuela, said she is proud that he is her son and that he has carried his principles, values and education that were reigned until this moment of his 23 years.
"He was always restless; a very well-behaved child," Orjuela said. "He always liked to be dedicated to his homework, his family, his mom, dad, siblings, and he liked to paint and draw a lot."
The UCF College of Arts and Humanities Alumni Chapter hosted the Eclectic Knights event at the Orlando Museum of Art Oct. 6. Nicolas Polania said he did not know what to expect at the event and was surprised by the amount of people who attended.
Nicolas Polania went to the UCF event with Marroni. She said it's been inspiring watching him convince the people around him that art is something he can make a career out of and that it's something he was meant to pursue.
"When we first walked up to where they had put the frames on the wall, we started tearing up because it was the first time that people were seeing his art and he was watching people watch his art, like, I started crying," Marroni said.
While Nicolas Polania is now pursuing his love for the arts, he wasn't always studying graphic design. Initially, he was majoring in computer science.
Nicolas Polania said he would look at other people getting into creative fields and found himself inspired and knew computer science was not for him. He said it was something he had to learn and figure out for himself because he knew that art was always so prominent in his life.
"Well computer science, there's, like, so much money behind, and I'm like, okay, I want more than that, like something more meaningful 'cause I'm not just going to be on a computer all day just for nothing, well not for nothing, but for not something that I feel," he said. "So yeah, I took it upon myself when I just changed majors, and my parents were kind of — at first they … didn't agree that much but at the end, it's my choice."
Nicolas Polania said in five years, he would ideally have a graphic design job and would like to have his own studio. He said he wants to do jobs on things that matter to him, such as nonprofits for immigrants, climate justice or social imbalance.
"He is probably, like, the kindest person I've ever met, and anyone in his life would probably agree," Marroni said. "He's kind of just always promoting to me or anyone else … do what makes you happy; like, that kind of is one of the life lessons that I've learned from him. He just does whatever makes him happy."
Nicolas Polania is already in the process of exhibiting his art at another gallery event. His next submission is for the YAG gallery at CityArts.
In terms of his art, he said he wants to make something that people feel.
"It's just more to bring attention in something that people can resonate with," Nicolas Polania said. "If somebody likes the piece and they can, you know, connect with it, then that's what I want to make — something that people can connect with or issues that really affect me."