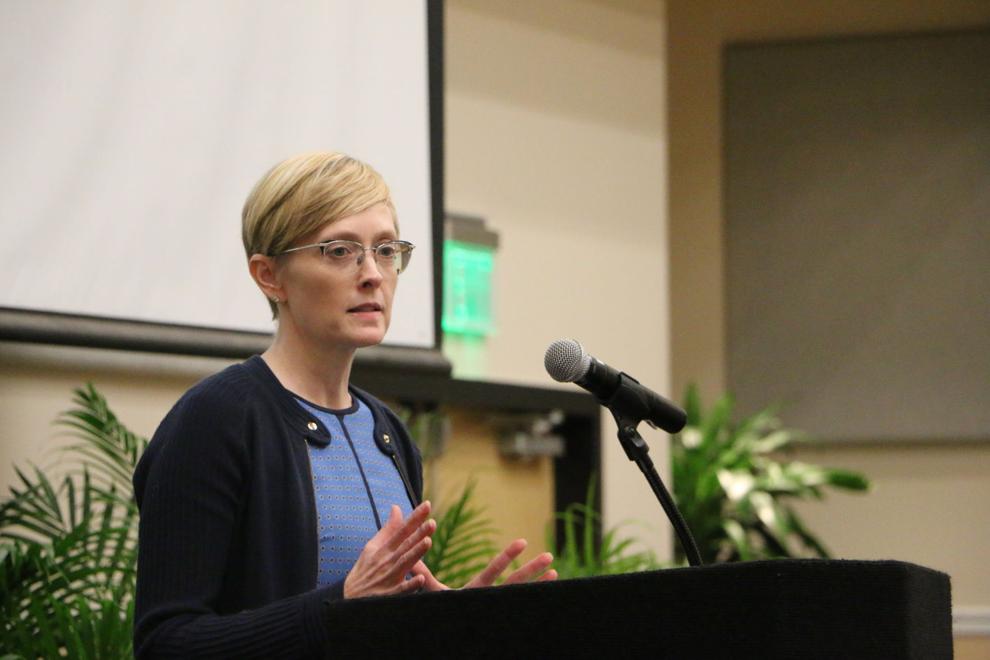 It is not only the duty of the government, but of individuals to protect human rights, said civil liberties defender and expert Laura Olson.
Olson, director of the Human Rights Program at the Carter Center, was invited by the UCF Office of Global Perspectives and International Initiatives to discuss her career in human rights in the Pegasus Ballroom at the UCF Student Union on Thursday.
Having worked internationally as a human rights defender, Olson expressed her views on international policies that threaten civil liberties. One of these policies was President Trump's peace plan that was unveiled on Jan. 28.
"It's very concerning that it would even be possible as a two-state solution," Olson said. "It's concerning, the annexation of land. That would be illegal under international law and doesn't respect any UN resolutions."
Olson said another threat to human rights is the lack of Palestinian representation at the unveiling of the peace plan. The cause of human rights abuse is one side not being represented, Olson said. 
"Their problem is not being heard," she said. "And they're trying to make themselves heard but the government does not want to listen and there's a backlash against them. That is the reality many human rights defenders are facing."
Olson said she worked in the immigration area of the Department of Homeland Security before shifting to the Carter Center in 2017. The organization was founded by former President Jimmy Carter and his wife, Rosalyn. Its mission statement emphasizes a "fundamental commitment to human rights."  
In her speech, Olson said the Carter Center has implemented initiatives to protect the human rights of individuals and communities in Afghanistan, Ghana, Nigeria and the Democratic Republic of the Congo.
One initiative was Mobilizing Faith for Women and Girls, which sought to change harmful, societal practices influenced by the misinterpretation of religious texts, she said. The Carter Center collaborated with religious and community leaders in different countries to hold seminars and discussions on religion for the sake of uplifting mankind.
Olson worked for the International Red Cross Committee for nearly a decade before shifting to the Department of Homeland Security, according to her biography on the Carter Center website. However, her national and international expertise have borrowed from each other, she said.
Harriet Elam-Thomas, former U.S. Ambassador to Senegal and current director of the UCF Diplomacy Studies program, introduced Olson and said she admired her and her work.
"The demeanor in which she discusses the importance of listening is critical around the world because it shows respect for every culture," she said. "No one wants to walk into a room where an American comes and she's going to be a know-it-all. [She] mentioned that we don't [know everything] and that's a lesson that's very hard for us to learn."
Jessica Squires, the public affairs manager for the UCF Office of Global Perspectives, said she helped organize the event with Olson.
"I think my favorite aspect of attending these events is that students who haven't yet found their home on campus are able to meet other people who are interested in similar global issues," she said.
Olson said there is a possible solution to the threats to human rights that continue to plague the world.
"If we are going to move forward on advancing human rights, [we] have to listen," she said. "[Listen] to each other. We have to maintain the minimum humanity for individuals, especially for the U.S., a country founded on immigrants."