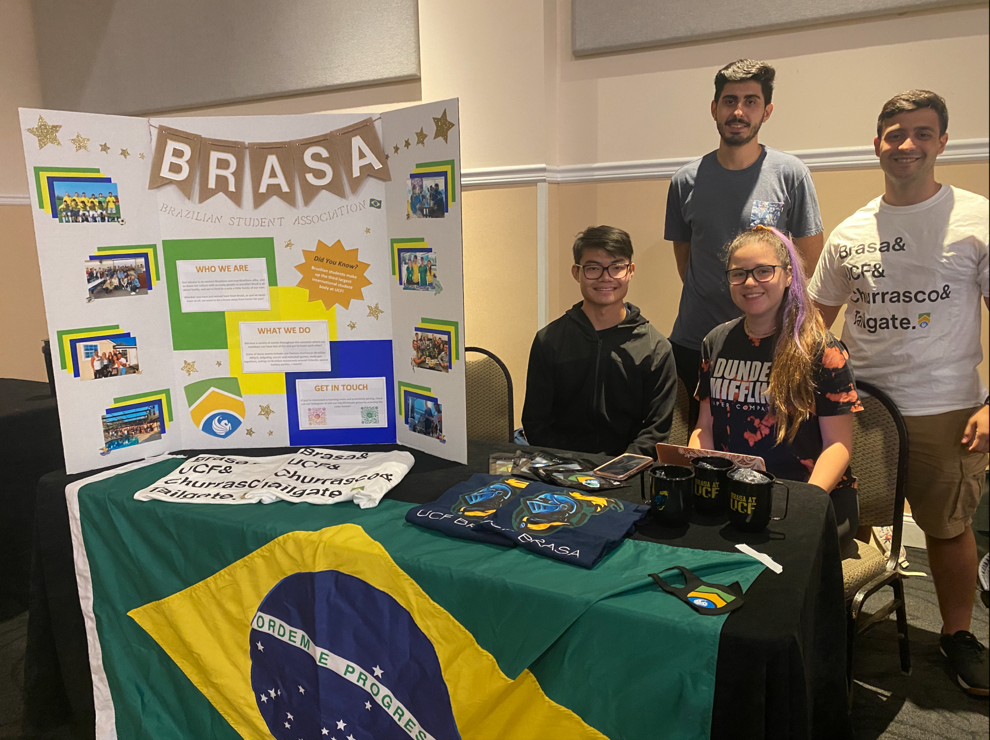 UCF's Campus Activities Board has put forth its own initiatives to make UCF a more diverse and inclusive campus.
Kamila Montesinos, president of the Peruvian Student Association, said membership and morale in Hispanic registered student organizations decreased during the COVID-19 pandemic and active members are seeking to regain the excitement. CAB hosted Latinx Music Trivia Night Sept. 21 in the Student Union and held a movie night Sept. 22, showing the movie "Selena" to honor Tejano music. 
CAB Cinema Director Stephen Raspler said events like the movie night help achieve CAB's goals of inclusion. 
"We feel like our mission is to be the most inclusive and diverse organization on campus," Raspler said. 
Raspler said students can come to CAB events to meet more people.
"We feel that students can come to these events and feel included and just feel like they can meet new students with similar interests," Raspler said. 
At Latinx Music Trivia Night, Hispanic RSOs tabled to increase membership in their organizations. CAB Speakers Director Bruna da Silva said that by allowing RSOs to table at the trivia night, they are being given a larger audience. 
"It is giving this group of students on campus a voice," Silva said. "By us offering this event to a larger group of people, we can get other people involved." 
UCF is a Hispanic Serving Institution, with a focus on serving, educating and empowering its Hispanic students. As of last fall, 29.1% of undergraduate students at UCF identified as Hispanic, according to the Office of Diversity and Inclusion. Silva said CAB's Hispanic-focused events are implemented to further recognize UCF as an HSI. 
Montesinos said campus-sponsored events help her organization, PeruSA, gain exposure and members.
"Hopefully, this spreads the word," Montesinos said. "I am sure that there are a lot of students who are interested in joining either their own culture's clubs or even different cultures just to meet new people, ... make new friends and learn about other countries." 
Silva said although both Latinx Music Trivia Night and movie night highlight a specific ethnic group, students of all cultures can take the events as a learning opportunity. 
"We can learn about each other and appreciate it," Silva said. 
Marco Cardone, president of Brazilian Student Association, said it was cool to see CAB include BRASA in its Hispanic Heritage Month events.  
"This is the first time I have seen Brazil at an event like this," Cardone said. "Now, the organizations are getting to know each other so that we can mix and do events together."  
Cardone said Latinx Music Trivia Night was a good way to get Hispanic students to the event and celebrate Hispanic culture. 
"Every time you think about Hispanic people, music is always going to come into your mind," Cardone said.
Cardone said BRASA serves as a great resource for immigrant students. 
"Imagine you don't know anybody and you just moved to a new country," Cardone said.  "You're not familiar with the language or with the culture and just knowing that you have a big group of people who share the same language and culture as you." 
Montesinos said PeruSA is like a family, regardless of the ethnicity of its members. 
"We try to make it a full family, a big Peruvian family, and you do not have to be Peruvian to be a part of it either," Montesinos said. 
Hispanic Heritage Month runs from Sept. 15 to Oct. 15.