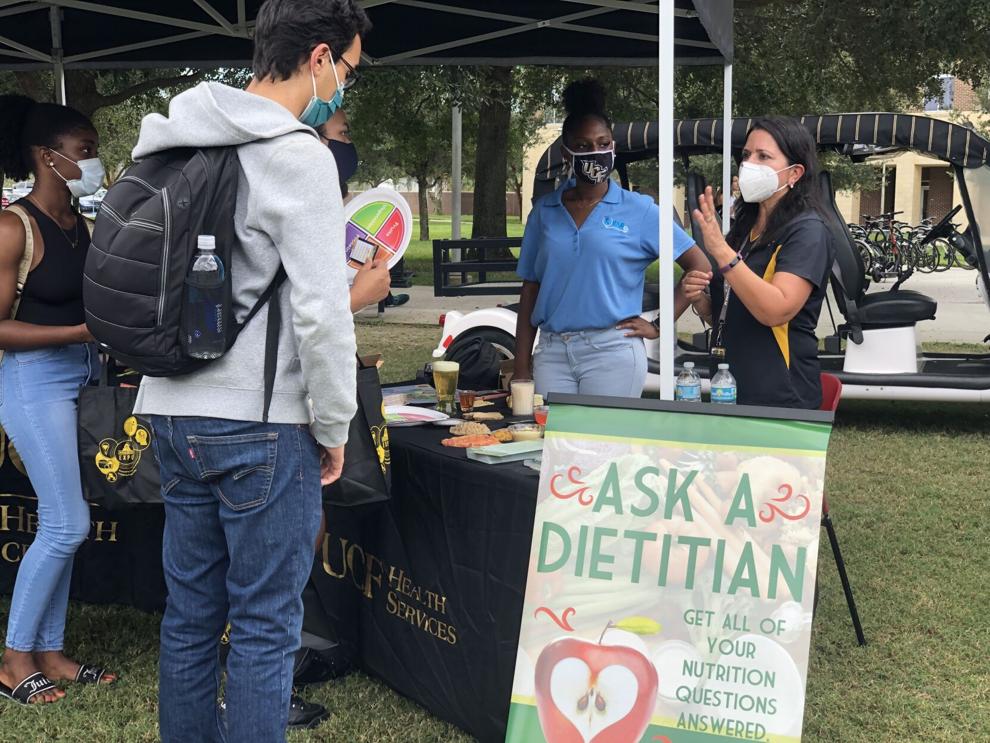 Socially-distanced tents lined Memory Mall Wednesday, as various UCF departments gathered to promote healthfulness, give out nutritious snacks and share health resources at the Healthy Knights Expo.
The annual event is the largest health expo at UCF, according to the university's website. However, Wednesday's expo was held with several changes as a result of the COVID-19 pandemic. Marketing communications specialist Crystal Zavallo said these changes revolved around reducing all general "touch points," which are points of contact between individuals that may yield COVID-19 transmission.
Typically, the expo is held in the Pegasus Ballroom, but Zavallo said it was moved outdoors this year in accordance with UCF's event planning guidelines, such as the preference of outdoor events to reduce COVID-19 transmission. QR code scanning was used in place of registering students via their IDs as well.
"The types of activities we did are ones that don't necessarily require excessive handling of multiple people at the same object," Zavallo said. "So, that's kind of the main thing. And then, when we set up, we just wanted to make sure there was enough room to space out as people were comfortable."
That wasn't the only COVID-19-related change brought about at this year's expo. Other campus departments that were present, such as Wellness and Health Promotion Services, came equipped with resource education relevant to students affected by COVID-19.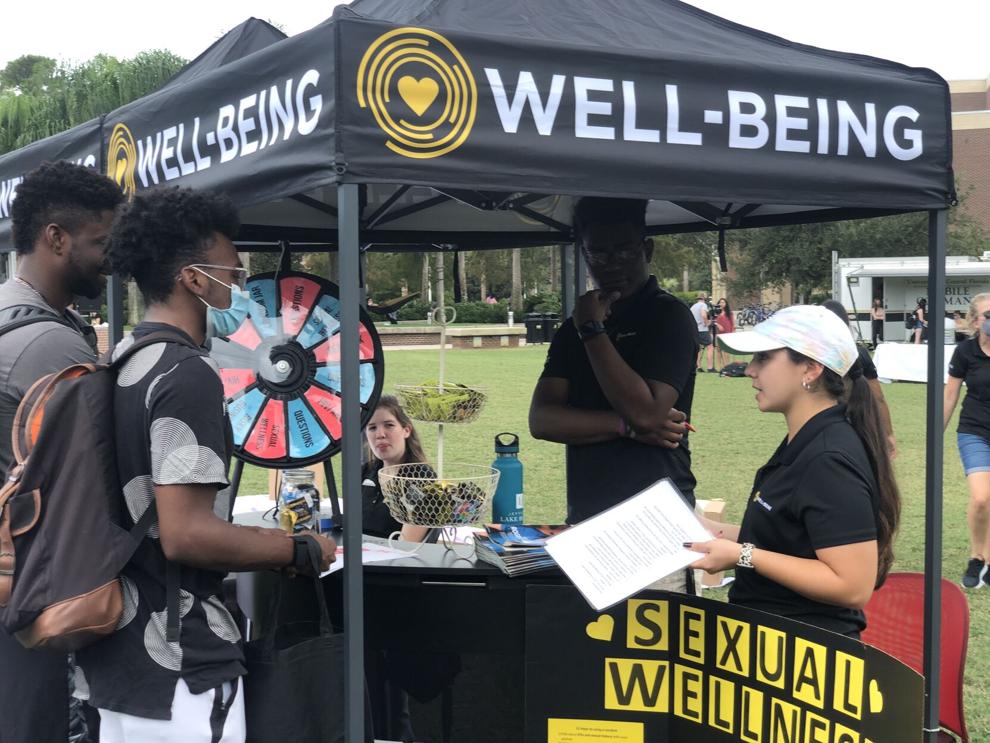 Sexual Wellness Coordinator Christine Pugh also leads financial literacy workshops on campus and was present at the event to inform students about her couponing workshop, as well as the Supplemental Nutrition Assistance Program. SNAP, formerly known as food stamps, serves to supplement low-income families who qualify for the program, according to the U.S. Department of Agriculture. Pugh said some students missed their opportunity to apply for SNAP and receive an additional $36 a month starting Oct. 1 — a 25% nationwide increase, according to the Center for American Progress.
"A lot of students missed out and lost benefits because it went from $121 (per person)," Pugh said. "Then ... (the USDA) read a revised draft, and they noticed that it takes more for a person to prepare a healthy meal than the $121. So, they're giving you those additional $36."
Pugh said she also noticed a general lack of awareness among students when it came to financial aid or programs that can help them supplement their income during the pandemic. 
"I have students that came to the table today saying, 'I wish I would have known about this earlier,'" Pugh said. "One girl ... says she missed out. She didn't know about the extra financial aid money that was given out (from the Higher Education Emergency Relief Fund)."
Preeti Wilkhu, a clincial dietician for Student Health Services, was also in attendance, in partnership with the Student Health Advisory Committee. SHAC serves as a liaison between SHS and students, according to the SHS website.
"Food is medicine," Wilkhu said. "So, if we treat our body right, we have to live so that our body gives us clues. When hungry, listen, and make sure that when you eat balanced meals, what kind of difference are you seeing?" 
Wilkhu said practicing healthy eating habits is important at all times, regardless of living in a pandemic. She also warned against food trends related to the pandemic.
"Healthy eating has always been relevant; food trends come and go," Wilkhu said. "Follow a trend that you can keep for the rest of your life. Next year, another trend will come and go, but it all goes back to basic nutrition."
Freshman engineering major Johan Gales spoke to Wilkhu at her tent and said her advice was helpful in breaking his own poor eating habits, which he credits to his home life.
"My eating habits have always been really bad, so any advice is good advice to me," Gales said. "(With) my family ... you eat whatever they make. There's no big discussion about portions and food groups and stuff."
Zavallo said the Healthy Knights Expo will return next fall.