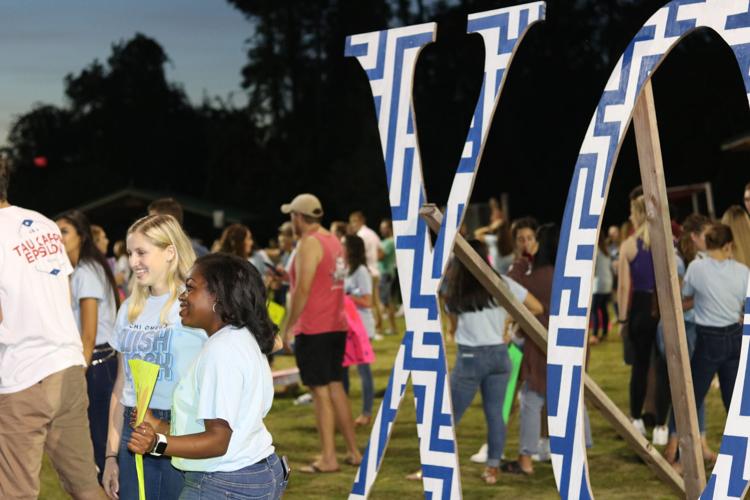 Generations of students following in their parents' footsteps, searching for a home away from home, and establishing connections that can last a lifetime is only the beginning for many Greek life members.
Delaney Knapp, junior special education major, has been a member of the sorority Chi Omega for three years.
"Following in my parents footsteps is only the beginning of my journey," Knapp said.
Knapp has been working for UCF Undergraduate Admissions for three years while maintaining membership in Chi Omega and pursuing her degree. As a tele-counselor, she assists undergraduate applicants with the transition to UCF and the application process through telephone advising.
"It feels good to help people and that is one reason why I majored in special education, to help children in need," Knapp said.
With more than 46 social Greek-lettered organizations at UCF and a population exceeding 4,000 undergraduate students, members of Greek life hold leadership rolls, participate in service, and have strong academic scores.
"Greek life is not only about making friends but the philanthropy and involvement with the university is alive," Knapp said.
The UCF fraternity and sorority scorecard is tracked by the Office of Fraternity and Sorority life, and provides data based off of the academic year of all the chapters, standards of excellence, on campus status, academic performance, membership and conduct record. 
Members of UCF Greek community raised more than 1 million dollars and put in over 87,000 hours of community service, according to the scorecard for the 2018 fall through 2019 spring semester.
Chi Omega is partnered with Make-A-Wish foundation, which grants children and teenagers with illnesses a wish such as a free trip for the selected families.
Fraternity Alpha Epsilon Pi is also involved with the charity "Repair the World" where they help gather used essentials, repurpose them, and give small hygienic care packages to under privileged families.
There is no doubt that Greek life is the biggest philanthropist on campus in terms of giving back to charities and organizations," Student Government President Kyler Gray said.
Before becoming student government president, Gray also served as an educator and vice president for fraternity Phi Delta Theta for two years. Currently, he still serves on the inter-fraternity council.
"Serving thousands of students as SG president, I first got my taste of that leadership through helping 140 men in my chapter," Gray said. "The collaboration has greatly assisted me in all leadership roles at UCF."
There are 278 Greek life members that hold other leadership positions in other organizations on campus, according to the scorecard.
"Everyone here has a different voice, different story and you can learn from everyone throughout your leadership," said Dorel Yoseph, treasurer of Alpha Epsilon Pi.
Academics also plays a significant role for members of Greek life with the lowest average GPA being a 2.38 and the highest being a 3.36 for the spring of 2019, according to the scorecard.
Kappa Kappa Gamma ranked as the highest GPA overall with a 3.36 average, and Alpha Epsilon Pi came in second with a 3.35 average GPA.
"There is a specific GPA required and it keeps you on track because you are always seeing girls studying which motivates you to work hard," said Maiah Spong, member of Tri-Delta.
With many chapters being national, that requires traveling to conferences and conventions. Students are being granted the opportunity to establish relationships with other members around the country that could potentially benefit them and represent UCF outside of Orlando.
The oldest Greek life organizations founded at UCF, dating back to 1971, are Alpha Tau Omega, Tau Kappa Epsilon, and Kappa Sigma.
The most recent being Gamma Phi Beta founded at UCF in 2015. 
Philanthropy, leadership, and academics have been a part of many generations for more than 40 years at UCF.
Sororities and fraternities are able to form a union within one another to work toward a common goal throughout their entire membership and in their future endeavors at UCF.
"The biggest thing Greek life does is help people become better versions of their self to then take on the world," Gray said, "and is a giant piece to what makes UCF the great university it is."