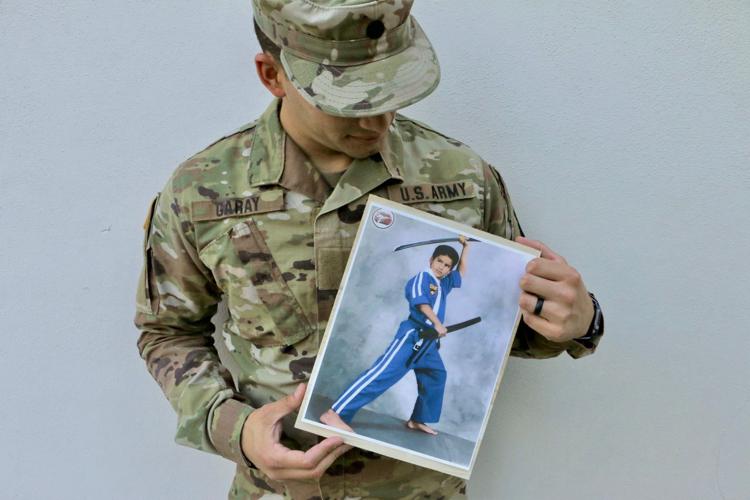 Ricardo Garay-Montalvo is an average senior at UCF who will be graduating on Dec. 14, except for the fact that he will be commissioned into the National Guard the same day he walks across the graduation stage.
Garay-Montalvo was going to graduate from UCF with a major in Criminal Justice back in December of 2016 but after a talk with his father-in-law about the future, that all changed. He decided to join the ROTC program at UCF and get a second degree in Sociology.
The third-degree black belt is currently a martial arts instructor at Championship Martial Arts in Tuscawilla. Garay-Montalvo said his background in martial arts has helped him develop leadership skills and learn to feel comfortable around other people.
Garay-Montalvo was enrolled in martial arts classes when he first moved to the U.S. mainland from Puerto Rico after his mother insisted he participate in an extracurricular activity. He attributes this along with the morals instilled in him by his parents into making him the man he is today.
"My dad was very work-centric. If he had work to be done, he would take me with him and at the end of the day he would give me twenty bucks which for an eleven-year-old is a lot of money, so he taught me the work ethic I have now," Garay-Montalvo said. "My mom helped me become very well disciplined and a good listener, she was very good with that."
Garay-Montalvo said his martial arts background has played a big role in preparing him for the UCF ROTC program and now his transition into the National Guard. 
His desire to join the ROTC program at UCF stems from his wife Stephanie Garay-Montalvo. The two have been married for only a year but have been with each other since they were 14 years old.
Garay-Montalvo said he was unsure if he would be able to give her the future she deserves and did not think that was possible with his degree in Criminal Justice. He said by joining the ROTC program at UCF and commissioning into the National Guard, he can hopefully provide her with a good life.
"My father-in-law and my wife helped push me to continue moving forward, just by looking at her I know I want to make sure she has a good life and our future children have a good life," Garay-Montalvo said. "I'm making sure these sacrifices I make now are going to be well worth it in the end and set myself up for success in the future. If it wasn't for them, I would just be back in my regular routine."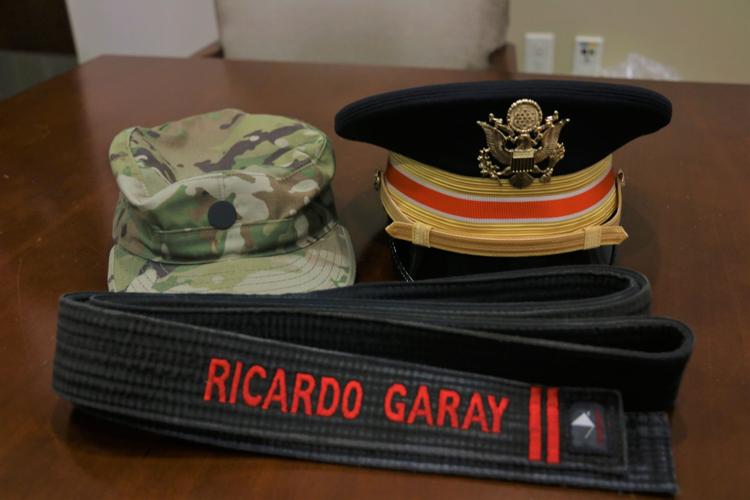 Stephanie Garay-Montalvo said the transition they are in right now has been difficult but together they can get through it.
"I hope our relationship remains unchanged during this big transition,''  Stephanie Garay-Montalvo said. "We have been through so many obstacles within the last 11 years that I have faith we will be fine. The toughest part of it will be the long training and possible future deployment."
Stephanie Garay-Montalvo said though the transition has been hard for the two of them she feels that she may be the reason for her husband's struggles throughout the last couple of years.
"In the beginning of the program I noticed he was struggling to figure out what he wanted to do with his career," Stephanie Garay-Montalvo said. "He was unsure if he wanted to go Active Duty, Reserves or National Guard, and to be honest, I think he chose National Guard for me."
Garay-Montalvo's father-in-law Joseph Danet inspired him to join the UCF ROTC program. Danet told Garay-Montalvo all the opportunities he has had from being a part of the armed forces.
Danet served as an Air Force C-5 flying crew chief and was deployed during the U.S. Invasion of Panama. In the past, Danet worked as an engineer, and today he serves as a lead systems engineer.
Using his connections, Danet got Garay-Montalvo in contact with a recruiter for the UCF ROTC program. He said Garay-Montalvo's past experiences in martial arts, UCF ROTC, physical and mental ability, and focus to resolve complex situations will benefit him in the National Guard.
"I consider Garay-Montalvo to be a force multiplier to the Armed Services," Danet said. "Already adapted to a leadership structure and the ROTC program training not only honed his previously acquired skills to a whole new level but gave him the confidence to lead a team of soldiers into combat to successfully fulfill any mission assigned to him, anytime, anywhere."
Garay-Montalvo has since been a part of the ROTC program at UCF for two years and is now an S3 operations officer. He said the program shook him out of his routine and he had to learn the ROTC lingo as well as do a lot more exercising.
Once enlisted, Garay-Montalvo will be one of 37,000 people in Florida who currently serve in the National Guard and Reserves, according to americaspromise.org. Garay-Montalvo will be among the less than 1% of Florida's population that serves in the National Guard and Reserves.
Garay-Montalvo said though he will be moving on to the National Guard he won't forget about his time being a part of UCF ROTC.
"There's a lot of things to take away, all the things I was taught, all the things I learned, experiences I've had the friendships I've made in the short two and a half years I've been in the program," Garay-Montalvo said. "Some of the people I've been with I consider them my brothers."