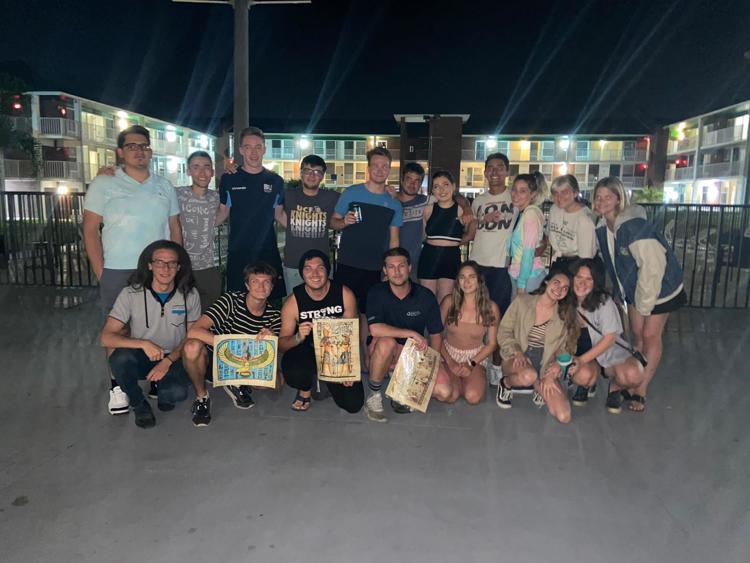 Spring break is usually a week of partying and relaxing. But for UCF's foreign exchange students this year, it was a week of goodbyes. 
In the second week of March, UCF announced that classes would be moved online for the rest of the semester to contain the spread of COVID-19.
Afraid of the travel bans and border closures, exchange students such as sophomore film major Gabriel Baxter said they started to book their flights back home. Baxter said he was one of the last exchange students to leave the U.S.; he went back to England on March 26.
"I fully understood how serious it was and most of everyone else was saying they're going to go," Baxter said. "I realized that although I was having fun, I was sacrificing more being here."  
According to the UCF Abroad website, exchange students come from all around the world to study for one or two semesters at UCF. The UCF Abroad website shows which specific international universities have an agreement with UCF to send students to the campus. 
However, Baxter and other students said all these challenges were part of their dream and, even though the experience was a shorter than they expected, they left the U.S. thinking about everything they learned and accomplished here.
"I learned that I'm a lot stronger than I thought I was," Baxter said. "I don't think I can ever be uncomfortable or nervous about doing new things again."
Senior finance major Zainab Chadli said she is originally from Morocco, but she has been living and studying in France for the past four years. Chadli said her exchange was a deal between her French university ICN Business School and UCF, so she came to study the spring semester in the U.S.
When the borders started to close in Europe and in the U.S., she said she felt "a pressure that was growing."  
"I was pretty shocked, but at the same time I was trying to keep it cool," Chadli said. "I'm not a French citizen, so I've to be more aware of the changes that happen everyday."
Chadli said that not being a French citizen made things more complicated for her. She said she faced strict security in the U.S. airport that made her so nervous, she couldn't find her French "staying card," which is a document that allows people who weren't born in France to live there.
Chadli said everything worked out well, she found the document after a few minutes and she arrived home.
In the middle of so much chaos, Chadli said they managed to organize goodbye reunions and those last nights in America got very emotional. 
"I don't normally show much emotion, but later when I was in my bed I was crying and I couldn't sleep," Chadli said. "Emotions have a terrible taste sometimes."
Both Baxter and Chadli stressed that they developed strong connections with other exchange students in a short period of time and they all understood each other's difficulties. Saying so many goodbyes meant they could never see each other again, but they said they tried to remain positive.
Junior physics major Unai Zabatela said he was one of the few students who had a one-year exchange. He said he was at UCF since August of 2019.
When the COVID-19 situation started to get serious and all the exchange students decided to go home, Zabatela said that he tried to convince them to stay.
However, not even Zabatela could run from the issue. He said that his parents booked his flight to Spain as soon as possible. 
Zabatela said that he went to UCF's main campus one last time after spring break. He said he went to the store, bought a white UCF shirt and asked all his exchange friends to sign it and leave a message. 
"There was so much I wanted to do, so many places I wanted to go," Zabatela said. "The last months are the best and we missed it."
Zabatela said it was essential to be together during the last moments. Some of the students, such as him, said that they were very frustrated.
But others, such as Baxter, said they tried to maintain some positivity in the air and end the unforgettable experience at UCF with a smile in their faces.
"My friend said something I'll always remember," Baxter said. "Don't be sad that it's over, be happy that it happened."