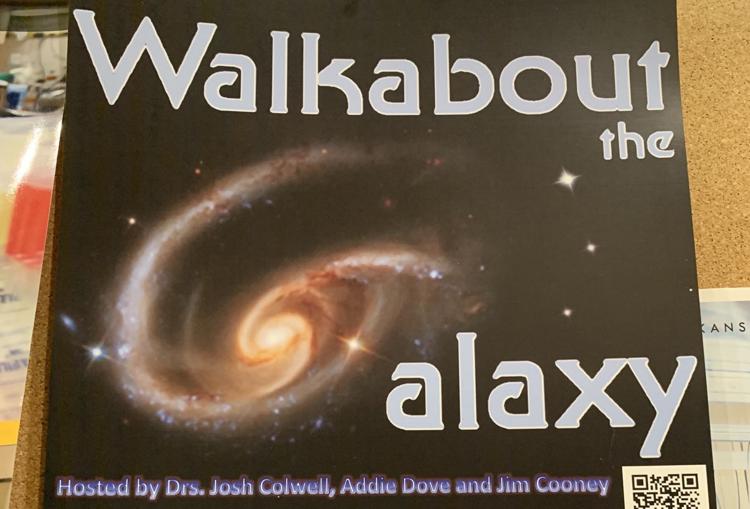 Space may appear to be Earth's final frontier, but three UCF physics professors think otherwise.
Professors Josh Colwell, Adrienne Dove and Jim Cooney discuss space on their podcast "Walkabout the Galaxy," which recently caught the attention of local NPR radio station, 90.7 WMFE.
The trio will become regular guests on WMFE space reporter Brendan Byrne's space-themed radio talk show, "Are We There Yet?" 
"Walkabout the Galaxy" was started in 2014 by physics professor Colwell. He started the podcast as a way to bring about a new form of space discussion.
"I was interested in finding a way to have a more entertaining and accessible public outreach platform to talk about astronomy and space science news," Colwell said.
The show covers space, science, news and a range of topics familiar to their personal podcast.  
Colwell approached some of his physics colleagues, who he said were having "a lot of enjoyable and fun conversations" about the current news in the space science world.
Colwell said they didn't have a grasp on what they were doing right away as the new hosts of the show, but after six years of trying different formats and hosts, the podcast eventually worked out.
Physics professors Dove and Cooney also host the podcast with Colwell. As the last host to join the podcast, Cooney said he was delighted to join his colleges.
"They needed a third voice, and I was happy to fill it," Cooney said.
As a cosmologist who studies the evolution of space, Cooney said that the dynamic between the hosts works well because they have different backgrounds, degrees and opinions on the various topics.
"I think [Walkabout the Galaxy] works well because Adrienne [Dove] and Josh [Colwell] are planetary scientists, and I am a little outside of that field," Cooney said. "So I get to talk about some of the fun things that are maybe fairly far-field from what they usually talk about." 
These topics include black holes, dark energy and the expansion of the universe, the Fermi paradox and the various SpaceX launches. 
Colwell said that each episode of "Walkabout the Galaxy" spans around 45 minutes long and they record in his office in the Physical Sciences Building at UCF. 
Some of their students have approached the trio after tuning into "Walkabout the Galaxy." 
"More often now, I have one or two students who have listened prior to coming to class, which is kind of cool," Dove said. 
Dove said she sometimes encourages her students to listen to the podcast with the hope that they will learn more about science in a less traditional way. 
"I teach a lot of non-physics major students, so I'd want them to listen just to enjoy hearing about science topics but not in a lecturing format," Dove said. "Mostly I just want them to have fun listening."
Both, "Walkabout the Galaxy" and "Are We There Yet?" are available to stream on iTunes and Spotify.
Colwell said the podcast and the radio show differ slightly in length and style, but their spot on "Are We There Yet?" provides an opportunity to  reach out to a larger audience.
"WMFE has a pretty big local audience, bigger than what we have, Cooney said. "So it's great to reach some people that maybe wouldn't have heard us otherwise."