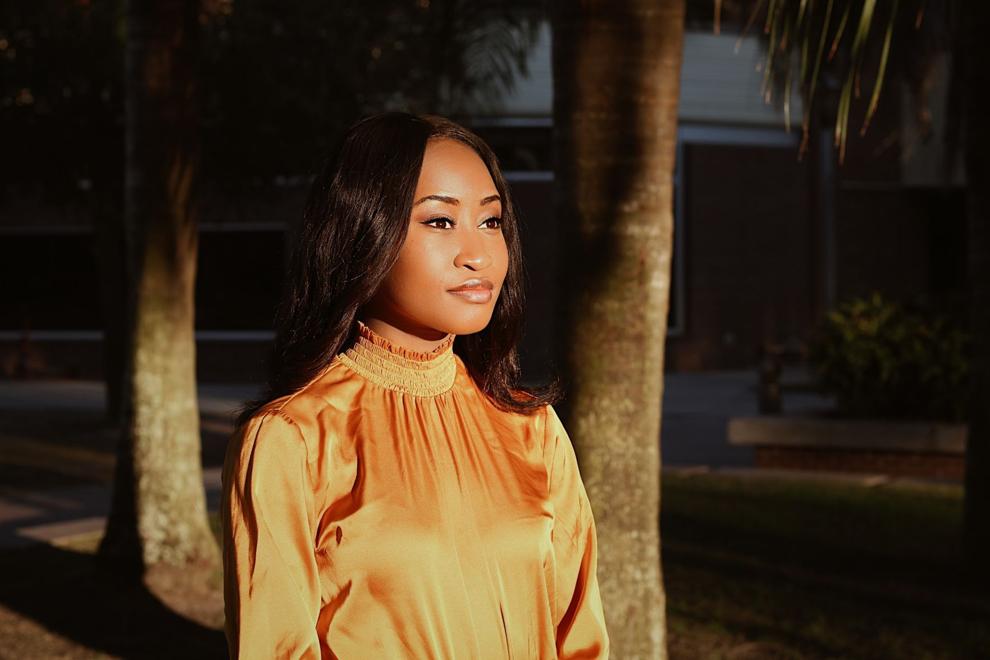 As a nine-year old, UCF graduate student Kristina Lawrence said she would wake up at 6 a.m. every Saturday to help her mother open their family's Caribbean supermarket in Miami Gardens. 
Lawrence said that discipline shaped her life. Growing up surrounded by hardworking family and serving others in their supermarket made her feel a responsibility to help those who were suffering or underrepresented as she got older, she said. 
Upon arriving at UCF, Lawrence said she wanted to be active right away, especially in student government. She was soon connected to the Associate Director of the Nicholson School of Communication and Media Boyd Lindsley, who introduced her to the Knights of the Round Table club.
"She showed up to my door with her hand stuck out saying, 'I want to meet you,'" Lindsley said. "I was impressed with that kind of polish. She's ready to advance initiatives that are important to her and others."
Lawrence joined KORT and quickly jumped into a leadership role by becoming the marketing and public relations coordinator in August 2018. After making more connections, Lawrence joined Student Government and later became an SGA Senator for NSCM in October 2018. She said she wanted to provide resources for students and organizations that weren't getting "the attention they deserved."
After being involved on campus for a few years, Lawrence ran for vice president alongside presidential candidate James Zachary "Zak" Myers in the SGA election held this past March. She said her campaign platform was centered on the representation of diverse groups.
"I was going for equity rather than equality in SGA," Lawrence said. "Not everyone has the same resources and playing tools. It's not a one-size-fit-all. I saw this firsthand, even at our supermarket. I saw people walk in who would utilize food stamps, and people who could buy out the whole store."
Lawrence first decided to run after graduating with a bachelor's degree in communication and conflict in December. Now, she is on track to receiving her master's degree in communication at UCF. 
Initially rejected by UCF, Lawrence earned her associate degree from Valencia College, but UCF was her end goal and she said she fought to get in.
"The moment I stepped on campus, I knew this was where I had to be," Lawrence said.
In advocating for diverse groups, Lawrence presented a rarity herself: she was the first female minority graduate student to run for SGA vice president. 
One of Lawrence's close friends and fellow KORT member, Alissa Mahadeo, said Lawrence made a huge difference when she joined KORT's executive board.
Mahadeo, who is Guyanese, said that her shared heritage with Kristina is what connected them the most.
"At the time, [UCF] was still a predominantly white university," Mahadeo said. "To find someone with a shared heritage - being West Indian and Caribbean was reaffirming and made school feel more welcoming."
Mahadeo said seeing Lawrence's dedication and passion to represent diverse groups on campus convinced her to become the manager of diversity and inclusivity for Lawrence's SGA campaign.
"When we lost the election, it was a tough hit," Mahadeo said. "[Lawrence] wanted to do so much for the underserved communities and was sad they wouldn't be getting their time to shine." 
Lawrence said the election loss opened her eyes and gave her a greater perspective. She said she refused to be stagnant and applied to the Graduate Student Association soon after the election.
"Leaders have impact, but unless you're working with students hand-in-hand, you're not really working for them," Lawrence said. "Titles don't matter if we can still make that change. It's overambitious, but necessary."
Lawrence's mother, Rose Fletcher-Lawrence said that from a young age, her daughter saw how things weren't right for some people and Lawrence took it upon herself to fix things.
"As far as helping others is concerned, I think that came directly from [our] supermarket," Rose Fletcher-Lawrence said. "All kinds of demographics, personalities and economic statuses were coming through the door that you had to work with. That's where she got that from."
Lawrence said she credits her determination to working in her family's supermarket during periods of hardship. It gave her a greater sense of appreciation for what she had and inspired her to help others.
"Being 22 and having experienced hardship a few years back, I feel more stable when faced with difficulty," Lawrence said. "I used to hear, 'You're not going to get into [UCF],' to being a two-time degree holder."