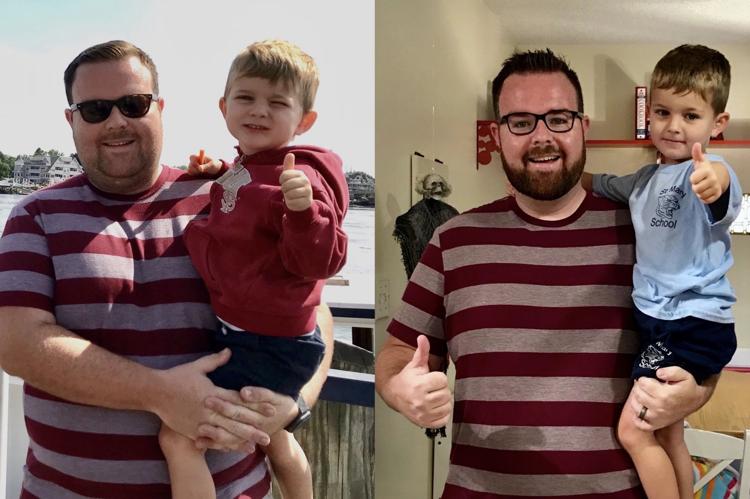 UCF graduate student Sean Farrell is 60 pounds lighter, 30 inches smaller all over his body and only halfway to his weight loss goal.
 Farrell, 31, said he began his weight loss journey about five months ago. At the time, he weighed 318 pounds and registered at 40 on the Body Mass Index Scale — extremely obese.
Farrell is working toward his master's degree in nonprofit business management. Aside from school, Farrell works as the associate director for advancement in the College of Engineering and Computer Science at UCF. He is also a husband and a father of two small children, ages 3 and 4.
Once his children got a little older and became more active, Farrell said he decided it was time to make a change. He wanted to get his lifestyle and health back on track.
"I said to myself my kids deserve more. I deserve more," Farrell said.
The first thing Farrell did was step on a scale.
He began logging everything he ate and drank daily. Although he did not follow a strict "no-carb" diet, Farrell said he cut back his calorie intake.
Throughout his journey, Farrell said his family members and co-workers have been very supportive and the little accomplishments continue to motivate him.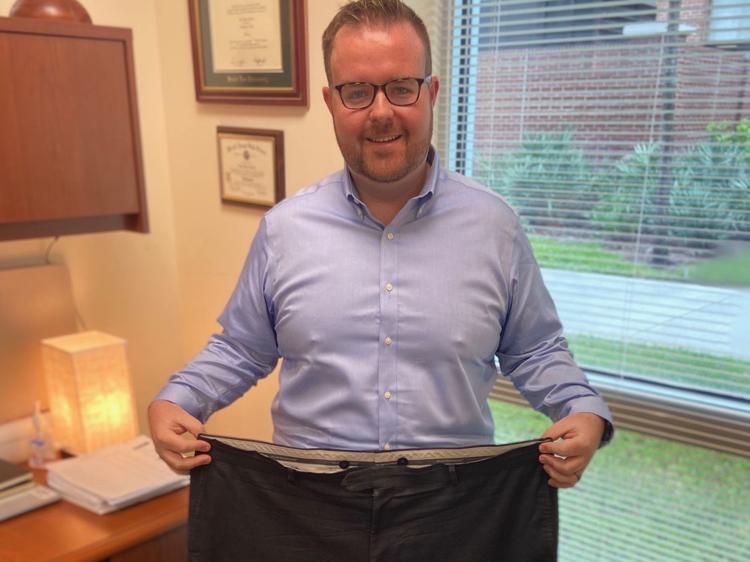 Farrell said his wife, Valerie, has been his "accountability partner" and continues to motivate him through his journey. Valerie said aside from prepping his meals, her role is to continue to remind him to be healthy, but this is a change he decided to make on his own.
"I've just been supportive of it and definitely reminding him," Valerie said. "I just remind him of his goal."
Farrell attributes his previous weight to his fast food addiction and emotional eating habits. He said fast food has been the hardest thing to give up because it is always around him.
"It's just part of our American culture and our American economy that there is a Starbucks and a McDonald's and a Wendy's or whatever on every corner," Farrell said.
Farrell said he struggled with his fast food addiction daily and not just during mealtimes. He felt like he had an emotional attachment to fast food and found himself going through drive-thrus daily — but not because he was hungry.
Dr. Jacquelyn Nyenhuis, UCF associate professor of medicine, said that because fast food is so tasty, people tend to prefer it over snacks such as an apple or celery sticks. She said that people tend to rely on these tasty foods for comfort when stress levels are high.
Nyenhuis said fast food addiction is also a problem among many college students because they lack the skill and knowledge of good nutrition, and she believes that students are too busy and time-stressed to plan their meals.
She said fast food is much easier to get and requires far less thought when buying.
Farrell said fast food was his way to cope with the stress and the anxiety of everyday life. The daily stress of work, school and being a dad made driving by a McDonald's without stopping very difficult.
At the start of his weight loss journey, Farrell joined Orange Theory Fitness where he found a new outlet for stress relief. Although, he said he had once looked at exercise as stressful, he found it was actually a stress reliever.
"Every single time I went to a class, it was the hardest workout of my life, but low impact and manageable and I felt like a rock star," Farrell said.
Although Farrell no longer attends Orange Theory Fitness, he said it was a good way to kick-start his fitness journey. Farrell believes that working out and going to the gym made a huge difference for him.
Now Farrell goes to the gym for an hour three times a week and continues to follow his exercise routine from his previous gym. This includes cardio and free weight exercises.
According to The Anxiety and Depression Association of America, an international nonprofit organization, exercise is vital for maintaining mental fitness. Stress affects the entire body and when your body feels better, so does your mind.
"Exercise and other physical activity produce endorphins — chemicals in the brain that act as natural painkillers — and also improve the ability to sleep, which in turn reduces stress," according to the association's website.
Valerie said her husband has always been confident, but now he takes pride in his appearance. She said Farrell is setting a good example for the kids while also reassuring her that he will be there for the long run.
"It puts me at ease in the sense that he will be there. He won't just be there, but he'll be there in a way that we can have fun," Valerie Farrell said.
Farrell is currently down 62 pounds and weighs in at 256 pounds. He plans to continue his weight loss journey but hopes to look for ways to keep it fun and rewarding.
He said, "I wasn't going to win this fight in a single day."