For students seeking an affordable way to start or continue their body art collection, Friday the 13th was anything but unlucky.
Hundreds of people lined up outside of various tattoo shops in the UCF area Friday to take advantage of the discounted prices of body piercings and art.
Realm Tattoos, across from UCF on Alafaya Trail, charged $31 plus a $9 tip, for an already designed Halloween-themed or a custom half dollar-sized tattoo. Jonathan Betancourt, the owner of Realm Tattoos, said more than 100 people had been through the door by 4 p.m.  
"There was a really long line, probably 30 people, before the doors even opened," Betancourt said.
According to Betancourt, nearly 80 percent of the people tattooed were UCF students.                                          
Customers participating in the "Friday the 13th tattoo special" were asked to fill out their waiver before receiving their raffle ticket with their wait number on it.  Betancourt said most customers waited around three hours to be inked.
Karina Barajas, a legal studies major, said she waited five hours to get her upper back tattoo at Realm.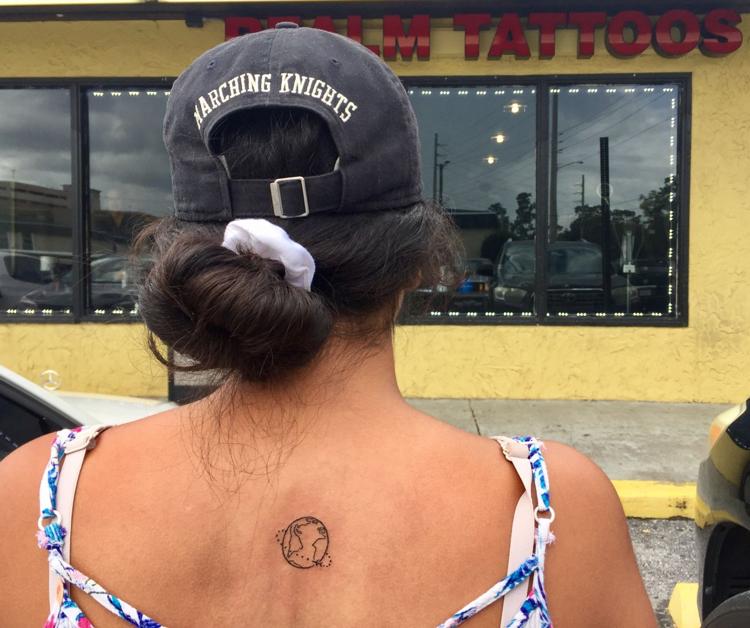 "I've always wanted a tattoo," Barajas said. "I thought this was one of the better deals."
Betancourt said specials like these give people the chance to come see the business and save money while getting quality art done.
"For days like this, I just want to give people the opportunity to get some good work," Betancourt said. "A lot of people can't really afford other artists minimums."
On a normal day, Betancourt, who has been a tattoo artist for 16 years, said he charges a $500 minimum for most of his body art. 
"We are award winning artists and we know what we are talking about," Betancourt said. "This isn't a game to us, it's something that's forever."
Keeping in spirit with Friday the 13th, Betancourt said many customers requested more ghoulish creations.  
"Clown, ghosts, skeletons, finger skeletons [and] pumpkins. Whatever has to do with Halloween, we've done it all so far," Betancourt said. "It's just a really cool thing because Halloween is right around the corner."
Age of Ink Tattoo and Body Piercing, located in University Commons, had more than 300 people attend their "Friday the 13th" event, according to its Facebook page.
Customers received custom quarter-sized designs for $13, plus a $7 tip, or $31, plus $9 tip, if the design was the size of a business card.
Taylor McKown, a 2017 UCF alumnus, waited outside of Age of Ink in a line of more than 40 people with her friend, Kaylee Schielka, a senior studying elementary education.
McKown said the custom design as well as the $13 price made her want to come out, even though she wasn't sure what design she wanted.
"I figured this was the best [deal]," McKown said. Already having a small cross tattoo on her finger, McKown said if she couldn't figure out a design then she would get the cross redone.
"I don't have any tattoos, so this will be my first one," Schielka said. "I've been wanting to get a tattoo for a long time."
A year ago, Schielka's grandmother passed away. She said she is planning on getting a rose tattoo on her wrist to always remember her grandmother, whose name was Rose.  
For those who missed out on the Friday the 13th event, Betancourt said UCF students can still save money by going to Realm for their body art and piercings. According to Betancourt, all UCF students can receive free piercings on their birthday and get discounts on tattoos.
"I just love to tattoo. The [style] doesn't matter as long as I get to tattoo," Betancourt said. "We do a lot of specials, don't hesitate to call and talk to any of the artists."
For those hesitant about getting a tattoo because of the stigma behind body art, Betancourt said he thinks the world is changing.
"That generation is dying off. Everybody's getting tattooed," Betancourt said. "It's being more accepted. What I'm trying to do is stop the taboo part of the tattoo.  I [want] to show the people that this isn't a bad thing anymore."