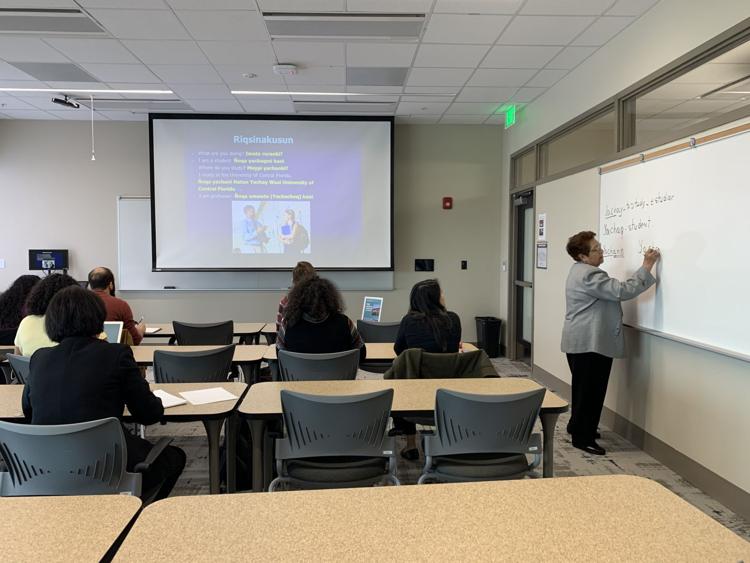 UCF offers students a diverse list of language classes to enroll in. However, some professors and students advocate for the school to add the indigenous language of Quechua to the course catalog.
Students have the opportunity to learn the indigenous language for free on campus, but they won't receive credit for taking the class.
The Latin American Studies Department at UCF offers Quechua classes every Thursday afternoon on the third floor of Trevor Colburn Hall. 
The free classes have been taught since Fall 2019 by professor Norma Ledesma. She has been a language professor at UCF for 15 years and is a native speaker of Quechua.
Raised in the mountains of Peru, not far from Cuzco, Ledesma said she is happy to continue the education of the language she learned growing up.
"My dream, my hope for a student, if they learn this language, is that they have future opportunities around the world, especially in Latin America," she said.
According to Every Culture, Quechua is spoken by about 10 million people around the world. Quechua was one of the "administrative," or official, languages spoken by the Inca civilization. It is a core language for the people of the Andes Mountains in Peru, and has many speakers who live in Bolivia and Ecuador.  
The director of the Latin American Studies Department and UCF alum, Tyler Fisher, said he thinks the Quechua classes are integral to the overall language studies at UCF.
Fisher said that Ledesma proposed teaching free Quechua classes to him, to which he happily agreed.
"The benefit of it was worth far more than the little logistical work that was required," he said.
Some of the logistical work he's referring to included finding available space for teaching, as well as listing the classes on the UCF Events page. 
Fisher said he wanted to take it a step further, and hoped to gain credit for the classes this semester, but it ultimately fell through. 
Fisher explained that this was due to the crash of Curriculog, the system through which UCF faculty and departments propose new courses. The system first crashed in early October and continued doing this many times after. 
"A lot of our new course proposals are just on ice right now," Fisher said. 
Since the Quechua class proposal was never approved at UCF, Fisher has reached out to influential Peruvian news outlets and sought their support to teach the indigenous language on campus. 
"I did write to some Peruvian media outlets because I know that the current government in Peru is interested in supporting efforts that promote indigenous languages—the main indigenous language being Quechua," Fisher said. 
Peru follows the model of Intercultural Bilingual Education, which supports the teaching of indigenous languages, according to The Economist.  The Peruvian government launched a "policy for native languages," as reported in 2017, which placed a higher importance on the educational resources provided for languages like Quechua.
When asked about the potential of the Peruvian government's involvement, Ledesma said she thinks it would be beneficial, "because students need to explore Latin American cultures and languages."
Some students who take Ledesma's free Quechua class would agree.
Graduate student Jennifer Vanegas, who is studying the teaching of English to speakers of other languages (TESOL), said that a potential fund created by the Peruvian government could shed a light on lesser-taught languages and could, in turn, make UCF stand out. 
"If the Peruvian Government did provide a fund to make Quechua into a for-credit class, I think it's really important for the prestige of indigenous languages," Vanegas said. 
While Vanegas shared her opinion, Fisher entered the classroom and began to hand out Undergraduate Registration Agreement forms. He said these forms give students the opportunity to document their participation in learning Quechua on their transcripts, even though these classes are registered as zero credit. This is his initiative to put the Quechua classes on the map.
"If UCF did have Quechua as an actual credit class, I think it will put UCF at a different level than other universities," Vanegas said.
Fisher said that he hopes Quechua will become a course all UCF students can earn credit for in upcoming semesters.