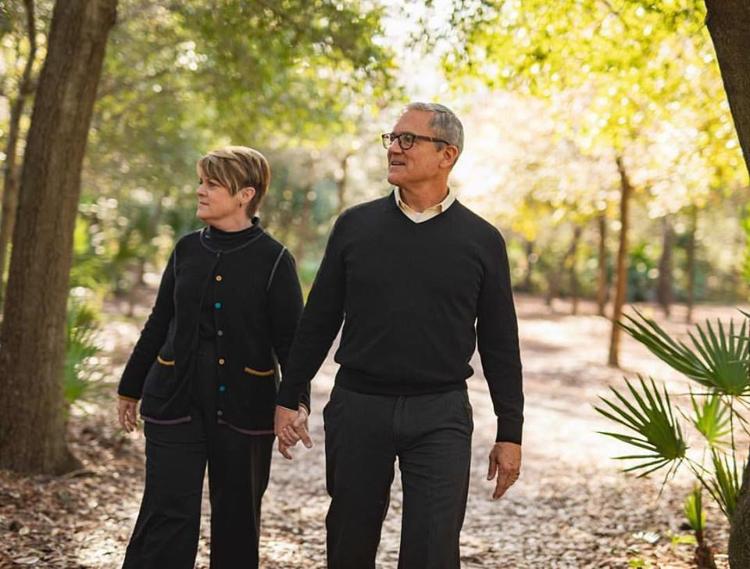 Seated at a neatly organized desk in his parents' house near Houston, Texas, on a Skype call, Dale Whittaker looked comfortable. 
He adjusted his glasses with a smile and, clasping his hands in front of him on the desk, he leaned into the camera.
"It's really good to see you, too," he said. "I haven't really talked to many people from UCF since I left, so thanks for reaching out."
The spring semester has come and gone, and UCF has yet to appoint a permanent president. For some, this may leave unanswered questions regarding Dale Whittaker, his life now, and what his next steps will be.
In January, an independent law firm assessed that then-President Dale Whittaker, as well as other top administrators, had knowledge of the university's spending of $38 million in state education and general funds used for the construction of Trevor Colbourn Hall. The initial law firm report said Dale Whittaker was never told the use was inappropriate.
A Florida House committee investigation released in March concluded the spending was an unauthorized use of general education funds.
Dale Whittaker offered his resignation to the Board of Trustees in February as the House investigation was ongoing. The board accepted his resignation and appointed Thad Seymour Jr. as interim president the same month.
"My goal was to really make things right," he said. "In the end, you know, I came to understand that there was a political need for public accountability for something that happened, that started, even before I came to UCF as provost."
In an attempt to re-establish the school's integrity, Dale Whittaker said he ended up taking "decisive sometimes difficult steps" to ensure the university was set up for transparency and trust. 
"Ultimately, the last step to satisfy the political means for accountability was my own resignation," he said. "On a personal level, it felt unfair. On a professional level, we understood why it had to happen."
Since the Board of Trustees accepted his resignation in February, Dale Whittaker's departure caved a major gap in the school's administration and in his own life as well. 
"It was brutal and very difficult. We had a 10-year plan, and we were very, very committed to UCF," he said. 
Dale Whittaker answered questions using the term "we" rather often. This is referring to himself and his wife, Mary Whittaker, as one unit.
They met during his freshman year at Texas A&M University, in College Station, Texas and have been married for almost 34 years.
In that time, Dale and Mary Whittaker have seen many places around the world and conquered many challenges together. One of the couple's most recent adventures was walking across all of northern England last summer.
Now the couple of avid travelers have taken to the road yet again, this time in a camper that he himself has painted inside and out. They will be using this time to visit friends and relatives, to unwind, and to just reflect. 
"We have long wanted and needed a sabbatical, so this came at a perfect time," Dale Whittaker said.
First, they will travel cross-country in their camper this spring, and then they will spend their summer across waters in retreat. After the fall, however, Dale Whittaker does plan to re-engage by publishing his reflections on higher education.
"We're moving to a cabin on an island that I will spend the summer renovating," he said. "And I'm preparing to write and blog on 10 of the 21st centuries' biggest challenges for higher education."
Dale Whittaker said some of his main themes, inspired primarily by his time at Purdue University and UCF, focus on investing in American students from lower-tier schools to unlock talent in lower-income brackets, rather than perpetuating an elitist culture in universities.
Another major point of his work will focus on how technology is changing the way we should approach the very fundamentals of higher education. 
His daughter, Erin Whittaker, 27, said she knows her father will "not just sit on these ideas," but he will implement them and continue to impact the people around him.
"He is a thinker and doer," said Erin Whittaker. "That's a very rare combination, to have someone who can think at that high level but also understand the steps that it takes to make something happen."
At this time, Dale Whittaker no longer needs to be at Millican Hall early every morning, suited up, and ready to work. He no longer has a long list of presidential duties tying up his schedule. No student dinners, no major events, no handing out of Pegasus swords, no real pressing matters.
As an optimist and fan of each person's capacity to individual progression, Dale Whittaker views this as an opportunity. He will be using his now free time to put forth a plan of action — all while enjoying his hobbies and keeping productive.
"I'm journaling a lot and making art," said Dale Whittaker, who once considered a master's degree in fine arts, as he pulled out his sketch book to share some of his work and ideas.
His sketches were done in black ink and had varied themes; from landscapes, to trees, to a fox he encountered. Some were just of people in towns, and some were even of their cat Oscar, the former UCF kitty.
As the kind of person who cannot just sit around, Dale Whittaker has always found ways to stay active in the arts during his off-time. He played harmonica since he was a kid and loves music, specifically the blues.
Back in Indiana, when he was provost at Purdue University, he used to be in a band called Moonshine Mason and the Rotgut Gang.
Even throughout his busy time as president of UCF, he still played when he could. He used to frequent a blues joint called The Alley, in Sanford, where he would jam on stage with other musicians.
Yet according to his daughter, Dale Whittaker would like to be in college administration again one day, and said she supports that decision.
Erin Whittaker said her father has already been offered jobs as president at other universities, and while she understands he wants to use this time to reflect for now, she would love to see him use his full potential somewhere the way he could not at UCF.
"I was actually at Purdue when he was there as provost, so I also got to experience — not only as a daughter but as a student — the impact that he has on universities," Erin Whittaker said. 
This feeling is not exclusive to his daughter. Sarah Siclait, a 21-year-old political science junior who belongs to the President's Leadership Council at UCF, made similar remarks regarding Dale Whittaker's time as president.
The PLC is a group of 35 student ambassadors who serve the UCF president as aides, and the students meet with the president at least once a month to work together with him on major university events.
Siclait worked closely with Dale Whittaker while he was in the position, and she was one of many students who helped organize several campus demonstrations aimed at keeping him as president of UCF.
"I feel like I didn't get everything out of working with him as president because it was cut so short," Siclait said.
Siclait was one of many students who helped organize several campus demonstrations, which often turned emotional, aimed at keeping Dale Whittaker as president of UCF.
Thousands of students joined petitions and protests urging the Board of Trustees to reject his resignation.
"Something we're missing out on is that we had someone who so quickly captured the hearts of so many students," Siclait said. "We won't get to see what he could have done with all of that support."
She attributed such passion from the students for Dale Whittaker to his "jovial personality." Siclait said it was common to see him around campus engaging students on a personal level, in a way unlike anything anyone had ever seen before.
She remembered, for example, his presence and energy at football games, and his participation at the 2018 Spirit Splash, an annual homecoming  event where students run into the Reflecting Pond to wrestle over rubber duckies, one of UCF's oldest traditions.
She said Dale Whittaker once even initiated a clean-up crew and stayed late after tailgate picking up trash with Mary Whittaker, and some students and staff.
"He was just comfortable doing things others would find uncomfortable," Siclait said.
Dale Whittaker said he and Mary Whittaker were strongly moved by the students' actions during his resignation and appreciated the strong bond they had made with them throughout his short eight-month tenure.
"I think it's how Mary and I really valued engaging directly with people," Dale Whittaker said. "We loved hearing the people's voice and wanted to open doors for everybody. I think there was just an energy, a connection. We all shared a dream."
Dale Whittaker explained this approach was not a strategy, but a genuine interest to understand how to properly articulate and serve the needs and growth of the institution.
"We wanted very much to know what was really going on out in the street, and what the real heartbeat of the university was – rather than try to perceive it from the third floor of the Millican Hall," he said.
As a result, Dale Whittaker gathered conviction for his ideas pertaining higher education, and looks forward now to leaving a similar print elsewhere, like he did at UCF.
His successor, Interim President Thad Seymour Jr., a man who calls Dale Whittaker a "friend and a mentor," encourages this notion.
"While his time as president was short, his impact will be felt [at UCF] for many years," Seymour said. "Whatever Dale does next, he and Mary will make a difference in so many lives and benefit higher education across the country."
Dale Whittaker said he is currently working on finding his new place in academia while still trying to shed off his presidency, which he said became a part of him, and who he felt he was.
"Be careful not to become your job," he offered as advice. "We each have a task in life, for me it was my job. It's really easy to let that become your own self-identity."
As Dale Whittaker charges on into a new chapter of his life, he said he remembers and misses the UCF students, and the relationships he built the most. Though he has left Florida, for now, his heart is still here.
"Let me just say what I love about UCF people: they are bold, resilient, brilliantly creative, strong, and they know how to use their voice," he said. "Just never let anything discourage you from that."
Correction: This article was updated to provide clarification on Dale Whittaker's knowledge regarding the funds misused in the construction of Trevor Colbourn Hall. The initial reporting did not include that he was misled about the funding.