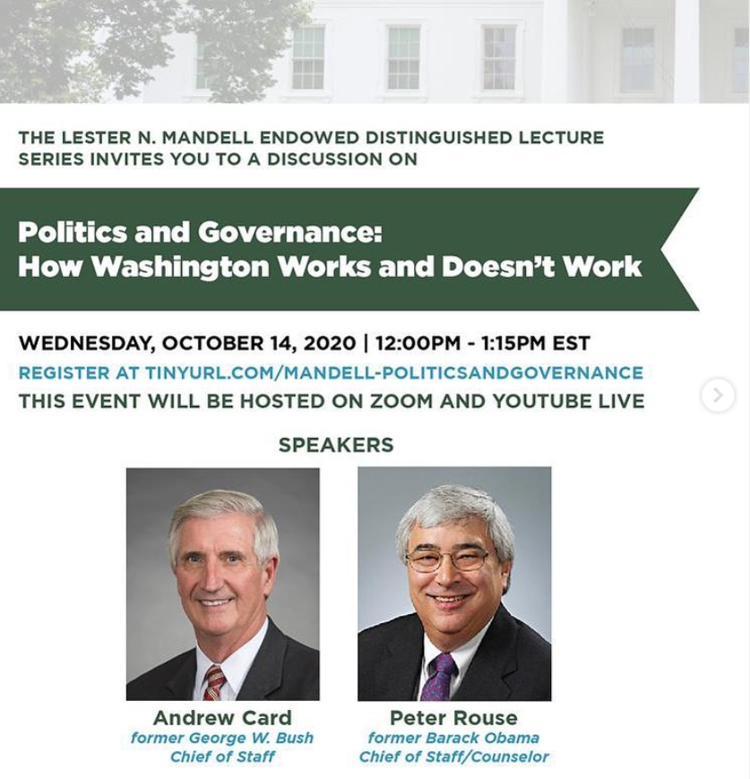 Barack Obama and George W. Bush's chiefs of staff spoke about President Trump's presidency and the 2020 election in a Zoom meeting hosted by UCF Wednesday afternoon.
Bush's Chief of Staff Andrew Card and Obama's interim Chief of Staff Peter Rouse shared their takes on presidential candidates President Donald Trump and Democratic nominee Joe Biden. In light of Trump's controversial comments about not accepting an election defeat, Card spoke about Bush's 2000 election and gave credit to the losing party politicians for accepting the results.
"It's unprecedented in our democracy for a president to say that he thinks the results of the election are not likely to be good and therefore he will protest them," Card said. "I do credit the Democrats for recognizing that George W. Bush won in a controversial election."
Card broke the 9/11 news to President Bush and Rouse became the first and only Asian American chief of staff.
From experience with controversial events in their administrations, Card recounted the chilling moment in 2001, which has been seen more than six million times on YouTube.
"I stepped into the room, the president did not see me coming from behind," Card said. "I knew when I whispered into his ears, 'A second plane hit the tower. America is under attack,' his presidency had changed."
Card said much like how that moment changed American politics, the Trump administration's response to the COVID-19 pandemic also has.
Rouse agreed with Card's take, characterizing the Trump administration's COVID-19 response as negative.
"So clearly, what's happened since March has been a huge problem for him," Rouse said. "There was a big chance for President Trump to change the narrative, and then he got sick, and that kept the spotlight on COVID-19."
Regarding the candidates' political strategies, Card and Rouse believe the approaches are entirely different. Card said he does not believe Trump will win the popular vote.
Card said a successful Trump campaign approach to victory would be acting defensively against Biden, not an overview of his victories.
"If this is a referendum on Donald Trump the person, he loses," said Card, a registered Republican.
Card said Trump's strength lies in his sense of urgency on specific issues.
"He has set an immediate gratification expectation and mastered the ability to communicate," Card said. "Trump has changed the nature of our democracy."
Although he is not a fan of Trump, Card said he supports his policies.
Card said the huge political strategy shift is because Trump communicates to a massive following through social media instead of representatives. He believes this political strategy shift set a new precedent and is permanent. 
"All the way back to the beginning of democracy, the greatest threat to democracy is mob rule," Card said. "But Donald Trump has actually brought the mob into the role."
Rouse said the extreme partisanship resulted in greater executive power. He said despite the opinion that most people want the return of less partisanship, he believes the polls disagree and want their politicians to not compromise. 
"Partisanship enhanced the executive power, which is an unfortunate development," Rouse said. "Polarization has intensified and it's having a debilitating effect on governance."
Rouse said the victory strategy lies within the campaign focuses, especially in Florida.
"Florida is a key element in the state and the battle for the Electoral College," Rouse said. "No Republican has won the election without winning Florida since 1924. Florida is at the epicenter of the Electoral College."
Biden's campaign can be reminiscent of Clinton in 2016, Rouse said, where complacency of sitting on poll leading might sneak up on him. Rouse urged Biden to campaign more aggressively.
"You've got to run full out," Rouse said.
Card said Biden is taking the middle of the road approach by aggressively pursuing moderates who voted for Obama twice and for Trump in 2016.
"He is trying to make that argument to capture the center," Card said.
As far as legislation, Card said he hopes the agenda becomes helping the struggling industries.
"I'd love to see an infrastructure package passed by the House and the Senate and signed by the president so we can stimulate more jobs and revitalize our infrastructure," Card said.
Card agreed with Rouse that this is an unprecedented polarized time. Card reflected on an old adage he said his grandmother told him. 
"I think the fault is our instant gratification and our own bias," Card said. "Because we know we're right no matter how wrong we are. My grandmother used to say, 'It may not be right, but it's certainly, certain.'"