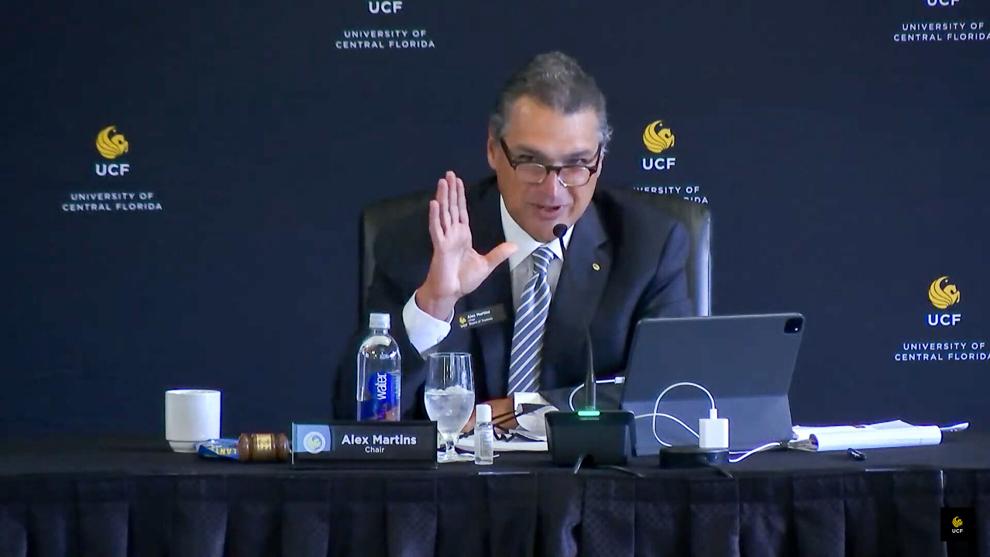 Joining a Power Five Conference was something that Alex Martins, Tiffany Altizer and Michael Okaty could only dream of many years ago as UCF students.
That dream came true on Sept. 10 when UCF's Board of Trustees unanimously approved UCF Athletics joining the Big 12 Conference. The Big 12 approval held even more significance for Martins, Altizer and Okaty — who all now serve as BOT members. Martins said an approval of this magnitude is "gratifying," and its impact will be felt throughout the school. 
"It's certainly a transformational decision and time for the university that is not just going to benefit our student athletes, but it's going to benefit the entire student body and our entire institution," Martins said. "To be able to be a part of that, a small part of that, and contribute in whatever way you could is really gratifying."
While Martins, Altizer, and Okaty all serve on the Board of Trustees, their paths couldn't have been any more different. 
Okaty first stepped foot on campus 30 years ago as a 17-year-old, he said. During his time as a Knight, Okaty earned bachelor's degrees in accounting and finance and graduated magna cum laude, according to the BOT website. Okaty said he was a member of Student Government, Greek life and held multiple jobs on campus. 
His time at UCF had lifelong effects, both personally and professionally, he said. Okaty met his wife as a UCF student and that the two even got married in the Student Union, he said.
"I really created lifelong friendships (and) relationships," Okaty said. "I do believe that my finance and accounting programs prepared me for grad school and life beyond my professional life."
Altizer completed her undergraduate degree at Auburn University before attending UCF, according to the BOT website. Having grown up in Florida, she said she missed the Sunshine State and decided to move back to pursue her master's degree at UCF.
In 1990, Altizer became one of the first students at UCF to earn a master's in taxation, she said. Along with earning her master's degree, she became a certified public accountant and has been one for the past 30 years, the BOT website states. 
"The professors were wonderful," Altizer said. "It just really ... kicked my career off, and I was able to get a job out of the gate with the Big Four accounting firm, which is a goal of a lot of accounting students. It really set me up for a great career, (and) I'm very grateful for it." 
Martins said he earned his Master of Business Administration from UCF in 2001. While at UCF, he said he was able to improve his skill set in the sports industry, which set the stage for his role as CEO of the Orlando Magic, which he landed Dec. 7, 2011.
"I wouldn't be sitting in the seat that I'm sitting in today if it weren't for my UCF MBA," Martins said.  "I wouldn't be the CEO of the Orlando Magic because I wasn't well prepared, and UCF prepared me for that."
The wheels started turning for UCF to join the Big 12 long before the move officially happened. 
Martins previously had a chance to give a presentation to the Big 12 commissioner, he said. While the presentation didn't lead to membership in the conference at the time, Martins said it built familiarity between UCF and the Big 12. Once the Big 12 was looking to expand, Martins said this familiarity helped make UCF a logical choice. 
Okaty said the opportunity to join a Power Five conference is one that was long overdue. 
"It's been a long time coming, and we wanted to get into (a) Power Five (conference)," Okaty said. "I think if we were in (the) Power Five a couple of years ago, we would have had a shot in the playoffs and maybe a different reaction to our claim of being national champs.
"But as a trustee, knowing the limitations of finite financial resources and time – understanding what a conference like that does for us in terms of finance, recruiting, media rights and then leads to things like facilities."
Martins said the move to a bigger conference will lead to a plethora of opportunities for UCF students. Financially, he said the move will allow UCF to continue to improve its athletics facilities and fulfill big needs around the university. Altizer said this move will give UCF a bigger audience as the youngest university in a Power Five conference.
"It gives us a larger platform to tell our story," Altizer said. "So that we let the country and the world know how great we are, what UCF is all about and all the wonderful things that we're doing. I think it's an incredible opportunity to spread the word within the country and globally about our story."
The opportunity to give back to a university that gave them so much is something that will never be lost on Altizer, Martins and Okaty. Martins said approving UCF Athletics' move to the Big 12 is "transformational," providing an example of how the BOT can make decisions that positively resonate throughout UCF.
Altizer said she joined the BOT in January and that the chance to serve a big role in helping UCF is a "true honor and privilege."
"I just hope to bring my skills and experience to help us achieve our goals and make things better for the students," Altizer said. 
Okaty said the chance to combine work and giving back to UCF is one of the most meaningful things he has been a part of. 
"I feel like it sits deeper within you because you've got this long-standing personal connection," Okaty said. "So, it really does feel like giving back: ... using all the personal and professional experiences I've had along the way to make a meaningful contribution."
Martins has experience serving on the boards of many different companies, including the NBA, the Orlando/Orange County Convention & Visitors Bureau and Seaside National Bank & Trust. However, he said of all these experiences, his appointment as BOT board chair has been the most satisfying.
"It's very gratifying (and) it's very enriching," Martins said. "I've been on many boards in the community, but this has been the most enriching experience that I've had."