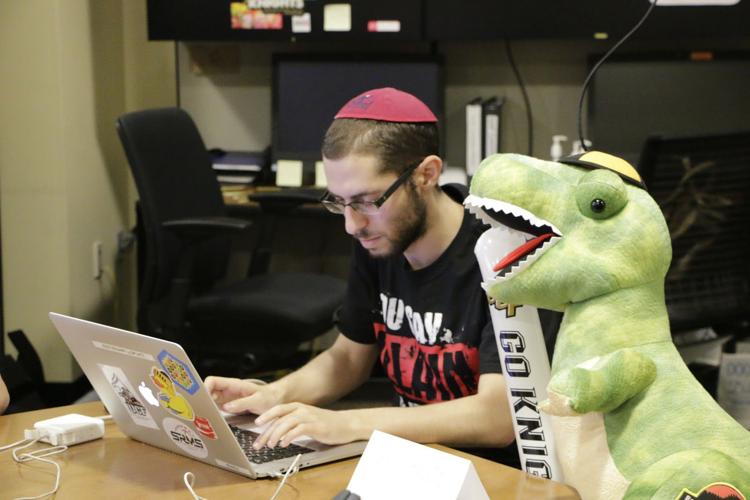 After walking into the UCF Student Government Association office on the second floor of the Student Union, senior film major Jesse Slomowitz sat down at his desk adorned with a menorah, Spider-Man action figures and piles of paperwork.
Well liked within the office according to his peers, Slomowitz, 23, is wrapping up his last semester both as a student at UCF and as a SGA senator. He said his position entails leading the senate as a financial oversight chair, which means delegating funds to the different aspects of student life on campus.
"I've always tried to be as approachable as I could be," Slomowitz said, leaning back in his chair and lightly adjusting his kippah. "I truly just want the students here to know that SGA is here for them, and we want to help you follow your dreams."
Slomowitz joined the university's senate two years ago and quickly became a fixture in both its processes and the hearts of his fellow senators — a sentiment shared by many of his peers.
Kevin Olsen, senator and sophomore human communication major, called Slomowitz "the life of the party."
"Jesse [Slomowitz] brings a lot of excitement to nearly everything he's involved in," Olsen said. "Not only that, but he raises concerns that many of us didn't even think about."
Slomowitz's friends said they are also thankful for his rich sense of humor.
"His Facebook meme-posting gives me life," Olsen said. 
During his terms, Slomowitz said he has remained open about his devout Judaism. He dresses the part, wearing a kippah every day, and he said he is sure to alert his fellow senators about upcoming Jewish holidays so his absence from meetings won't be a surprise.
"When I was first elected, I missed the first few meetings because they were during holidays," Slomowitz said. "Instead of being upset or frustrated at me, everyone understood and got me back up to speed as soon as I got back. The community has been nothing but accepting of me the entire time I've been here."
Gabrielle Orphali, senator and senior English major, credited Slomowitz's desire to put others before himself. Slomowitz's self-sacrifice is just one way he leads SGA, she said.
"When we first started working together, Jesse [Slomowitz] helped me out a lot," Orphali said. "He'd give me advice and teach me things, and I'd pat him on the back and hug him to show my thanks."
One thing that Orphali said she didn't know was that Slomowitz's religion doesn't allow him to be intimately touched by members of the opposite sex. Orphali said once she found out, she apologized, and Slomowitz accepted and didn't raise any trouble.
"Jesse [Slomowitz] is still able to express how much he cares about us through other ways," Orphali said.
Daniel Robles, senator and freshman political science major, said Slomowitz's leadership has left a lasting impact within SGA.
"Jesse [Slomowitz] is our financial oversight chair, but it's like he's in charge of us all at all times," Robles said. "He pushes us to think for ourselves and not just go with the flow, and finish things as quickly as possible."
One person Slomowitz has specifically pushed to succeed is Carlos Oquendo, his mentee. Oquendo, freshman political science and philosophy double major, is a newly elected senator and called Slomowitz "an excellent mentor."
"Jesse [Slomowitz] isn't just my mentor — he's like a big brother to me," Oquendo said. "Ever since I came to UCF, he's given me advice for class and social life. When we first met, instead of a boring rundown of my responsibilities, Jesse [Slomowitz] set up a scavenger hunt around the office so I could get to know the entire working space and have some fun doing it."
Leading a meeting on April 10, Slomowitz maintained a sense of humor throughout, joking that a stuffed dinosaur seated next to him — also wearing a kippah — was going to be taking his place after he graduates.
Also at the meeting, Slomowitz led the vote to quickly overturn a student's fees in a visa dispute, making time to double-check with the student that she knew her rights and inviting her to come back for help later if necessary.
With graduation quickly approaching, Slomowitz said he is unsure of where he wants to go next.
"I want to take a year off, but after that, who knows," he said. "I love computer science, so I wouldn't be against entering that field, but my dream is to make movies."
Robles said he believed Slomowitz could easily make his dream come true.
"Jesse [Slomowitz] is going to leave here and direct an amazing movie," Robles said. "He will inform many, many people about his faith and the world around us. He will succeed after graduating."