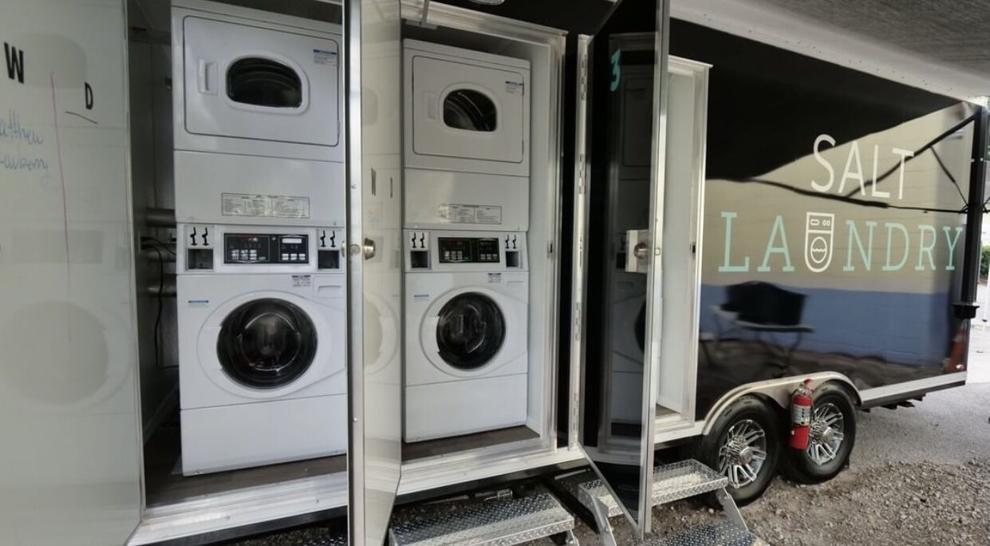 On Thursday, April 15, the City of Orlando joined with representatives from SALT Outreach and Simple Healthcare to cut the ribbon for downtown Orlando's new mobile laundry trailer. 
The mobile laundry service trailer is a first-of-its-kind and includes six commercial washers and dryers that will provide free laundry service to anyone experiencing homelessness, according to a press release from the City of Orlando. The laundry trailer will operate out of the Christian Service Center four days during the week. According to SALT, a non-profit organization that helps to meet the needs of the community, they estimate assisting clients to complete up to 60 loads of laundry per day or 240 loads of laundry per week. 
Orlando Mayor Buddy Dyer said in a press release from the City of Orlando that the partnership between the programs will ensure that people in the community are equipped with the basic needs.
"One of our community's greatest strengths is our ability to forge partnerships to serve our neighbors in need with kindness and compassion," Dyer said. 
Although the UCF homelessness community is small, it is not non-existent. According to FAFSA data from 2019-2020, there were a total of 41,243 applicants in the U.S. who filed as homeless, with 2,546 being from Florida. According to the Coalition for the Homeless of Central Florida, the 2018 Point-in-Time Count found 2,053 homeless men, women, and children on a single night in Orange, Osceola and Seminole counties.
Natalia Alvarez Collazo, a senior social work major and a social work intern at SALT, said that since the start of the pandemic they have seen an increase in homelessness in Central Florida. Collazo said that UCF students who struggle with homelessness can utilize the project to meet their basic needs such as a shower, clothes, food, and laundry. 
"SALT Outreach provides a safe place where our homebound friends can come shower, eat, be clothed, do laundry, and speak with a case manager," Collazo said. "SALT prefers to calls those experiencing homelessness homebound rather than homeless, as they are home BOUND not home LESS." 
The laundry trailer, paid for through sponsorships from the City of Orlando, Simply Healthcare and other private donors, will serve as an addition to the day services SALT already provides to unsheltered persons experiencing homelessness which includes a portable shower trailer, a clothing trailer, haircuts, storage services, hygiene products, and food. 
While clients are waiting for their laundry to be done, SALT will also use their case management team composed of two social workers and six social work interns from UCF, to "empower, equip and provide guidance to help them take the next step toward ending their homelessness," according to the press release.
Shaleria Lewis, a senior social work major and SALT social work intern, said that her work at the non-profit is extremely rewarding. 
"Everyday that we have been operating and working diligently to serve those in our community has been a humbling experience," Lewis said. "For me as an intern pursuing a career in community social work, I was excited and ready to be a part of such a legendary mission while providing case management services to our homebound friends."
Those who wish to get involved can sign up to volunteer by clicking here or also provide donations at SALT's website.