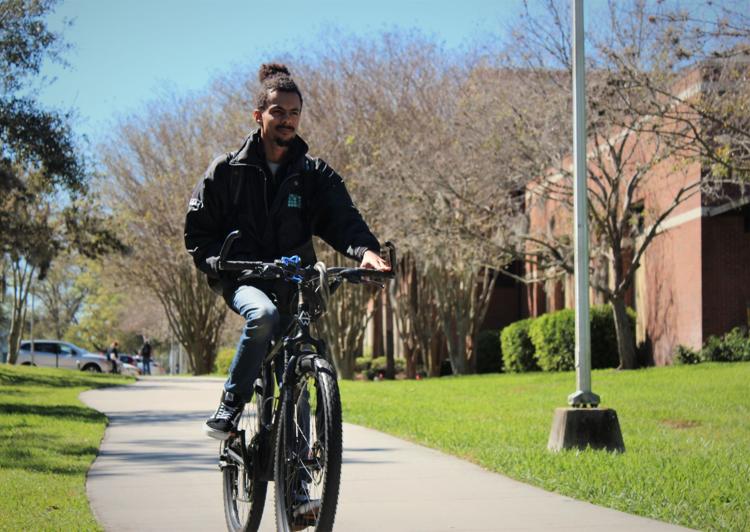 As the first member of his family to attend college, Damian Jones is a first-generation student working hard to afford the cost of attending UCF, said his mother Birgit Jones. 
Damian Jones, 21, is the son of a German single mother of three. He said that his first year attending a four-year university was very overwhelming because neither him or his mother were familiar with living on campus, paying for tuition or the vast scale of UCF's campus size.
As a junior, Damian Jones said it took him some time to get settled at UCF. He said he changed his major twice, starting with aerospace engineering, then integrated business and now human communications. This is where his skills fit best, he said.  
Like many first-generation students, Damian Jones said he didn't have family who could share their experiences about what to expect during college. His mother said she had to learn alongside her son as he grew up, figuring out how the American world worked.
"Understanding the full dynamic of college [as a first-generation student] was very overwhelming at first," Damian Jones said. "Colleges are more like country clubs more than ever. In Germany, there were no lazy rivers for athletes or Starbucks on campus. College [in the U.S.] isn't a simple schoolhouse, it's a schoolhouse plus."
First-generation students face more challenges than non-first-generation students such as lower median household incomes and a higher need for financial aid, according to the Postsecondary National Policy Institute.
Jones is one of 13,941 first-generation students at UCF who filed for the Free Application for Federal Student Aid, or FAFSA, in fall 2018, according to UCF's Institutional Knowledge Management website.
PNPI averages that 27% of first-generation students come from households making $20,000 or less. Damian Jones said he would consider himself apart of that grouping because he is financially independent for himself.
In 2019, the direct annual cost is $15,965 for a full-time undergraduate resident student at UCF, according to UCF's Office of Student Financial Assistance. 
From the perspective of a German immigrant, Birgit Jones said that she considers UCF to be a very impressive university, but she doesn't agree with the high cost students must pay to get a higher education in the U.S.
"Colleges are a business here," Birgit Jones said. "It's a money-making machine that takes advantage of the students. No child or young person should be in debt just to get an education. I feel very strongly that this is wrong."
Her son lives a life much different from most other college students, one that she considers to be minimalist, Birgit Jones said. Damian Jones said he must be cautious when spending, finding the best deals and making practical financial decisions.
"I don't need much — you can put me in a shoe box and I will still go to school," Damian Jones said. "Living off the chip is gonna benefit me later. When I do have the money coming in from a career, [then] I'll be able to appreciate [spending] it far more."
About 64% of first-generation students are eligible for the federal Pell Grant program at UCF, according to UCF's IKM website. Damian Jones said he receives funding from FASFA and from the Pell Grant. Both are targeted at students from low-income families, or for independent students with low incomes, according to OFSA.
Receiving financial aid helps him pay for school expenses such as tuition, books, rent, groceries and transportation, all of which he is independently responsible for, Damian Jones said.  
"We [are] trying really hard to get him through college without a lot of debt," Birgit Jones said. "That is the most demotivating point. Finally reaching your career [after graduating from college], getting your first paycheck, and the monster [is] reaching out his hand to say, 'It's pay time now."
Tammie Nadeau, assistant director of UCF's Multicultural Academic and Support Services, runs the First-Generation Program. The program is geared toward helping first-generation students succeed in college, Nadeau said. 
Damian Jones doesn't utilize the program's services, but he said he is recognized as a target student being served by the the First-Generation Program.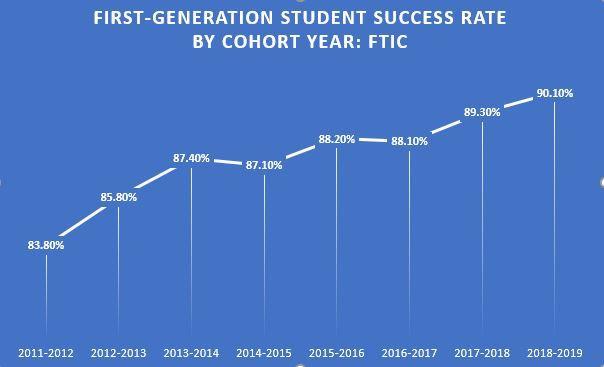 Based on the combination of retention and graduation rates, first-time-in-college first-generation student success rates have increased about 6 percent since the 2011-2012 cohort year, according to the IKM website.
Nadeau said the increase in success rates for FTIC first-generation students has been the result of a strategically planned initiative started three years ago by Vice President of Student Development and Enrollment Services Maribeth Ehasz.
Nadeau said it is important that more first-generation students are returning to college and want to get involved and connected to the campus. One-on-one guidance and advising can help first-generation students with financial questions, scholarships, academic success, counseling, internships and planning for their future, according to UCF's Student Services.
"We've looked at the data and changed our systems behind-the-scenes to be able to be more proactive instead of reactive," Nadeau said. "We know that this past year, [the FTIC first-generation student success rate] was 90.1%. So we pushed and pushed, and we got over the 89.3% from last year."
Damian Jones said once he successfully graduates with a bachelor's degree, he will have a better opportunity to make more money and start a professional career in the communications and marketing field.
Working as a full-time first-generation student and a part-time employee at Bubbalou's Bodacious BBQ, Damian Jones said the only way to be successful later in life is to hustle and grind during college while "balling on a budget."
As a first-generation student struggling to pay for the high price of higher education, Damian Jones said he is doing his best to make it through college debt free. He said all the struggles he is facing now will eventually pay off in the end, because college provides him with a greater opportunity to become successful.