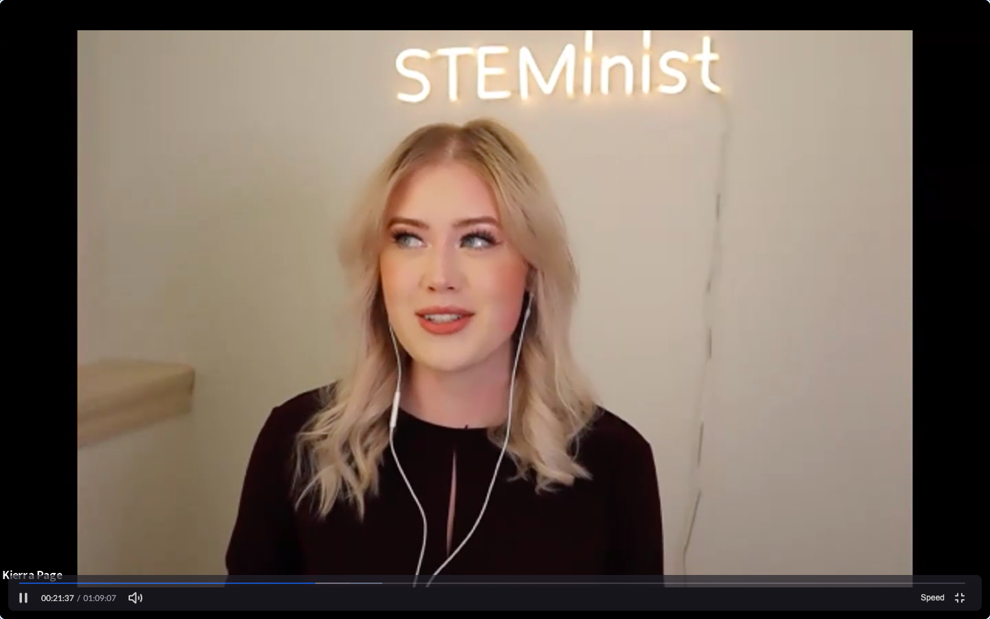 The Association for Computing Machinery - Women in Tech hosted a panel discussion on Friday with female Youtubers in technology to discuss their content and careers with students in technology majors.
The panelists included Mary-Philippe Gill (known as GirlKnowsTech), Lena Elizabeth and Kierra Page, whose channels highlight being both in the technology field and being content creators.
Ariane Avendano, a junior computer science major, said she attended the event since she subscribes to different women in technology Youtube channels and thought it was amazing that ACM-W had reached out and brought the content creators to directly speak with students.
"You watch these creators in awe and see them as inspirations, but when you meet them directly like this it just makes it a whole lot more real and as women in tech, it makes my goals feel way more attainable," Ariane Avendano said.
The panelists gave a range of advice to students regarding both professions, such as how to find internships as a software engineer and how to get the courage to share your own experience online.
"I think everyone has a story to share and every story deserves to be shared," Gill, a software engineer master's student from Canada, said. "We all have our own personal experiences, so there is always someone to listen to."
Indira Avendano, ACM & ACM-W secretary and host of the panel, said she organized the panel after watching these YouTubers herself and realizing how influential they were becoming.
"I really only started getting into these people on social media just like within the last year or so, and it has really positively affected even how I approach my own major and my own life," Indira Avendano said. "There's a lot of value in seeing other people's stories."
Indira Avendano said she sought out a variety of YouTubers that could speak on their different experiences and she acknowledges how much the genre has grown since she started watching.
"I think that's grown over the past year," Indira Avendano said. "Almost every single day, I find a new person that can speak to their experiences and it's just really nice to see."
The panel discussed why they started their channels in the first place, all citing a sense to document their everyday lives as women in Science Technology Engineering and Mathematics (STEM) careers so others can see and learn from them.
"I knew that if I had just got on YouTube and I just started showing my life as a computer science major, as a woman and how you can wear make-up, but you can also be really smart and you also can do this or that and it doesn't matter," Page, a computer science student, said. "I knew if I could inspire at least one person to go into STEM or to go into computer science, that would really, really make me happy."
Indira Avendano said this representation of women in STEM careers is essential. As someone who gets a lot of influence from the content around her, she says that not seeing women in her field is discouraging.
"It's so incredible to have platforms, like Instagram or YouTube, where these women, or pretty much anyone, can get on and really share their story," Indira Avendano said. "It's been great not just to see the positives but the realness of their lives.
Emilia Hernandez, a junior digital media major who attended the panel, also agrees that this type of representation is important for women to see. She said these women do a good job at exposing girls to an industry they may have never known their potential or passion for.
"Like myself, many women don't consider tech as a career path because it has been known as kind of a boys' sport, and girls often go into more creative or nurturing fields," Hernandez said. "I think it's very important to give girls the chance to see women doing complicated work like engineering or computer science because then they know it's an option for them."
The panelists discussed the pros and cons of sharing their careers online to a public audience. Elizabeth said YouTube has opened doors for her and given her many opportunities she otherwise would not have had, but she has experienced her fair share of criticism from comment sections.
"Especially being a woman online, especially in tech, compared to other content creators online who are female, a larger proportion of our viewers are male," Elizabeth, a software engineer, said. "I feel like there is a lot of vaguely sexist comments or things of that nature."
The panelists reminded the attendees to do what makes them happy and if they wanted to start making content, they should only do it for one person: themselves.
"Focus on what you want to do and what you love to do," Gill said. "Maybe do it for yourself first and don't think about the rest."
Indira Avendano said she hopes that attendees left the panel knowing their value as a woman in technology and knowing that their words have power. When it comes to the future for women in technology, she says she wants it to feel like continuous breath of fresh air.
"There's so much I want for the future for women in tech," Indira Avendano said. "I want it to be a place for everyone."