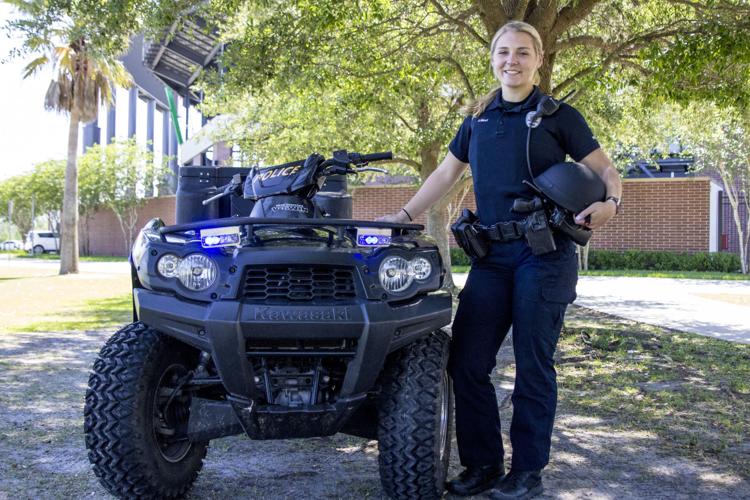 When a fire emergency or arrest takes place on UCF's main campus, it is more common today than ever before to find a female firefighter or police officer at the scene.
According to a brief from the Bureau of Justice Statistics, women made up about 15% of full-time officers in U.S. police departments in 2008 — an increase from 14% in 1998.
As of 2016, 4.1% of career firefighters excluding volunteers were female, which is a jump from 3.5% in 2013, according to the National Fire Protection Association.
Sexual harassment, gender pay gaps, racial discrimination among women of color and pregnancy discrimination are just a few of the challenges women encounter, according to Catalyst, a global nonprofit organization that builds relationships with CEOs to help improve workplaces for women.
Police officer Bianca Becker was sworn into the UCF Police Department in March 2018 and said in spite of the challenges she has faced as a woman in her field of work, she is confident that her abilities will exceed the doubts anyone may have toward her because of her gender.
"You come across some people who make [negative] comments, but that's because they don't know my background," Becker said.
Becker grew up in a military family and said she used that structure to become a personal trainer for boxers and amateur athletes throughout her career, making her an expert in male-dominated atmospheres. As a UCF alumna, she said she believes women can accomplish anything no matter what the circumstances.
"If you know what you want, nothing can keep you from achieving what you want," Becker said.
According to UCF's Institutional Knowledge Management website, 48% of students are white, 26% are Hispanic, 11% are African American and 6% are Asian as of fall 2018.
Within the UCF Police Department, there are 82 sworn-in officers, 15 of which are sworn-in women and 35 are minorities, said UCFPD Public Information Officer Amanda Sellers.
UCFPD officer Dawn Ferrara said she has a lot of experience interacting with minority communities as a female officer.
Ferrara said she hopes her work in the community changes the way people view women in certain professions, given the backlash police officers have received in recent years in relation to police brutality.
"Watching what we do and how we interact with the community can help change the way people view police," Ferrara said.
As an African American woman and 20-year veteran of the New York Police Department, Ferrara said her desire to continue being an officer after leaving New York resulted in an urge to help mentor fellow female officers.
"You have to act a little tougher," Ferrara said. "People are more attentive to what the male officer says than to the female officer."
Some individuals, by default, tend to respect the authority of the male officers over females, meaning respect must be established in the beginning, Ferrara said.
She said she has developed her ability to connect and work with many people through her passion to help others and improve popular images of black women.
"African American women are viewed as aggressive, but we're not aggressive," Ferrara said. "We're passionate people, and it shows with how I interact with my community." 
Lauraleigh Avery, the assistant chief at Orange County Fire Rescue, said she hopes to achieve a workplace that resembles her community within her department.
There are currently 157 women in OCFR, making up 8% of firefighters in Orange County — more than double the national average for female firefighters, said OCFR spokeswoman Ashley Gipson.
"I feel honored that our department is so inclusive of everybody, no matter what race," Avery said. "We want to be very diverse across our department [and] to mimic what our community looks like."
Avery said having women in various levels of power has helped grow the profession.
"Having women of all different backgrounds in various levels of power creates opportunities for others and has allowed the profession to grow, becoming a more welcoming career for women to become a part of," she said.
Avery also said women in law enforcement encompass a level of compassion the job requires when dealing with people in the field.
"On almost all of the calls we go on, there is a need for compassion, to be able to help people better deal with what's going on," Avery said. "That motherly aspect falls into care taking, which is important when so much is going on in that moment of their lives."
Each one of these women play an important role in their respective professions. Avery said she believes that women can be successful in any field if they prepare themselves.
"Fire fighting is not a man's job." Avery said. "Anybody can do this if they work hard, if they eat right and take care of their body."
Ferrara said she hopes people's views on women change and women can hopefully be taken more seriously in conversations about their accomplishments.
"Women are strong, and we're focused," Ferrara said. "So I hope people can take from this that women are to be taken seriously, and not as a joke."