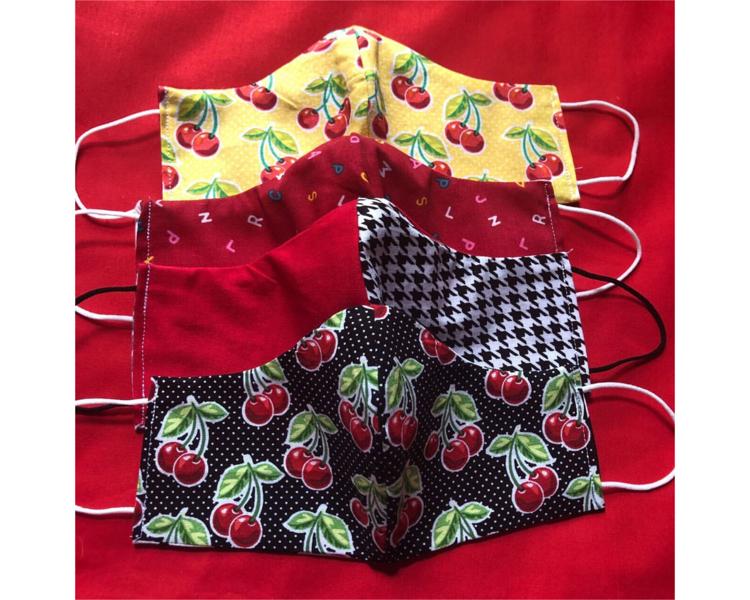 As masks became a central fixture in the fight against COVID-19, two creatives have brought fashion to them. 
Two mask-making businesses, @dexteritycraft_ and @sewnbydani on Instagram, have brought not only style but marketing to what shields people's mouths and noses this year.
Designers Heidy Gullian and Danielle Morales are the creators who design masks for a fun, fashionable accessories to promote businesses or represent schools. 
"My focus when I started creating wasn't face masks, to be honest," Gullian said. "I love anything crafty, and when I first learned about the pandemic, there was not anything left on the shelf, and people were price gouging online."
At first, Gullian made decorative letters of children's names for parents, but found a love for sewing at the beginning of the COVID-19 pandemic in early March. Gullian makes 100 to 200 masks per month.
"The hardest part of my business is the competition," Gullian said. "Some people sell their masks cheaper, but you can tell the quality in stitching and fabrics, so people get what they paid. I don't take the competition to heart."
As each one is made to order, she puts a lot of her time and effort into the masks.
"I truly make everything with love and hate to see the item go," Gullian said.
Previously, Morales mostly made shirts before taking up mask making and decided to open her mask business "sewnbydani" at the beginning of May. 
On average, Morales makes 60 to 90 masks a month while still attending school at Valencia College.
Morales said the most challenging part about running the business is time management.
"I have school and this small business," Morales said. "When I first started, it was so hard because I had four classes, and I would not prioritize my masks and making them in time."
It took Morales awhile to ship out orders initially and she felt bad. However, once she decided to quit her previous job and dedicate more time to school and her business, she was able to complete the masks at a reasonable pace, getting the majority of orders shipped within a week.
Morales said she considers Gillian Klingensmith, a licensed makeup artist in Orlando, to be her best customer.
"She is a girl who loves to stand out and be different," Morales said. "She gets bold prints she matches with her makeup looks."
Klingensmith usually gets double-sided masks with both eccentric and bold patterns as well as plain solid colors. She said her style and makeup vary by the day, so she likes to have various options to match.
"If my outfit is plainer, then I grab a more intriguing mask, but I also have plain ones too, so there's a little bit of a balance," Klingensmith said.
Junior advertising/public relations major Mandi Nelson said while she hopes the pandemic ends soon, she is happy to be able to express herself through masks in the meantime. 
"There are so many cute masks you can wear and personalize," Nelson said. "I love seeing everyone wear their UCF face coverings, and when my teams are playing, I love to wear my face masks with their logos to support them."
Once the pandemic subsides, Gullian and Morales are aware the need for masks will decline. 
"The drop of the pandemic will unfortunately affect me a lot since as of right now I sell masks so I will get less customers, but I have not had a decline yet," Morales said. "Whether it be totes, purses, etc., I do plan to branch out and be able to continue my business."