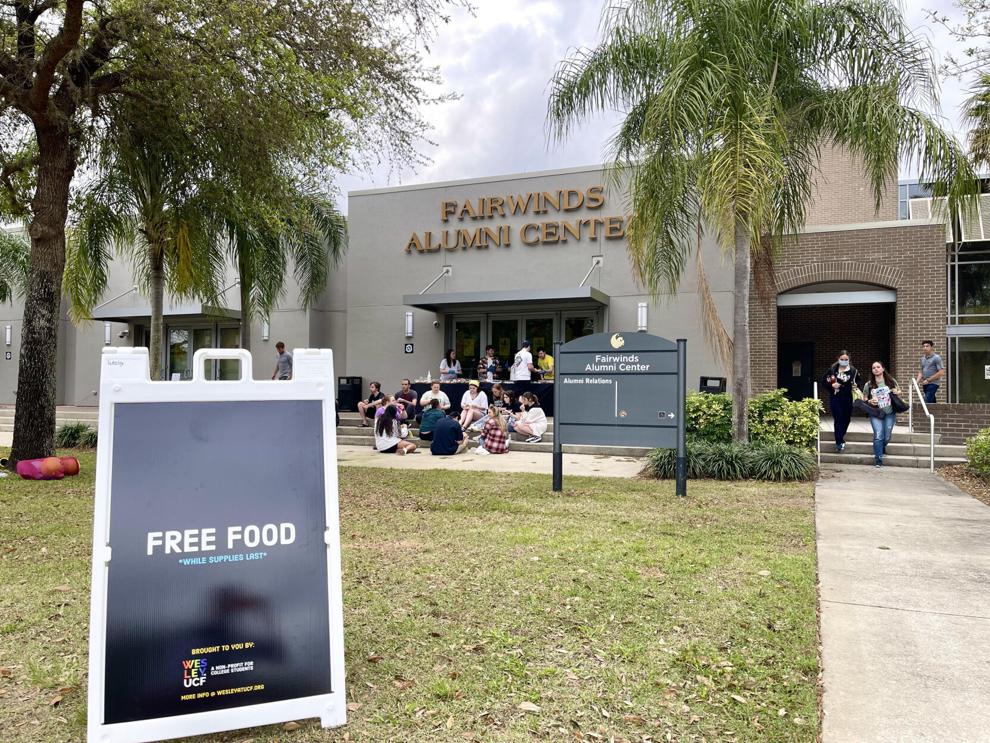 UCF students line up at the Alumni Center looking for some financial relief, and that relief comes in the form of a free meal every Tuesday at 5:30 p.m.
Wesley at UCF offers free dinner every week to support students throughout their path in college. The six volunteers began setting up the table at 4:30 p.m. By then, students had already approached and hung around waiting for their free meal. 
The Wesley group is a campus ministry run by students that the United Methodist Church sponsors. The group can be found worldwide but predominantly in the United States, Canada and the United Kingdom. 
Wesley's director, Erwin Lopez, said it is all about helping students and creating a sense of community at the same time.
"We do this because we have moved from being a ministry that tries to indoctrinate people into the faith to focus more on helping college students with their basic needs and build a supportive community," Lopez said.
After two years without serving any food on campus due to the pandemic, the Wesley group is back offering assistance this spring.
According to the U.S. Department of Labor, inflation is at an all-time high. Since April 2020, the food index rose 1%, and the food at home index rose 1.4%. Both were the most significant monthly increases.
Senior hospitality management major Jake Zimmerman said the event had been helpful throughout his years at UCF.
"The Wesley community has been awesome to me," Zimmerman said. "I've met all my friends through this organization and having food here every week is awesome too."
The food varied between pasta, chicken fingers, salad and sandwiches. Each meal was served with drinks, desserts and snacks.
The food at home index rose 8.6% over the last 12 months, the largest 12-month increase since the period ending April 1981. Fruits and vegetables had the largest increase, rising 2.3%, the largest monthly increase since March 2010.
Not all students have heard about the event in the past years, but the ones who went for the first time showed some excitement about it, including senior integrated business major Sutan Khan. He said he discovered the event on the UCF event pages.
"It's a struggling college student life, and any sort of help I can get, where it can even be just a sandwich, it can go a long way in helping me save for classes and any other expenses I might have," Khan said.
Sophomore computer science major Kaido Fuchimoto said attending once kept him coming back. Fuchimoto said he lives on campus and had attended the event every Tuesday since he found out about it.
"The environment is nice, and the people are friendly," Fuchimoto said. "On top of that, knowing that I do not need to worry about food at least one night per week is amazing. Sometimes, student's budget can be tight and challenging to manage."
Lopez said that once he talked to students to understand what they go through to be at school and how high is the cost of housing, transportation and study material, he tried to figure out ways to alleviate their financial stress. His solution was to serve free food on a regular basis.
"I'm inspired by the work of Jesus and Martin Luther King," Lopez said. "Martin Luther King...saw every human being as a child of God. Because of that, he believed that everybody in society comes together to take care of each other. It does not matter which group or community you identify with."
Lopez said that the group has the resources to help, but it needs people to spread the word that Wesley and all its resources exist and are available to them.
Wesley at UCF focuses on the basic needs of college students and believes the needs are the same for all human beings. This includes food, shelter, friends and community support. The organization also has other assistance methods, such as scholarships and help with book fees.
Lopez said the help is available, but sometimes, students have difficulty asking for help or feel ashamed of it. Lopez said that there is nothing to be ashamed of.
It was first come, first serve, and the group estimated that it served an average of 100 meals on Tuesday.
"Come here," Lopez said. "We will help you financially and will help you get ahead. We will support you during your college career as best as we can. Not only financially but also emotionally."