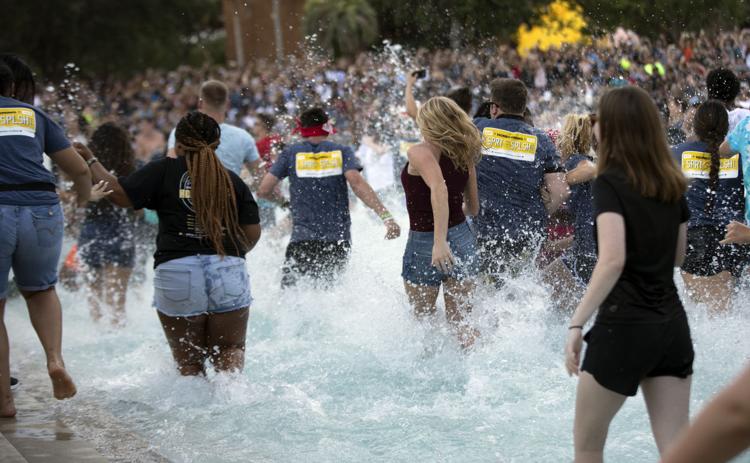 Comedians, concerts, rubber ducks and fireworks are just a few things students will get to experience during UCF's Homecoming Week, a tradition since 1971, that will take place Oct. 14-19.
While the week's events are free to students, students are still required to get tickets to the shows held in the Addition Financial Arena. Ticket distribution is held on multiple days before homecoming week, and students will have to show their UCF ID at the ticketed events.
According to UCF Homecoming, ticket distribution started on Oct. 2 and are still available for students at these locations and times:
Oct. 10, at the Student Union Patio, from 11 a.m. to 2 p.m.
Oct. 11, at the Student Union Patio, from 11 a.m. to 2 p.m.
Oct. 13, at the Recreation and Wellness Center, from 5:30 p.m. to 8 p.m.
Senior health sciences majors Angeles Morales and Kierah Marcelin both said they were most excited for the 6LACK concert, as they said they are both big fans of his music.
"Since it's my senior year, I've never participated in previous events. I've never been to a football game. I've never been to homecoming week," Morales said. "So this year, I'm trying to do everything possible and I'm trying to have a fun senior year. I'm trying to have the college experience I guess you could say."
Homecoming week will kick-off with the viewing of The Lion King (2019) for Movie Knight, at Addition Financial Arena at 8 p.m. Monday. Tickets are not required for this event.
Although students voiced concerns on Twitter regarding SNL star Pete Davidson's performance on the first day of classes during Pegasus Palooza, there will be two more SNL stars, Mikey Day and Alex Moffat, performing stand-up sets at the arena for Comedy Knight on Tuesday.
Beth Stelling, a writer for  HBO's "Crashing," is also performing Tuesday at the arena at 8 p.m. Tickets are required for this show.
Comedy Knight coordinator and junior entertainment management major Cameron LeVine, said he understands students' concerns about having SNL stars perform, but they will have two 30-minute sets, rather than an hour-long show.
"I feel like this is a different show because, A, they're not committed to as much time, and B, because they're more reliable," LeVine said.
LeVine also said he would be sure to ask the comedians if they are fine with the audience recording their sets, and if they are not, he would make an announcement before the show starts.
Students can show off their talents during UCF's spin on America's Got Talent, at Knights Got Talent on Wednesday at 8 p.m at the arena. Tickets are not required for this show.
Atlanta rapper 6LACK, known for his top hit "OTW" will be performing at Concert Knight, with opening act DaniLeigh, a singer and dancer from Miami, at the arena Thursday at 8 p.m. Tickets are required for this show.
"I'm mostly looking forward to the concert," Marcelin said. "Last year I didn't get to go to the concert, which I was upset about."
Students will have the chance to splash around in the Reflecting Pond for Spirit Splash, UCF's biggest homecoming tradition.
While this is typically forbidden, students will be able to go into the pond on Oct.18 at noon. 
Students charge into the pond in hopes to catch rare Spirit Splash rubber ducks, so rare students even sell them online.
"Another thing I'm looking forward to is Spirit splash," LeVine said. "I get to throw the ducks this year, so I'm excited to be on that end [of the event]."
Following Spirit Splash is the Greek Extravaganza Step Show, where sorority and fraternity members perform routines they put together. The show will be at the arena at 7 p.m. Tickets are required for this show.
A firework show on Memory Mall will follow the step show at 9 p.m.
All the Homecoming week events lead up to the Homecoming football game, where the Knights will charge against the East Carolina Pirates at Spectrum Stadium at 7 p.m.
During the game, the UCF Homecoming court will be announced. Marketing director for Homecoming and junior business management major Aakailah Strappy, said there will be five females and five males running for court.
"[The court is] very diverse. We have transfer students and even first generations," Strappy said.
While tickets are not required for every event, students should be sure to bring their UCF ID to each event they attend. For more information on tickets and events, check out UCF Homecoming on Facebook.
"[The events] are fun, and they're for us," LeVine said. "What better way to show your UCF pride and get excited than to go to the events that [UCF homecoming staff] provide[s] for you."
Correction: This story previously stated that tickets were needed for Knights Got Talent. It has been updated to reflect that tickets are not needed, but a UCF ID should be brought to all events.