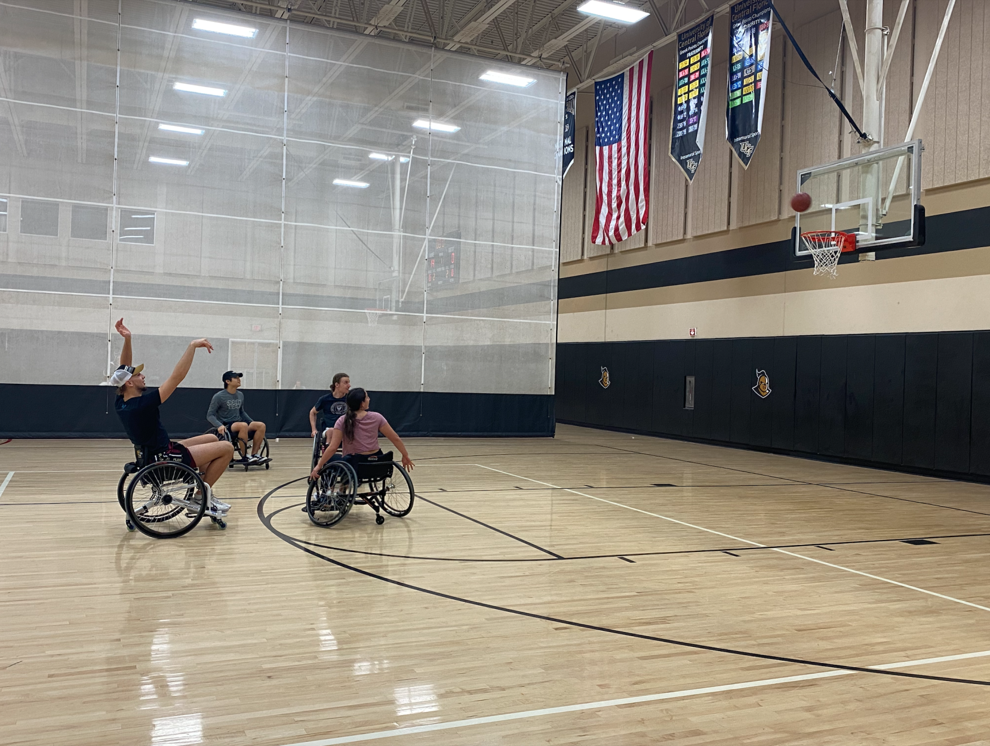 UCF senior Jake Zimmerman got to try his hand at wheelchair basketball Wednesday at the Recreation and Wellness Center, furthering his quest of playing all UCF intramural sports before graduation.
"The hardest part is covering the entire court with six people who are sitting," said Zimmerman, a hospitality major. "You have to position yourself in a way that is strategic, so that you think you can cover the whole court."
Though Zimmerman doesn't use a wheelchair in his daily life, the RWC has opened its wheelchair basketball and sitting volleyball event to all participants, in alignment with its mission of inclusion and diversity, said Lauren Carlson, coordinator of intramural sports and RWC Park.
"Everyone is welcome here at the RWC," Carlson said.
In sitting volleyball, six-member student teams play against each other from the ground. Wheelchair basketball involves a mobile two-vs.-two format on a half-court, in which players move around with wheelchairs. Carlson said playing these games allows able-bodied students to gain empathy for the reality disabled Knights experience. 
"I didn't realize how important that body part was in my everyday movements," Carlson said. 
Caroline Caplinger, senior health sciences major, said she thinks it is important for UCF to offer programs such as wheelchair basketball to both able-bodied and disabled students. 
"UCF stands for diversity," Caplinger said. "It is important for everyone to have opportunities to participate in things, especially intramural sports." 
Senior psychology major Jose Acevedo, supervisor of the event, said the games allowed students from all backgrounds to participate and learn.
"We like to have people of all different sorts of backgrounds to come out here, (to) work and play, and do the things that they want to do," Acevedo said. 
Carlson said many other universities, including her undergraduate school of Truman State University, do not have the ability to provide inclusive sports, such as wheelchair basketball and sitting volleyball, to their students. 
"We have the money, so we have the ability to have these programs," Carlson said. "We want to expand on what we have and create new ways for students to get involved."
Joshua Colston, senior computer sciences major, said he wanted to participate in the event to understand what disabled students must deal with.
"It's all about putting yourself in their shoes," Colston said. "At the end of the day, you never know what people go through."
Colston said the games helped him and his teammates with their communication skills. 
"It helps us build teamwork and creativity just like they (disabled students) have to every day in their lives," he said. 
Derrick Bugyei, intramural sports graduate assistant, said the event fulfilled UCF's promise of diversity and inclusion by giving disabled students an opportunity to participate in what the RWC has to offer.
"A lot of schools like to preach diversity and inclusion, but when you look around the gym, all the equipment is not really something that can be used by people of all ability types," Bugyei said. "Having this opportunity for them to come out and play is something really nice to have."
Carlson said although these one-day challenges were geared toward students with disabilities, any student is welcome to play any sport regardless of physical ability, and the RWC is ready and willing to accommodate them.
"If they want to play on a basketball team, they are more than welcome to," Carlson said. 
At the end of the day, Zimmerman said he was satisfied to make progress toward meeting the challenge he set himself to, which also improves his chances of winning an intramural championship t-shirt.
"This is a good opportunity to win a shirt," Zimmerman said.