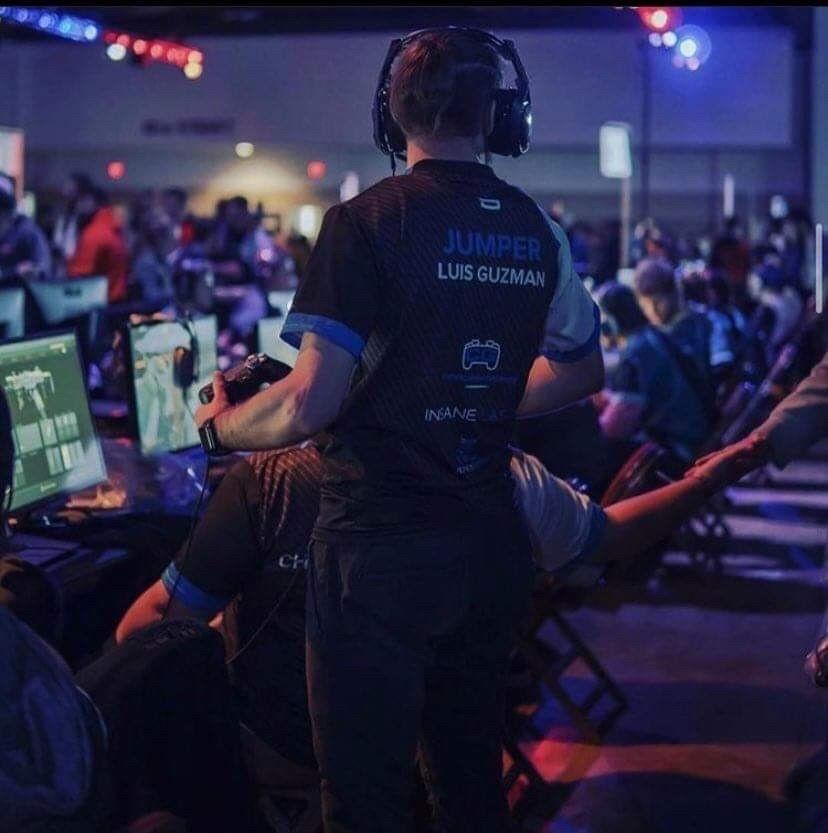 UCF student and Enemy Four (E4) Knights member Luis Guzman has recently been accused of hacking by members of the amateur "Call of Duty" (CoD) community.
Known by his gaming moniker MLYJumpeR, Guzman plays Call of Duty competitively for UCF's Enemy Four (E4) Knights esports team. The group competes in the College Call of Duty League (CCL), a group that facilitates professional-grade support, program-building, and space for collegiate-level CoD players to flourish. However, during Luis' most recent games with the group, he said users on platforms such as Twitch and Twitter have been accusing him of cheating during his live streams and attacking both him and the E4 Knights.
The sophomore business major said that he has been gaming since he was six years old and gained an interest in competitive "Call of Duty" at a young age. Guzman said that while gaming started as something he did to pass the time and disconnect from the outer world, it quickly became much more —a career path for something he is passionate about. 
Cheating allegations against Guzman have mainly been circulating on Twitter and Twitch, with one anonymous account insinuating the use of an aimbot, a program that can be used in first-person shooter games that provides players with perfect calibration. 
"You don't aim that good —pros don't even shoot that straight," the account said on a Twitter thread.
Luis responded on the Twitter thread with past clips of himself playing and said that he's been winning tournaments since middle school, such as a "Call of Duty" win for UMG, a North American competitive esports company.
"This was before I had supporters," Guzman said on Twitter. "This is while my parents were shutting the internet down, this is before I had a monitor, this ALL was while I was being forced to play sports I did not want to play." 
Guzman has been streaming full-time on Twitch and competing with E4 Knights, individually ranking No. 6 in the hardpoint game mode and No. 14 in the control game mode, out of the 720 players in the collegiate CoD division. The E4 Knights team ranks as No. 10 out of 180 teams in the division. 
The streamer thanks his extensive practice and dedication for his credentials and said that he also has partnerships with companies such as Kontrol Freek, alt customs, and Vice & Company.
"I want to thank everyone who has supported me throughout this journey," Guzman tweeted. "This wouldn't be possible without all of the support you guys give to me."
Guzman then spoke on the negative effect of online "hackusations", and said that they are very harmful to players, as people will always think twice about recruiting the accused party as a teammate and will question if they actually have skill. On the streaming side of things, he said that the hacking allegations are also harmful as viewers watch streamers because they want to learn, and if they discover cheating allegations, they begin to lose trust.
Guzman said he has always been the victim of "hackusations" while gaming, but even more so recently because of the switch from console to PC, in which video game company Activision did not implement anti-cheating software into the PC variant of their game, further raising speculation within the community. Guzman said he even purchased a second webcam that records his view of his monitor while he plays to prove that he is not cheating.
"If someone comes to my stream while I play live and comments on the situation, I would simply reply with, 'I've been winning for years, this is nothing new to me,' and continue on with my day," Guzman said. "I don't like responding to any hate comments or accusations."
Instead, Guzman said he focuses on himself and the work he puts into his career. His schedule is typically packed between classes and streaming practice.
When it comes to personal practice, Guzman said he will usually go over his recordings of past games and write notes on what he can do better. The streamer also elaborated on his role on the E4 Knights team as a leader, with duties such as going over their strategies and perfecting them as much as he can.
"The process [of going over strategies] takes two to three hours, and team practice normally lasts five hours, from 4 p.m. to 9 p.m.," Guzman said. "In those five hours, we play against three different teams, playing all of the competitive maps and game modes. This helps with the stream because I'm able to just start it as soon as I start playing, and I have content for five hours, non-stop."
Juan Ailon, Enemy Four Knights' team manager and junior marketing major, said that the issue of hacking has been prominent in the CoD community since the switch from console to PC, but excellent players, like MLYJumpeR, are having their reputations and credibility ruined by constant accusations of cheating. 
"Ever since I've known Luis, he's always been one of those guys that proves time and time again why he's great at the game," Ailon said. "He's shown a lot of dedication, so when the allegations started happening towards Luis, he had never shown me any reason to believe that he was hacking. He's always had players question his talent, but he has clearly shown that he does not cheat and is a big part of the E4 Knights roster."
Guzman currently has 104 subscribers and 1,480 followers on Twitch. The streamer said that he does not have a lot to say towards his accusers.
"I don't have much to say, honestly[...] my success says it all," Guzman said. "It's just horrible, mentally, waking up to see people trying to tarnish your reputation and brand on the internet over something that is not real."